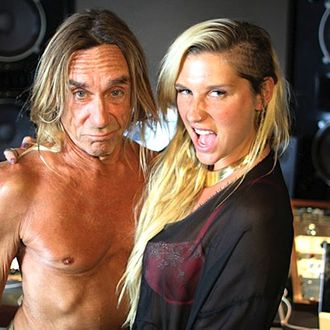 What's that? You firmly refuse to give into holiday music season, even though Vulture lovingly made you this Christmas album flowchart? Okay then, here is a Ke$ha–Iggy Pop song about cockroach sex (plus, new songs from Solange and the French Montana Company).
Ke$ha featuring Iggy Pop, "Dirty Love"
Somewhere out there on the Internet is a full Warrior leak waiting for your love and attention. It's … energetic! "Only Wanna Dance With You" is the early Vulture favorite, but "Dirty Love" is the song that involves Iggy Pop singing about cockroaches and Santorum. So it is the song we will post here.
French Montana Featuring Rick Ross, Lil Wayne, and 2 Chainz, "Marble Floors"
This is not as festive as "Pop That." 
Solange, "Lovers in the Parking Lot"
True is streaming over on Spotify. Also be sure to stare at the pretty orange cover for at least half an hour; it's very soothing.