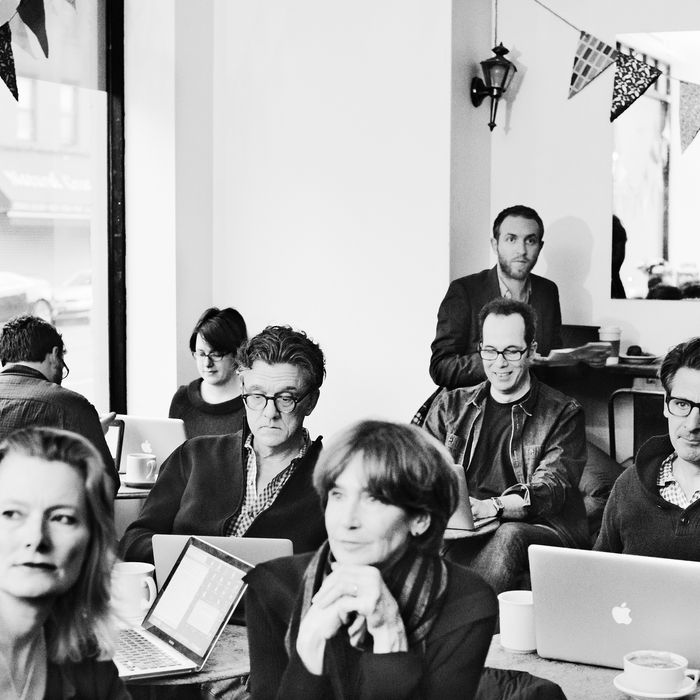 (From left to right) Tad Friend; Jennifer Egan; Michele Filgate (events manager at Community Bookstore); Kurt Andersen; Roxana Robinson; Philip Gourevitch; Ryan Britt; John Burnham Schwartz; Rich Benjamin
Photo: Christopher Anderson/Magnum for New York Magazine
"Normally, we have radios and shit to do this with, but we're going bare bones today," shouts Michael Maren, author and first-time director, during the very last day of filming his debut feature, A Short History of Decay. A volunteer cast eagerly follows his direction, which consists mainly of the orders "Look up," "Look down," and "Get back to work!" "Work" happens to be their day job, the distinctly unfilmable act of writing.
Forty-three bona fide New York authors arose as early as 4 a.m. to make this morning's six o'clock call at Park Slope's popular freelancer perch, the Kos Kaffe. An hour into the shoot, half of them are in the glare of the film's single light and a rented camera. At a front table, Elissa Schappell, Darin Strauss, and Mary Morris pretend to work. Behind them are memoirist-poet Nick Flynn (Another Bullshit Night in Suck City) and Michael Cunningham, whose Pulitzer-winning novel The Hours became a Meryl Streep vehicle (in which he had a cameo that didn't make the final cut). Sitting cross-legged on the floor by the counter are Myla Goldberg, Joshua Henkin, and Jesse Scheidlower. The other half of the café, off-camera for now, is silently — actually — working. Sort of.
"I really, really wanted this shot," Maren says during a quick break. In a scene he thought would never come to pass, Decay protagonist Nathan Fisher, played by One Tree Hill alum Bryan Greenberg, has just been thrown over by his writer girlfriend in favor of a literary agent. Fisher tries to drown his sorrows in a literary latte, but instead he's confronted by the world's nerdiest sight gag — a café chock full of famous writers, each in possession of an expert withering glare. "It's a little bit of a dream sequence," Maren explains. "He literally can't find a seat at the table."
A couple of weeks ago, Maren solicited dozens of writers for this last day of shooting and found a generous partner in Kos Kaffe's owner, Allon Azulai, who also co-owned its beloved predecessor, Ozzie's. Now, after a month of filming in Wilmington, North Carolina, his six-figure budget depleted, his movie "running on fumes," Maren greets almost all the writers he invited. The only big no-shows were Paul Auster, who felt filmically overexposed, and Martin Amis, who was meant to play the barista. The rest were easily lured by nothing more than coffee, croissants, and the heady satisfaction of being part of a highbrow inside joke.
"Our vanity is being indulged — that's the payment," says Kurt Andersen, novelist and former editor of Spy (and this magazine). Like the others, he's been asked to bring real work — though really it's just a side project. "I don't think we're writing today. I think we're typing.""Isn't that something Truman Capote said?" asks John Burnham Schwartz (Northwest Corner; Reservation Road). Open on Schwartz's laptop is a blank document — notes for an unwritten article.
"Yeah, he said that about someone else," says Tad Friend (Cheerful Money), who appears to be entering copy edits from a manuscript.
"Kerouac," Andersen offers.
Have any of these writers felt the protagonist's palpable terror — of being the biggest failure in the coffee shop? "I always feel I'm the most successful person in any room," Friend quips.
"This table isn't big enough," Schwartz parries. "The big joke here was filming two writers working at the same table."
Hogging her very own table nearby is Pulitzer-winner Jennifer Egan, rather ostentatiously writing in longhand on a yellow legal pad. "I have this fantasy that I'm going to work from five to seven every day," she says. "It's never happened. So I'd like to think that I'm actually working."
Others are hardly even pretending. Darin Strauss has mostly checked ESPN scores. "But I learned something today," he says, looking over at the makeup person. "I have a shiny forehead." Novelist and Vanity Fair "Hot Type" columnist Elissa Schappell managed to write "a difficult letter that I hadn't wanted to write," while tweeting up a storm. ("Amused by some of the serious method 'stroking my imaginary goatee' going on.") Both have quickly mastered the distractedly condescending air of a writer at work. "I have no problem with it," says Schappell, getting into character. "'What do you think you're doing here, in this coffee shop, which is my home office?!'"
A few writers did manage to get some real work accomplished. "It's a dream café," says Roxana Robinson, "which is only inhabited by writers and where no one is talking." She worked on a chapter consisting of e-mails — the sort of interrupted, attention-deficient flow that suits the choppy rhythms of a very social film shoot.
The only real actor of the bunch, courtesy of some amusing web trailers, is Gary Shteyngart. He ambles in around nine in a jaunty scarf and Vans; no way was he trekking over from Gramercy Park any earlier that that. "Gary, you showed up!" Maren exclaims.
The author of Super Sad True Love Story is set to appear in the scene's kicker just outside the café. He'll bump shoulders with distraught Nathan Fisher on his way out of Kos and, per Maren's direction, "Give him this look of, 'Fuck you, asshole!'" Shteyngart wants to ad-lib, but Maren can't afford the SAG fee for a speaking role. So instead Shteyngart offers to spit in Greenberg's direction. Maren agrees to try it.
At press time, the verdict was still out on whether the spit-take would make the final cut. "I don't know what they'll use," Shteyngart reports, "but there was a take when a local woman started to riff off my spitting. So I spat some more! It all felt very Russian." And very Brooklyn.