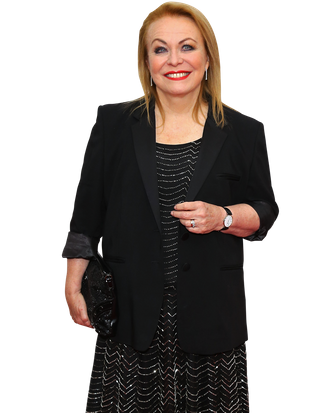 Jacki Weaver.
Photo: Getty Images
Jacki Weaver, the Oscar-nominated Australian actress who made such an impression stateside as the sociopathic mother in Animal Kingdom, is showing off her sweet side in Silver Linings Playbook. As the sanest character in the story, she's holding the family together, even though her obsessive-compulsive husband (Robert De Niro) has a gambling problem and her bipolar son (Bradley Cooper) is just out of a mental institution for nearly beating his wife's lover to death. Weaver took a break for tea with Vulture to chat about the film and clued us in on her accent, philosophies about sex, and slut-shaming.
Your character keeps making braciole, crabby snacks, and "homemades." What is that? Isn't anything made at home automatically homemade?
Oh dear! You've put me in a spot here, because I've had it explained to me and now I've forgotten. [Laughs] I'm ashamed now because I'm usually a stickler for research. It's just been a year since we shot it! I've seen braciole on Italian menus, but I never knew how to say it before.
 
How did you get your Philly accent down?  
For the first week or so, I had a fantastic voice coach, and having Brad around helped. I've done a lot of plays before where I had to do a New York accent, but never a Philly one before. They do the rhotic "r" — where you say the "r" — where most New Yorkers don't. In Australia, I grew up watching The Mickey Mouse Club, my son grew up watching Sesame Street, my grandson's growing up watching Dora The Explorer. So we are sort of saturated with American culture from the day we're born, and to those of those who do have an ear for it, it's second nature. But my character in Silver Linings is walking a tightrope, so if she seems tentative, it's because she wants to keep the peace and it comes out in the voice.
 
The tentativeness reminds me of Frenchy in Grease.
I sounded like her? Didi Conn? Is that good? It's not a criticism? [Laughs] I play a lot of roles that Stockard Channing gets. I was in Six Degrees of Separation, for instance. But that's interesting. I'm going to go have another look at Grease and see.
 
Bradley Cooper's mom is about your height. Did that help you guys relate as mother–son?
His own mom is a really beautiful Italian Philadelphian, with a fabulous accent. Salt of the earth, and adorable. But the height thing, I'm under five feet, so some of the crew were teasing me, "How could you possibly give birth to Bradley Cooper?" Because he's such a big boy. He's like 6"1'.
 
What did you think of the treatment of Jennifer Lawrence's character Tiffany? How she's called a slut because of her sexual liaisons, but the guys who participate with her are not.
Sexism is alive and well! We were saying this forty years ago. I'm an optimist, so I like to think we've progressed in some ways — in Australia, we get equal pay. But yeah, it's disappointing to think that still goes on. Do you think Kristen Stewart got into trouble because Robert Pattinson was so loved? I remember I was a little girl when Elizabeth Taylor stole Eddie Fisher from America's Sweetheart, Debbie Reynolds, and the reaction back then was enormous! And Angelina Jolie was in trouble, too, for taking a husband away from another America's Sweetheart. Don't take husbands from America's Sweethearts.
 
You wrote in your memoir Much Love, Jac that you believe in sex on the first date: "Otherwise, how do you know if a second date is worth the effort?"
Yeah. I tend to say things to shock people because I love getting a reaction. I said something once about men are only good for sex and reaching overhead lockers. I meant it in a funny way, but some people really took exception to it! I said it 30 years ago, but it still comes back to haunt me. [Laughs]  
 
You didn't get to choose your husband — Robert De Niro — in Silver Linings. But you've said that you'd be game for an Animal Kingdom prequel or sequel if you got to choose your husband(s). So who would they be?
Yes! Husbands plural, because she would have had five, and then it's choosing which one for which kid. They would have to all be Australian. I think we'd have to have Guy Pearce in there, and we'd have to have Russell Crowe, and we'd have to have Geoffrey Rush, and probably have to have Jack Thompson. I'm going to hurt someone's feelings if I don't include them! Some guy's feelings. Why not Hugh Jackman? He grew up not far from where I grew up, and if it's a flashback, I could be heavily digitized.
 
Guy Pearce played a non-family member in the movie, though.
He is the master of disguise, isn't he? He's a real chameleon, so I don't think that would be a problem. But that could add a real red herring to the mix, couldn't it? Maybe his character was actually my son, too! [Laughs] Now and again, I get a say in casting back home in Australia, but certainly not in America. Sometimes I'll beg for someone, and I'll get them. A few times I've been asked when I'm doing a play, when it's a love story, who I would like for a sweetheart, and I've got them. Actually today — November 12 — was my first job as a professional actor. I was cast as Cinderella in a big Christmas production when I was still in school. So it's 50 years today!
 
Congratulations! I think this calls for more than tea. Do you want dessert?
[Laughs] I've got to get my dress on for the premiere tonight, and it's very tight around the hips. I used to have no bum and all tits, and now I have no tits and all bum! So I don't fancy cake right now. But after the premiere, I should have champagne cocktails, I think. Fifty years as an actor, that's quite a long time, isn't it? I can't believe it.