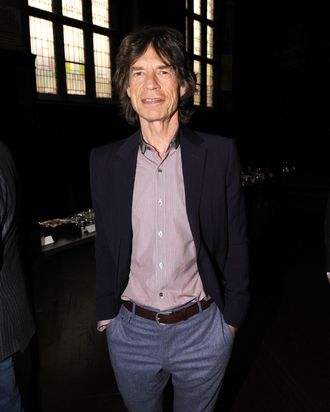 The Rolling Stones © Jim Marshall Photography LLC-2012: This photo is only to be used in conjunction with Jim Marshall book, "The Rolling Stones- 1972" or any gallery exhibits specifically related to this book project.
Photo: Slaven Vlasic/Getty Images
Marsha Hunt is a onetime singer, Hair star, and current Jimi Hendrix biographer, but she's best known for her months-long affair with Mick Jagger, a relationship that inspired "Brown Sugar" and resulted in now 42-year-old Karis Jagger Hunt. In return, Jagger wrote Hunt ten love letters from the set of his 1970 film Ned Kelly, which include reflections on Yoko Ono and John Lennon, as well as song lyrics. Apparently, Hunt isn't too sentimental about the notes, as she's set to sell them at a Sotheby's auction in London next month. They're expected to fetch up to $110,000, so anyone interested on Mick's take on whether Yoko really destroyed his competition should start counting that couch change now.