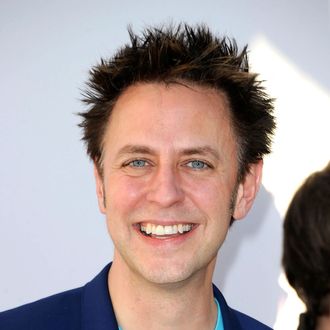 Photo: Frazer Harrison/Getty Images
Yesterday, we told you about an old blog post from Guardians of the Galaxy director James Gunn that resulted in the Internet's version of a torch- and pitchfork-carrying mob. Many claimed lines like calling X-Man Gambit a "Cajun fruit" or calling Batgirl "easy" because she's a "teen mom" were homophobic and sexist. Last night, one comic-book fan also came out against the post: James Gunn. Gunn sent the below statement to GLAAD, apologizing for the post:
"A couple of years ago I wrote a blog that was meant to be satirical and funny. In rereading it over the past day I don't think it's funny. The attempted humor in the blog does not represent my actual feelings. However, I can see where statements were poorly worded and offensive to many.  I'm sorry and regret making them at all.  People who are familiar with me as evidenced by my Facebook page and other mediums know that I'm an outspoken proponent for the rights of the gay and lesbian community, women and anyone who feels disenfranchised, and it kills me that some other outsider like myself, despite his or her gender or sexuality, might feel hurt or attacked by something I said.  We're all in the same camp, and I want to do my best to make this world a better place for all of us.  I'm learning all the time. I promise to be more careful with my words in the future. And I will do my best to be funnier as well. Much love to all
Let's agree to maybe not write contextless, terrible things on the Internet, because they'll never ever go away .