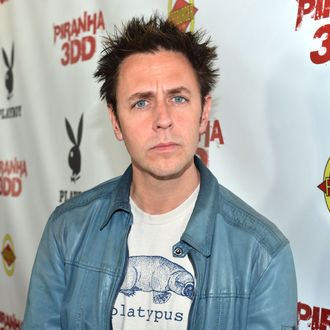 Photo: Alberto E. Rodriguez/Getty Images
In just the latest case that proves your web history will forever haunt you, director James Gunn (Slither, Super) is catching a ton of flak for a blog post he wrote almost two years ago. In February 2011, Gunn asked his Twitter followers (with the help of a retweet from Super star Rainn Wilson) what superhero they most wanted to have sex with. He took the 50 most popular names and wrote a little blurb about why/how he wants to have sex with each of them. At the time, it didn't cause much of a ripple. Then, about nineteen months later, he got hired to write and direct Marvel's Guardians of the Galaxy, and with great power comes great scrutiny. Sure enough, two months after his big announcement, his old post, "The 50 Superheroes You Most Want to Have Sex With: 2nd Annual Poll Results!" was rediscovered and is now under serious scrutiny. He's being accused of slut-shaming and being homophobic and misogynistic.
He has taken down the post, but the Internet doesn't play by the delete button's rules; his list is still available through Google cache. (Also available through Google cache is his follow-up post, "15 Superheroes I Most Want to Have Sex With.") The original list includes an array of not particularly likable sentiments. For Gambit, he wrote: "My girlfriend voted for this Cajun fruit," and, "The idea of my balls slapping against Gambit's makes me sick to my stomach." For Stephanie Brown (Batgirl), he wrote: "Being a teen mom and all, you know she's easy." Perhaps the most cited in this delayed outcry were his comments for the lesbian character Batwoman: "I'm hoping for a Marvel-DC crossover so that Tony Stark can 'turn' her." Not surprisingly, now that this out there, it's not going over very well. The collision of such oft-argued topics as sexism, homophobia, and comic books (plus a dash of "What is and is not satire?") has created a powder keg of Internet opinion. Here's what people are saying.
THE CASE AGAINST GUNN
Those calling for his head acknowledge the fantasy element of comic books and get the desire to sexualize these already hypersexualized figures. However, sites like the female geek blog the Mary Sue argue that while there isn't anything wrong with "talking explicitly about sex," what is wrong is the "sheer amount of slut-shaming (on only the female characters) and anti-gay language that Gunn directs towards the majority of the male characters." The writer added, "These are not opinions befitting somebody who's been given the task of bringing a major part of the Marvel Universe to the big screen." Alyssa Rosenberg, of Think Progress, added "[He] and Disney should have to explain why these kinds of attitudes haven't ruined him from being the kind of person who's actually suited to introduce the first Marvel superheroine." Before he was just a small film director writing some dumb and possibly distasteful shit on his blog, but now that he has the high-profile Guardians' gig, he is in a position of power to shape this universe in a negative way. To this end, some have signed a petition to Marvel to get him removed from Guardians.
THE CASE FOR
The response, as it often is with things like this, can be summed up as: "Take a joke, dorks." Drew McWeeny of HitFix chalked up this "faux controversy" up to the fact that Gunn just "likes really, really dirty jokes." Others are arguing that the whole thing was a satire and that Gunn was being ironic. They reference his "PG Porn" series of shorts that had fun with the misogynist conventions of pornography.
BUT IS IT SATIRE?
That argument falls flat when one considers the whole thing wasn't written in a potentially ironic tone. Sure, if every sentence had a fratty "She has nice jugs for a lesbian" or "Eww, I'd never touch another guy's dick" tone, then one could argue it was all a big joke. But many of the blurbs were more straightforward, if still filled with profanity and not entirely earnest. He wrote this about Catwoman: "This supervillain turned anti-hero has been making my penis feel funny since I was four years old and saw Julie Newmar playing her on TV. Today she's as sexy as ever, especially when drawn by the supertalented Adam Hughes." Or there is this particularly innocuous comment about Supergirl: "Seriously, sigh. Just fucking sigh man. How can you be so innocent and demure and so simultaneously able to rip out my spleen before I even know it?"
If it is satire, it is poorly executed satire, as there is no wink. And this becomes dangerous when it's written for an audience who is likely to take it seriously. To this point, Dark Horse Comics editor Rachel Edidin wrote, "There's a significant slice of the comics community that is that misogynist and homophobic, and says so loudly and frequently. It's telling, I think, that so many people took what Gunn wrote at face value: this is material we've seen before, again and again, presented seriously." She continued, "An over-the-top parody of misogyny falls pretty flat when you're doing it in a context where a lot of the people in positions of relative power and visibility, as well as significant vocal blocs, are actually that misogynist."
Gunn, Marvel, or Disney have yet to make a comment about the post and its recent fallout. However, considering Disney's aversion to controversy, we can't imagine this will remain unaddressed for much longer.