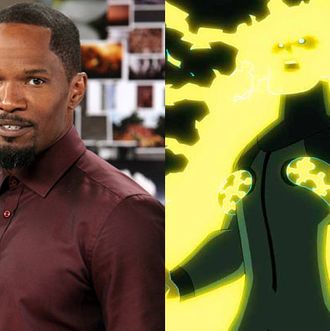 Jamie Foxx and Electro: Can you see the resemblance?
Photo: Getty Images, Marvel
Jamie Foxx is being eyed for a major role in the next Amazing Spider-Man movie. Variety reports he's in talks to play the main villain, Electro. After being struck by lightning, Electro can control electricity (just like everyone who gets struck by lightning). If he secures the part, Foxx will be the fifth Oscar nominee to go up against Spider-Man in a movie, after Willem Dafoe,  Alfred Molina, Thomas Haden Church, and James Franco. Also, Topher Grace did it once.