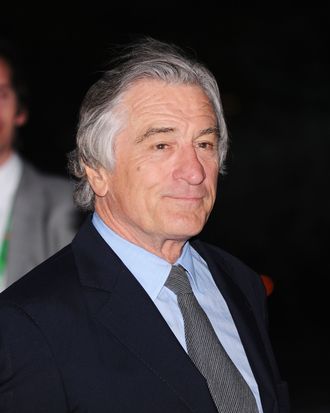 Robert De Niro attends the 2012 Tribeca Film Festival at the State Supreme Courthouse on April 17, 2012 in New York City.
Photo: Jamie McCarthy/Getty Images
Even though he promised De Niro that he would do a song for the Tribeca Film Festival, and poor Bob called Jay six times to follow-up.  So De Niro took the obvious course of action, which was to confront Hov at Leonardo DiCaprio's birthday party and tell him off for being "disrespectful." Beyonce tried to intervene! Jay tried to explain that he's more of a texting guy. But Robert De Niro just stood there fuming, because all Robert De Niro wants in this life is a phone call from Jay-Z. Actors are humans, too.