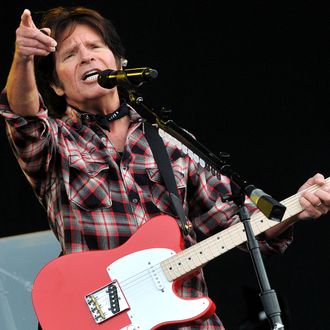 John Fogerty performs live on stage during the second day of Hard Rock Calling at Hyde Park on July 14, 2012 in London, England.
Photo: Jim Dyson/Getty Images
Former Creedence Clearwater Revival front man John Fogerty is ready to tell his story in book form. Little, Brown announced yesterday that the singer-songwriter's memoir will come out in 2014 and, according to Fogerty, "tell the story of how I fought — hard — to maintain my artistic integrity in the face of opposing forces." We're just hoping to find out what's going on in that bathroom on the right.