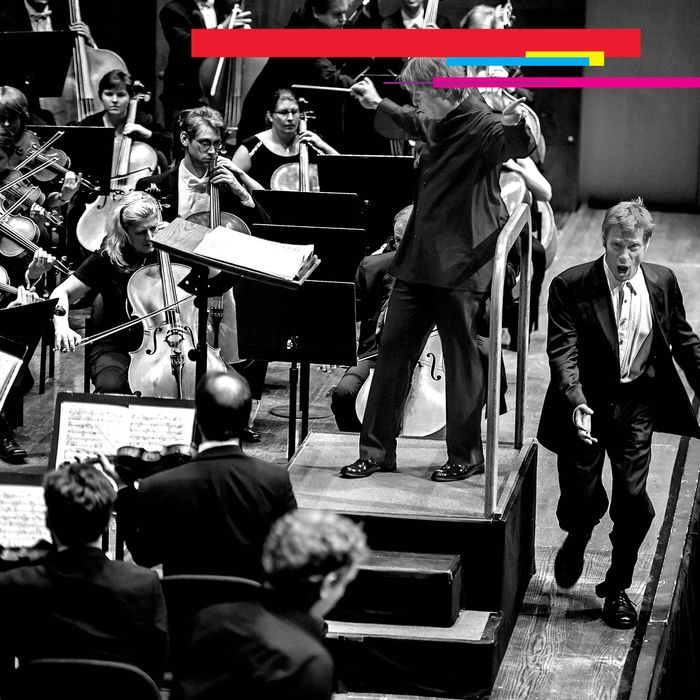 Wozzeck
Photo: Stephanie Berger/Lincoln CenterMANDATORY ADJACENT CREDIT: STEPHANIE BERGER.2012
1. The Philharmonia Orchestra's Wozzeck
Alban Berg's compact shocker of an opera is about cruelty and despair, but the Philharmonia's concert performance in Avery Fisher Hall on November 19 was a celebratory event. Rare as it is to experience the score in the flesh, it's rarer still to hear it done with such a volatile mixture of vitriol and love. The libretto, which Berg adapted from Georg Büchner's episodic and truncated 1837 play, crackles with disdain. "I saw you pissing in the street like a dog!" exclaims a doctor to Wozzeck, his human lab rat. "Haven't I proved that the sphincter is subject to the exercise of the will?"
The score can be ferocious, too, full of lurid chords and panicky rhythms, but in the right hands—the conductor Esa-Pekka Salonen's, say—it's also a thing of garish beauty. Salonen balanced the opera's lush and bitter sides, hitting the Psycho-ish moments with ruthless precision, and at others caressing the story's brutalized souls with the Philharmonia's downy sound.
Supported by a flawless cast, Simon Keenlyside brought manifest empathy, and his cashmere baritone, to the title role. Wozzeck's mixture of rage and fragility is mirrored in the vocal line, which tempts the singer to do a lot of hyperbolic barking. Keenlyside resisted. Though he grimaced and galumphed and went bonkers with the best of them, his singing remained elegantly, expressively supple. You'd have to go back decades, to Franz Grundheber, Mack Harrell, and Dietrich Fischer-Dieskau, before you found another singer who delineated the character so sharply and humanely.
It was a shame, in a way, to experience this most stageworthy of operas without sets or props, with white tie instead of costumes, and only a sliver of stage to act on. And yet the performers delivered the music so vividly that the moon reddened invisibly and the stage was drenched in an imaginary, but still dazzlingly lurid, glare. Sometimes to see clearly, music is all you need.
2. Thomas Adès's The Tempest
Adès's music whips from dense spasms to gossamer whispers—a perfect match for Shakespeare's fantasy. The Met gave his opera a luxe production, with the superb Simon Keenlyside as Prospero.
3. Juilliard's Così Fan Tutte
With the retreat of City Opera, Juilliard's undergrad opera department (with help from the Met) has effectively become New York's second company. Stephen Wadsworth and Alan Gilbert deftly guided an effervescent young ensemble through Mozart's tricky mix of romance and cynicism.
4. Joyce DiDonato's Drama Queens
You wouldn't think that an unflaky mezzo-soprano could do justice to opera's most unhinged characters, yet DiDonato does. I missed her Carnegie Hall recital, but the new recording Drama Queens provides consolation: She skips from one emotional extreme to another, never stinting on intensity or finesse.
5. "John Cage at 100"
Among the centennial bashes for the impish master of randomness was the New York Chamber Music Festival's varied retrospective at Symphony Space. A highlight: their bewitching treatment of Cage's organic-instruments piece Branches.
6. The American Mavericks Festival
Nobody has mined the vein of rugged lunacy running through American music with more glee than Michael Tilson Thomas, who unleashed deliberate vintage mayhem at Carnegie Hall.
7. BAM's Einstein on the Beach
Philip Glass's 1976 opera still feels fresh and weird and mesmerizing. No plot, no characters, no intermission—yet five hours glided by.
8. Janet Cardiff and George Bures Miller's The Murder of Crows
The duo turned the Park Avenue Armory's drill hall into a claustrophobic dreamscape, full of horror-film sound effects and rattling music. The half-hour installation flirted with kitsch, but it grabbed hold and left me buzzing and delirious.
9. Chamber Music Society of Lincoln Center
The pianist Inon Barnatan, cellist Alisa Weilerstein, and violinist Arnaud Sussmann turned Smetana's G-minor piano trio into cathartic drama, at once intimate, scalding, and grand.
10. "Skyful"
On a perfect summer night in a roofless Williamsburg factory, the keening of Kinan Azmeh's clarinet ricocheted off the century-old brick walls, kicking off construction of the Original Music Workshop.
Click Here to See More From the Year in Culture 2012
*This article originally appeared in the December 10, 2012 issue of New York Magazine.