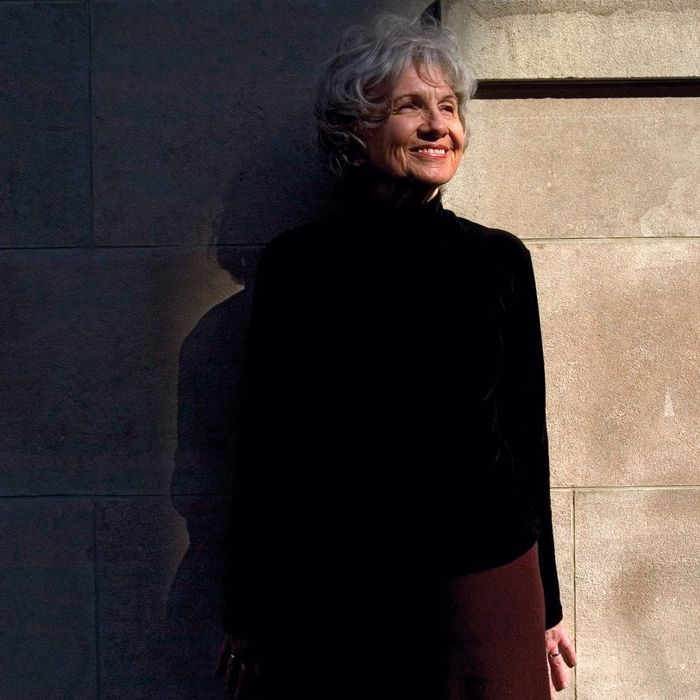 Alice Munro
Photo: Andrew Testa / Rex USA
1. Alice Munro, Dear Life (Knopf)
"She carried not noticing to an extreme": That's how one character is described in Dear Life, Alice Munro's newest short-story collection. The opposite could be said of the author, who carries noticing to an extreme. The quality of attentiveness pervades Munro's stories; they have the stilled, alert, self-held-in-abeyance feel of someone trying to identify a distant sound—something dangerous or unwelcome, perhaps, or maybe just the neighbor or the cat or the wind. Her stories are dangerous, and they are neighborly, and I could read them all day long. In the case of Dear Life, I did.
Like many Munro stories, the fourteen in this collection are largely set in small-town Ontario, where she grew up. Nearly all of them mix the predictable with the contingent—a combination characteristic of Munro, and also, scarily, of life. Momentous events happen without warning, or because some slight thing happened just before. Quotidian life-stuff, meanwhile, unfolds with regularity and care. A tragedy on a train, foreshadowed and feared, does not come to pass; the shadow is the substance. Three stories later, a child drowns.
Munro is widely referred to as a genius, and she deserves the word—deserves it fresh from the box, gold on velvet, back before overuse rubbed out its shine. Her own luster is undiminished, umpteen books and 81 years later. Her only concession to age here, if it even is one, are the final four stories, which are largely autobiographical: "the first and last—and the closest—things I have to say about my own life." Without that brief explanation, I would have taken them for fiction. That's not because Munro's memories feel fictionalized; it's because her stories feel … what would the opposite be? Realized, I suppose—an apt word, in all its connotations. Many other writers on my list this year (Dyer, Chabon, Hitchens) have styles that make me swoon, a mating dance of word and idea gloriously specific to their one-person species. Munro has style, too, of course, yet reading her feels completely different. Her stories rise up like a thought in the mind: realized. As such, they don't even seem quite like stories, though I've never known what else to call them. Munro does, though. In that autobiographical coda, she writes, "This is not a story, only life." Yes, exactly.
2. Katherine Boo, Behind the Beautiful Forevers: Life, Death and Hope in a Mumbai Undercity (Random House)
Reported like Watergate, written like Great Expectations, and handily the best international nonfiction in years.
3. Jim Holt, Why Does the World Exist? An Existential Detective Story (Liveright)
A ridiculously good book about the world's most intractable question. (Read the full review.)
4. Geoff Dyer, Zona: A Book About a Film About a Journey to a Room (Vintage)
If W. G. Sebald had locked himself in a movie theater and started drinking before breakfast, he might have written something like Zona: a critique of a cult film that's also a meditation on time, love, art, threesomes, and messenger bags.
5. Michael Chabon, Telegraph Avenue (Harper)
This jam-packed book (friendship, family, race, midwifery, murder, vinyl, kung fu, hope) should be over the top. Instead it raises the bar. This year's most credible candidate for the Great American Novel. (Related: Schulz on why Chabon is the perfect writer for the Obama age.)
6. Christopher Hitchens, Mortality (Twelve)
A meditation on dying by one of the greatest wits, brains, and pains in the ass of our time. Slim, brilliant, devastating, and—improbably, but Hitchish-ly—uproarious.
7. Lorin Stein, Sadie Stein, Object Lessons: The Paris Review Presents the Art of the Short Story (Picador)
Twenty writers introduce stories they love. Hyperinteresting shoptalk from some of literary culture's best shops, and best talkers.
8. Marilynne Robinson, When I Was a Child, I Read Books: Essays (Farrar, Straus and Giroux)
Robinson is the anti-Hitchens: an equally clear thinker, but a devout Christian who eschews polemic. These precise and moving essays (on lonesomeness, austerity, imagination, and more) are written with its opposite: a respect for life's complexity.
9. Wade Davis, Into the Silence: The Great War, Mallory, and the Conquest of Everest (Vintage)
As unusual and eloquent as its title isn't. Davis deftly connects topography to colonialism, psyche to body, World War I trenches to the top of Mount Everest.
10. Anthony Shadid, House of Stone: A Memoir of Home, Family, and a Lost Middle East (Houghton Mifflin Harcourt)
This tragically posthumous book is part memoir, part Middle Eastern history, part emotional expense report filed by one of our greatest foreign correspondents.
Click Here to See More From the Year in Culture 2012
*This article originally appeared in the December 10, 2012 issue of New York Magazine.