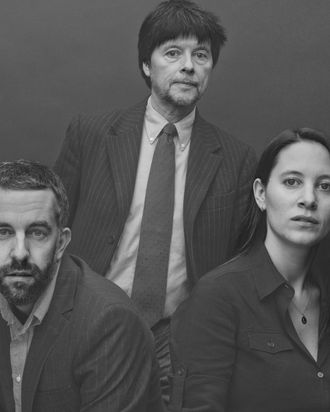 The filmmakers: David McMahon, Ken Burns, and Sarah Burns.
Photo: Christopher Anderson/Christopher Anderson/ Magnum
"They're so full of shit," says Ken Burns, railing against lawyers for New York, the city that's been the glamorous star of so many of his documentaries. "The outrage that I feel comes from the fact that people were readily willing to sacrifice the lives of five young men, that they were expendable, that they're still stuck in a lie, and that the institutional protectionism continues."
The master of languid still-photo pans and narration-heavy historical rambles seems to have metamorphosed into a firebrand—and not just in conversation. His new documentary, The Central Park Five, looks more like a Spike Lee joint or an Errol Morris exposé than anything in the Burns wheelhouse. It's about five Harlem teens convicted of the infamous 1989 rape of Central Park jogger Trisha Meili only on the basis of shaky confessions. Those convictions were vacated in 2002 after a serial rapist, whose DNA matched some found at the scene, came clean as the sole attacker—and after the Five had been jailed for years and permanently branded as emblems of urban decay. The movie alternates between grainy, jump-cut archival footage, searing interviews of the men, and ticktock deconstruction of their interrogations. There is minimal music and no narration. An Oscar contender with a limited release this week, Five recently became part of its own news cycle when city lawyers subpoenaed the outtakes for their defense of a civil suit filed by the five men.
Burns calls the movie's underlying subject, race, "the central operating premise of almost everything I've done," but concedes some major departures. "It was entirely appropriate to let the story tell itself," dispensing with narration. It's also his shortest film in decades, his first theatrical release since 1985, and his first collaboration with the newest member of his team, his co-director and daughter, Sarah Burns.
It was her project from the start. Sarah met two of the Central Park Five back in 2003, when she was a Yale undergrad interning at a law firm that was preparing their civil case. Casting around for a ­senior-thesis topic in American studies, she wound up with a 50-pager on the media's use of racial tropes in covering the case. Newspapers had coined the dubious term wilding to describe the "wolf pack" of 30-odd kids that had roamed the park that April night, beating and mugging passersby. (Other teens were convicted of lesser crimes; the Five were part of that group but probably not ringleaders.)
After graduation, Sarah went back to the law firm, and married one of her father's producers, David McMahon. Instead of applying to law school, she decided to turn her college paper into a book. One of her first readers, Dad, immediately wanted to turn it into a movie, in collaboration with his daughter and son-in-law. The three co-directors were well into the documentary by the time The Central Park Five: A Chronicle of City Wilding was published last year. All of them conducted interviews, Sarah did the research, McMahon handled the footage, and Ken lent his editing expertise.
They reasoned that a film, especially a Ken Burns production, could help drive home the men's innocence—which "never got the attention that their guilt did," as a historian puts it in the movie. One of their most difficult tasks was explaining how five different teens could have confessed to something they knew nothing about. "I had to understand for myself how it happened," says Sarah, who lives with McMahon in Park Slope. "It's the hardest part, in some ways, to wrap your head around." The film details the tricks detectives used—dangling the promise of food, sleep, and home in return for concocted scenes in which the suspects claimed to be minor players, but pointed fingers at each other. "It's amazingly similar in all these cases," Sarah says, "the same sort of techniques that are really effective even when you're innocent."
Just as important to the directors was restoring a little of the dignity that the Five had lost. "They were completely dehumanized," Sarah says. "It's really about letting people get to know them as individuals." The Five develop, in the course of the film, as people with their own agency and personalities, their own strengths and scars. Gregarious Raymond Santana contrasts with closed-off Korey Wise, the only one tried as an adult. Yusef Salaam was the proud, sharp son of a Parsons professor, Kevin Richardson a mama's boy in a house full of women. None of them were interchangeable members of a monolithic, violent underclass.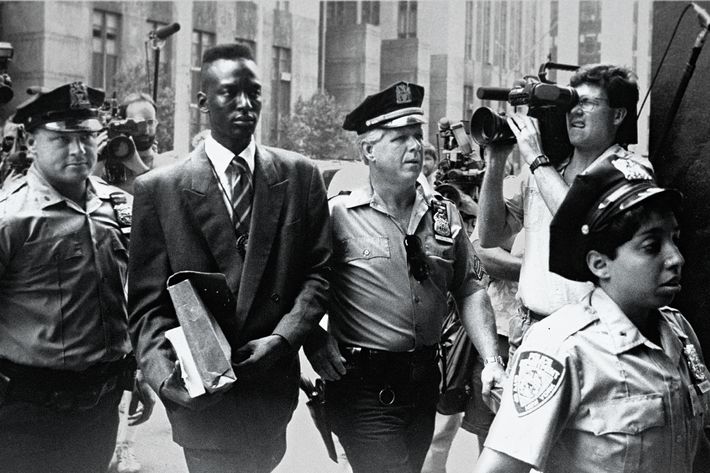 "We were considered animals," Raymond Santana tells me, "and the movie lets people know that we were kids, just humans." For the most publicly demonized men of Koch-era New York, it wasn't easy to speak again before cameras, as they had in 1989 after up to 30 hours of interrogation. Testifying to the Burns family was a reclamation of those induced confessions, a kind of storytelling jujitsu. They did it, in the end, not because of Ken Burns—Santana "didn't even know who Ken Burns was"—but because of the trust Sarah Burns had fostered over the years. "We knew that she told the facts," Santana says, "and that's all we ever wanted."
All the facts of that night may never be known. Meili remembers nothing of the attack and declined to be interviewed for Five; the rapist, Matias Reyes, currently serving 33 years to life for other crimes, initially agreed but backed out, standing by his confession as the sole attacker. Though the men's convictions were vacated, a report commissioned by Ray Kelly suggested the Five may still have had contact with Meili. But the report found no firm evidence for it, and it would contradict the pattern of Reyes's other rapes. In their civil suit, filed in 2003, the men are asking for $50 million each, charging misconduct on the part of detectives and prosecutors. The city's defense rests not on the men's guilt but on the contention that officials and cops had probable cause for everything they did.
Active city officials refused to comment for the film, but city lawyer Celeste Koele­veld tells me it's "unfair to suggest that either side is delaying" the nine-year-old case. She denies that confessions were coerced or evidence was disregarded. Defending the subpoena against the Burns team, she argues that they're advocates for a settlement and thus exempt from journalistic privilege. "If the plaintiffs truly want an open airing of facts," she says, "they should encourage the filmmakers not to hide anything."
"First of all," Ken Burns responds, "the First Amendment permits you to have beliefs, and second of all, this is the most journalistic of my films. I think there's one adjective in our film and that's 'brutally raped' … They're just fishing for inconsistencies. This thirteen-year tragedy, which is justice denied, has been followed by ten years of justice delayed, which is also justice denied."
Burns, who's moved to quash the subpoena, says there's further evidence of misconduct—"tangential information that ought to get somebody a Pulitzer somewhere." It might even lead to another movie. His daughter isn't so sure: "I feel like I might have already spent too much time on this." But the family isn't done collaborating. Though Burns has his hands full with solo ­projects—one on the Dust Bowl, currently airing, and a couple of forthcoming epics on the Vietnam War and the Roosevelts—the group has already embarked on another co-production, a biography of Jackie Robinson.
Meanwhile, the civil case continues its endless slog. Burns is reluctant to speculate on whether his movie might influence a settlement. But Santana isn't so circumspect. "We want people to be enraged and do something, speak their voices," he says. "Now, does that influence our civil case? I'll take it if it does. In 1989, the media greatly impacted our case, and nobody questioned that. So when the tables turn, there shouldn't be too much complaining now."       
The Central Park Five. Directed by Ken Burns, Sarah Burns, and David McMahon. IFC Films. NR.
*This article originally appeared in the November 26, 2012 issue of New York Magazine.