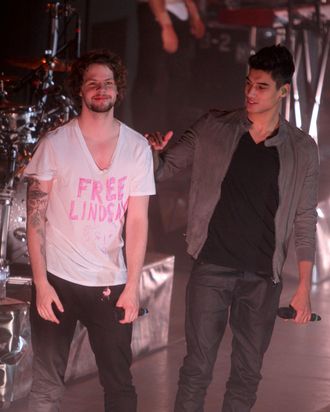 Jay McGuinness from the Wanted, in his t-shirt.
Photo: ELMO/AKM Images/GSI Media
The Lindsay Lohan Avenue Arrest Saga is now deeply confusing and somehow involves gypsies, but you will recall that Lindsay was flirting with Max George, of the Wanted, at some point before the incident.  Max, being a cad, has not really commented on the matter beyond a tweet that reads "eventful night!!." But another, kinder member of the band — Jay, the one with a "No Doy" tattoo — took it upon himself to speak up for Lohan at last night's Madison Square Garden concert. You can read the T-shirt for yourself (it says "Free Lindsay").