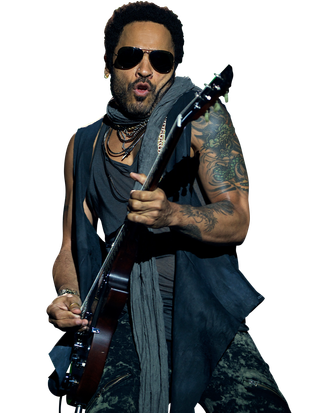 Lenny Kravitz.
Photo: Getty Images
Lately, you've seen Lenny Kravitz morph from hot male nurse (Precious) to explosive stylist (The Hunger Games). But this Thanksgiving, the actor-musician Lenny Kravitz plans to remind us of his music roots when he takes the stage at halftime during the New England Patriots–New York Jets game. (He'll perform "Like a Jet," an ode to his favorite football team, as part of Pepsi NFL Anthems program.) We used this occasion as an excuse to speak with the easygoing Kravitz about spying on Joe Namath, his future in the Hunger Games franchise, and his schoolboy crush on Jane Fonda.
Thursday's game will double as a Red Cross fundraiser for Sandy victims. You're a New Yorker — how did that storm affect you?
It was not about me. I did lose all my musical equipment, all of my touring equipment in a facility in Hoboken, New Jersey — 20 years worth of things. But, you know, those are material things. That doesn't match somebody losing their home and being in the cold and not being able to live. I feel for anybody that was affected by this storm. I've been traveling on the road — I'm coming to NYC tonight.
As a lifelong Jets fan, do you agree with the sentiments that Rex Ryan, the Jets' coach, should be fired?
Ah, how do I think he's doing? I've been working so much I have not really been following. I caught a game here and there. So I can't comment on that. But I'm an overall fan. I grew up with the Jets. And I loved Joe Namath as a kid.
What's your favorite Joe Namath moment?
Playing catch with him in front of my building when I was a kid.
You played catch with Joe Namath?
He lived across the street from me. That's why I was such a fan when I was a kid. I used to look directly into his window. I hadn't seen him since I was, like, 9 or 10 years old, and I saw him sometime in the last year — we did Letterman together. I was just some kid on the street. He had no idea that was me. I started telling him all about the things that were in his apartment, how he would be playing pool all the time. He was laughing. His friend who was with him said, "I bought him that pool table!" It was quite funny. Somehow my father got him to play catch with me once. He also wrote me a little note when I was away at summer camp. Like, "Hope you're having a great summer … Joe Namath."
Since you had a good view into his window, would you say 1970s-ish Joe Namath was your dating spirit animal?
[Laughs] He was a bit of a rock star, wasn't he? He had a great personality. He transcended football. Great player — he made those game passes, and they won. And his off the field persona was … kind of like the Mick Jagger of sports.
And you're morphing from rock to film star. Your film career thus far has been pretty impressive.
It's been a good start.
You're re-teaming with your Precious director for The Butler, which costars Oprah Winfrey. What is it like working with an icon like that?
She can be so down to earth and regular, just blend in. We were all there to be actors, you know? Very low key about it. And very dedicated to giving the best performance and doing whatever that took.
And you tweeted this flirty photo of you and Jane Fonda …
Ohhhh, I have a big crush on Jane Fonda. No, no, she's still hot — very hot. And what an amazing actress. She's very humble. It was an honor to be in her presence.
So you're basically working with two very strong women, Lenny.
I grew up around strong women, so I'm very attracted to that. My mother, my grandmother, my aunts — they were the people in the family that were so strong and supportive. I'm used to that kind of character.
Meanwhile, how has being in The Hunger Games affected your fan base?
Um, well, I have eight-year-old kids coming up to me who know me as Cinna and have no idea that I make music. 
SPOILER ALERT, IF YOU HAVEN'T READ THE HUNGER GAMES: The book mentions your character being tortured for supporting Katniss. Will we see that on screen?
Um, I can't say too much about it. But you will see how he leaves the story.
Personally, what do you think is the worst way to be tortured?
Oh wow — there's trivial torture, and there's real torture. I guess on a trivial level, you know, not being able to hear or make music. That would drive me crazy, yeah.
People have been reporting online that you're going to play Marvin Gaye in a biopic from director Julien Temple (London: The Modern Babylon, Absolute Beginners).
I have been working with Julien, and that's all I can say right now. We'll be shooting next year. There'll be more to come, information-wise, very shortly.
How do you plan to prepare for this role?
It's hardcore, and I'm approaching with a lot of respect.
Will you have to change your singing voice?
I'm going to have to change everything. It's going to take a lot. I wouldn't say I'm scared, but it's a great challenge.