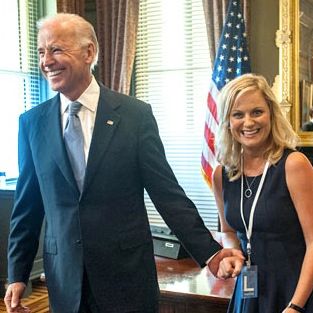 Joe Biden and Amy Poehler filming Parks and Recreation.
America's most ardent Joe Biden admirer, Parks and Recreation's Leslie Knope, is getting a crack at the man who comprises the entirety of her celebrity sex list on next week's episode. Yes — Amy Poehler, Adam Scott, White House, Vice-President, November 15. Scoring a scene with Biden, in the same July shoot in D.C. in which Parks nabbed cameos from Olympia Snowe, Barbara Boxer, and John McCain, was "so much less difficult than we ever possibly imagined," showrunner Mike Schur tells Entertainment Weekly. "[Biden's] staff really loves the show, and he apparently had watched the show with his family and his family liked it … The hardest part was keeping it secret for so long because there's all these FEC rules and equal-time rules. We couldn't air it before the election because it was the equivalent of a campaign contribution to advertise for one candidate."
Schur adds that Biden was "clearly" a Poehler fan, greeting her with a congratulations on the Emmy nomination she'd garnered that day. "He said some very nice things about the show and talked about how the pro-public service message was meaningful," Schur says. Biden also improvised a response to one of Knope's surely awkward showings of enthusiasm and it made the final cut.
The only bad news here is that the scene wound up totaling less than a minute. If you can justify previewing something that brief, we'll embed that glimpse here.