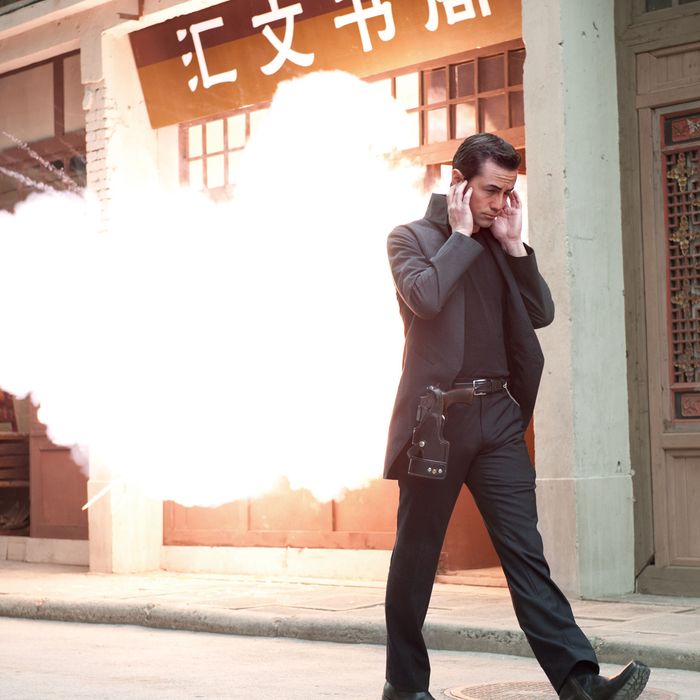 Joseph Gordon-Levitt as "Joe" in TriStar Pictures, Film District, and End Game Entertainment's action thriller LOOPER.
Photo: Courtesy of Sony Pictures
Hollywood has always been a crazy place, but now things are getting a bit Loop-ier. The success of Rian Johnson's recent time-travel thriller has forced studios to ponder a future version of themselves and say, "We should do more of those."
Part of the intense interest in all things Looper, of course, has as much to do with what the Bruce Willis and Joseph Gordon-Levitt film cost as what it was about. Looper wasn't just a time-travel movie, but a $30 million time-travel movie that has grossed $130 million worldwide since its debut almost two months ago. Such modestly-priced profitability has increasingly eluded Hollywood, which now tends to make films very cheaply or with wild abandon.
Even before its release, positive buzz was building on Looper, so it was no surprise that when Glimmer, a found-footage spec script by Carter Blanchard hit the market in June, a bidding war erupted, pitting Paramount against its onetime property, DreamWorks. Like Looper, Glimmer was a time-travel movie, but not just a time-travel movie: It was also a found-footage, teen-centered time-travel movie. Thus, it promised to replicate the outsize success of one of the year's most profitable films to date, Fox's Chronicle, which came out in February. As with Looper, Chronicle grossed almost $130 million worldwide, but it cost even less than that film — just $12 million, forsaking big stars like Willis and Gordon-Levitt in favor of talented young unknowns.
In Glimmer, a group of teens on a camping trip are separated and some of them accidentally time-travel back to the seventies where they become stuck; further complicating things, one of them starts using his knowledge of the future for personal gain, ensuring that their interactions will imperil not only their futures, but everyone else's. Determined not to lose the film, DreamWorks offered progress-to-production blandishments that would further reward its screenwriter if the studio dithered in getting it into theaters.
Cut to last month, when an eerily similar project was announced by Paramount: Almanac, from freshman screenwriters Andrew Stark and Jason Pagan, who have spent the last year developing their screenplay with Michael Bay's Platinum Dunes. Again, teens; again, time-travel; again, found-footage; again a protagonist using his knowledge of the future for personal gain. (À la Back to the Future 2, one teen brings an almanac into the past in an effort to make money for his college education in the future. What could go wrong?!?)
So enamored is Paramount of the time-travelling motif that last week it also closed on Our Name Is Adam, a script by T.S. Nowlin that has Tom Cruise attached and billionaire producer David Ellison's Skydance Productions financing. As is the case with so many Skydance projects (Flight, Top Gun 2), this one also involves flight: Cruise would play an astronaut who goes back in time to meet his younger self. (Ellison is also an aerobatic pilot, in case you're wondering about the source of his aviation film fetish.)
This being Hollywood, the inevitable consequence of developing a time-travel movie involving astronauts is, of course, to suffer the hot breath on your neck of a rival studio which is itself developing time-travel movie featuring astronauts: Warner Bros. is developing The Twilight Zone (based on the venerated Rod Serling sci-fi TV series that also sparked a 1983 film), that until recently was to be directed Matt Reeves (Cloverfield). It follows a test pilot who winds up breaking the speed of light; when he puts down his craft, he discovers that he's landed a bit late for supper — 96 years late.
Reeves decamped the Zone project earlier this month for Fox's Rise of the Planet of the Apes sequel. No word yet on whether that sequel will, like so many of the earlier Planet of the Apes projects, feature time-traveling astronauts, but at the rate we're going, we wouldn't exactly be surprised if it did.