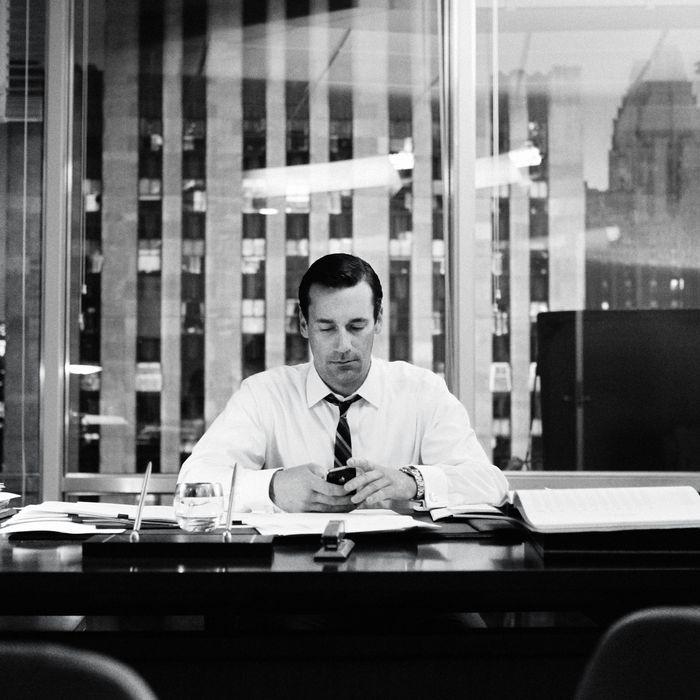 1. Mad Men (AMC)
A few scripted shows aired episodes as strong as the best of Mad Men's fifth season, but none sustained such ambition, lyricism, and depth from week to week. Nearly every scene, line, and shot seemed keenly judged. The major themes (the waning of the Wasp Establishment in the face of the civil-rights movement and feminism; societal chaos manifested in threats of random violence; universal fears of aging, impotence, and death) were developed with a delicacy characteristic of great mid-century American fiction. At least five episodes were flat-out masterworks ("Signal 30," "At the Codfish Ball," "Far Away Places," "Dark Shadows," and "Commissions and Fees"), and the rest were so rich that, in retrospect, complaints seem like churlish nitpicks. 
Throughout, showrunner Matthew Weiner and his collaborators served up indelible images, scenes, and sequences: Megan cooing "Zou Bisou Bisou" at Don's surprise birthday party, writhing like a siren; Sally walking in on her step-grandma Marie with Roger; Roger's LSD trip; the chillingly powerful "Tomorrow Never Knows" montage; Don staring into an abyss that he never imagined would open up; the loving yet deeply sad look on Joan's face when Don stops by her apartment, too late to prevent her from going on that fateful date with the car dealer; a distraught Lane clutching his broken glasses while failing to start his Jaguar; Peggy stepping onto an elevator to the tune of the Kinks' "You Really Got Me," her future hazy yet bright; Don's climactic walk through a dark soundstage to the theme to You Only Live Twice, Megan receding behind him. Just thinking about this show makes me want to watch it again.
2. Luck (HBO)
HBO shut down this racetrack drama from David Milch and Michael Mann after a string of horse fatalities, and its loss still stings. Every episode featured brilliant writing and acting, and its philosophical complexity put other series to shame. It was headed for Deadwood-level greatness.
3. Louie (FX)
Louis C.K.'s fantasy memoir is a dramaturgical laboratory, and not every experiment works. But no current comedy is as consistently surprising, and season three's best episodes—Parker Posey's second appearance and the dreamlike finale—were stunners.
4. Breaking Bad (AMC)
The first half of this final season positioned Walter White as a diabolical chess master who had checkmated every comer; then it pulled the rug out with a scene promising an agonizing fall. This cliff-hanging gangster melodrama is always a half-step ahead of its audience.
5. Community (NBC)
This year, TV's cleverest comedy crawled into its own navel and found untold treasures. Season closer "Introduction to Finality" ranked with the show's best episodes and could have been a series finale (to some, it was, because it marked the departure of the show's fired mastermind, Dan Harmon).
6. Treme (HBO)
David Simon's New Orleans series distributes its attention among dozens of characters with such rigor that the phrase "ensemble drama" doesn't do it justice. Its portrait of a community struggling after disaster is empathetic but never sappy.
7. Homeland (Showtime)
After season one, viewers wondered if Homeland could sustain its premise. Season two subverted expectations by mining domestic subplots and minute psychological details. Only the hit-and-run plot felt contrived, but even that yielded some wrenching moments.
8. Archer (FX)
The third season of this animated spy spoof kept topping itself in absurdity, but its clowning was matched by ever-more-inventive filmmaking. The action scenes are more intricately choreographed than anything in Skyfall.
9. Hatfields & McCoys (History)
A dark look at the roots of tribal warfare, set right here in the good old USA, this miniseries about America's bloodiest family feud is a cautionary tale invoking seventies Westerns and featuring understated work by Kevin Costner and Bill Paxton.
10. Coma (A&E) and American Horror Story: Asylum (FX)
The former is a medical-conspiracy thriller that plunged its heroine (Lauren Ambrose) into increasingly freakish set pieces. The latter is the latest iteration of Ryan Murphy's horror-comedy series: a campy psychodrama set in a mental hospital. Both proved the midnight-movie spirit is alive and well on TV.
Plus: The Good

Scene Stealer of the Year
Mykelti Williamson, Justified (FX).
Whether he was threatening underlings or preempting a shooting with his trusty meat cleaver, he was always disarming.

Comeback of the Year
The Walking Dead (AMC).
Last season was a preachy, tedious slog barely worth hate-watching. Season three was terrific: scary and terse, with a reenergized cast.

Nonfiction Series of the Year
The Dust Bowl (PBS).
Ken Burns investigates our worst ecological disaster, a tale of catastrophe and regeneration, told through the eyes of now-elderly witnesses.

Kids' Show of the Year
Adventure Time (Cartoon Network).
Inspired by alternative comics, 1930s Max Fleischer shorts, and Hayao Miyazaki, this cartoon series from Pendleton Ward is as sweet as it is dazzling.
The Bad
Worst New Comedy
Go On (NBC).
This Matthew Perry vehicle, about a widowed radio D.J. in therapy, is too chicken to go dark. It's like a cutesy Robin Williams comedy about a crying-on-the-inside clown.

Worst New Drama
Revolution (NBC).
The post-apocalypse drama has zero imagination and a blockbuster budget squandered on second-hand sci-fi about pretty people bickering.