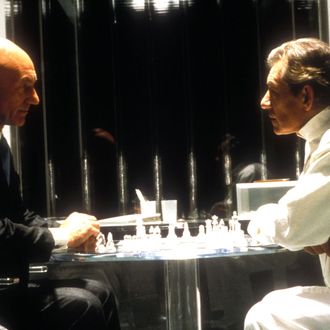 Ian McKellen and Patrick Stewart: Together Again!
Photo: 20th Century Fox
After tweeting that James McAvoy, Jennifer Lawrence, Michael Fassbender, and Nicholas Hoult were all set to return for the follow-up to X-Men: First Class, director Bryan Singer dropped this mutant bombshell: "Thrilled to announce @ianmckellen118 & @SirPatStew are joining the cast of #XMEN #DaysOfFuturePast #magneto #professorX." Yep, Ian McKellen and Patrick Stewart will reprise their superheroic roles from the original X-Men films in X-Men: Days of Future Past. (And, yep, Ian McKellen and Patrick Stewart have Twitter accounts.) Considering that Fassbender and McAvoy are set to return as well, this will invariably involve time travel, as in the original comic story line. Are you #TeamFassAvoy or #TeamStewKellen?