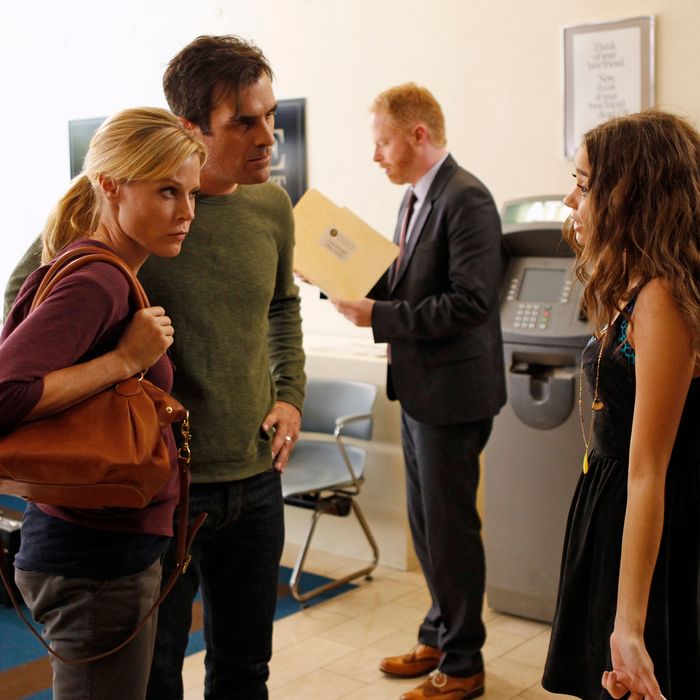 Photo: Jordin Althaus/ABC
Opening with a glimpse at how insanely all these characters react to a 3 a.m. phone call, "Arrested" is off to an excellent start. (Also, interesting title, in light of the manifold Arrested Development similarities last week.) Phil's "TELL ME WHAT'S HAPPENING?"; Cam's insistence that the phone call must stem from his dream about a rain of chickens; Mitch's inability to snark at Cam at that particular hour; Jay's "this better be good"; Gloria and Manny's insistence that the call must mean death and subsequent sympathy for Jay; no one's surprise at Haley's arrest — a stand-out cold open.
From there we're treated to an episode with great character groupings packed with all the right jokes at the preferred breakneck pace. Cameron takes care of Lily, Alex, and Luke while Mitchell joins a stressed Claire and a Zen Phil en route to a jailed Haley. Perfect opportunity for Cam to try out his vegan bacon, fakon, which, since it's homemade, has taken one further step toward the absurd by being dubbed fauxcon. (Mitch's "it's fauxcon disgusting" is brilliant. Somebody get that pun a MacArthur Grant.) Setting back Cam and fauxcon's joint triumph is Luke's allergy to soy, fauxcon's sole ingredident. Cam's day of blundering the child care begins. ("Luke, put the facon down!" "I'm using it to scratch my throat!")
Phil doesn't seem to be as irate as Claire about Haley's predicament. (Although, to be fair, there's a chance that with Haley's amount of screentime this season, maybe he's just forgotten he has that other daughter.) He's mostly identifying with his daughter's wild times: "I remember one night in freshman year a bunch of us on the Frisbee golf team got a case of Zima. Enough zed." "More than enough," says Claire, before cutting to a talking head aside painfully reminding us Claire is nothing if not mean and/or maniacal and threatening to murder a family member (here: husband) every few episodes. Breakfast-deprived, sunken-eyed Phil begins an episode-long transmogrification into a waffle-zombie.
Jay, who regrets to decline an invitation to Manny's Spoken Word Festival as he's already booked for the Rather Blow My Brains Out Jamboree, is startled by the Twilight Zone–ish ringtone no doubt set for one person alone: Shelley Long's DeDe, Jay's ex-wife and mother of his adult children, looking more zanily enlightened than ever. Gloria's pregnancy brokers a truce between the two of them, leading to a pigpile on Jay, leading to Jay defending his beloved Stella, covering her ears, and incidentally melding the dog's face into this hilarious look, a DVR rewind-and-pause if ever there were one. And Manny and DeDe have been keeping up some emotional long-hand correspondence, because Manny is the oldest, most sensitive man on the show.
Cam almost gets busted for how bad he's flubbing when Claire calls. A nurse's loud "I hear we've got a boy who can't breathe?" gets instantaneously covered by Cam's, "Oh, I'm just watching an original Lifetime movie called The Boy Who Can't Breathe." Bonus 2012 Amanda Bynes shout-out.
Haley's "I'm still drunk" over Skype last week was clearly a carrot leading to tonight's plot. Not only was she drinking, she assaulted a cop by falling out of the sky onto him. Mitchell's in a daylong battle to prove he's more of a regular lawyer, less a panda attorney. Haley's plan of attack for her school's disciplinary hearing is to emulate Legally Blonde. "This is real life, not an excellent movie," Phil tells her in his last moment playing cool dad before laying down the law in a display of tough-dad-ness the likes of which we never see. From "just stop talking" to "we'll see you at the hearing, DO NOT BE LATE," Phil is on fire. I have next to no Schadenfreude when it comes to Haley, but it's great seeing Phil do some hard-core, non-bumbling parenting for a second.
Haley's defense at her hearing is to own up to all the bad decisions she's made in her brief six weeks at college. She steals from the dining halls, skips most of her classes, dates teacher's assistants, and throws out a Hail Mary "go Wildcats … ?" to ingratiate herself with the school. Wrong mascot, but still, nice spirit.
A timely Obamacare non sequitur from Luke transitions into Gloria narrating the night's Hallmark closing — making babies is easy; keeping them safe, sacrificing for them, and standing by them in the wake of disappointment is harder. Oh, and Haley's out of college and back into the Dunphy nest. It's nice seeing the show give her a nontraditional post-high-school path — and working her back into the fold for future episodes — but hopefully her arc isn't a long play toward TV's idea of the ultimate, and ultimately traditional, salvation of fulfillment-via-marriage. Haley should flip what the show's told us about her so far and become a huge success at something. Maybe take a meeting with Parks and Rec's Tom Haverford and get some ideas flying. This is your time, Haley.