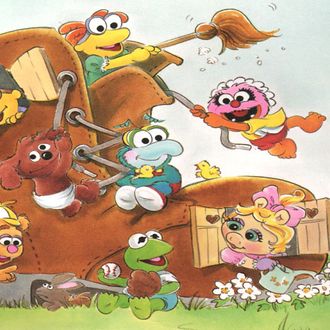 When we heard the news about Disney's acquisition of Lucasfilm, we manically considered all of the angles: Who would direct the new Star Wars movie? Would it continue the same story line? How do the fans feel about this? But suddenly we realized one possible major ramification of the deal that nobody is talking about: Does this mean Muppet Babies could finally come out on DVD and streaming? A generation of Skeeter fans just called for their smelling salts.
Before we explain the dominoes that George Lucas's handover could cause to fall that would lead to this long-awaited rerelease, some background on a show that's theme song you can probably still sing by heart if you're a child of the eighties. The animated series, which ran for eight seasons from 1984 to 1991, followed the adventures of preschool-age Kermit, Fozzie, Miss Piggy, Gonzo, Animal, Rowlf, Scooter, and new addition Skeeter, as they played together in a nursery overseen by a benevolent-but-faceless caretaker named Nanny (voiced by Leave It to Beaver's Barbara Billingsley). The premise doesn't really hold up to scrutiny: It was based on a flashback segment from The Muppets Take Manhattan and completely contradicted the origin story of the first Muppet Movie, and why were all the Muppets being raised together in the first place, anyway? Were they all secretly related? Was the "nursery" an orphanage for wayward puppets? Logic aside, Muppet Babies was very much in the spirit of The Muppet Show, with catchy songs, corny jokes, and vivid characters. It was quality programming that paved the way for countless shows about the power of childrens' imagination, from Rugrats to Phineas and Ferb. And after ending a syndicated run in 2000, it was never seen again.  
What has prevented Muppet Babies, a hit show with endless merchandising tie-ins, from moving onto DVD, Blu-ray, or the Hub? Though a spokesperson for the Walt Disney Company declined to comment, the dominant fan theory has to do with copyright issues. One of the show's most inventive gimmicks — placing the animated Muppets into live-action film sequences as the characters "imagined" them — may have doomed its immortality. A lot of those scenes used stock footage, but there were also plenty of recognizable clips from film and TV; the opening credits alone utilized the boulder scene from Raiders of the Lost Ark and an X-wing fight from Star Wars. Ghostbusters, Star Trek: The Next Generation, The Three Stooges, and The African Queen all made appearances during the series. (We also seem to recall an episode that used footage from Fritz Lang's Metropolis, but maybe we just fell asleep during a college film course.) Basically, it's a rights nightmare.
Except … a lot of that footage is owned by Lucasfilm, which is now owned by Disney, which acquired the Muppets in 2004. Furthermore, Muppet Babies was produced by Marvel Productions, a subsidiary of the Marvel Entertainment Group, which Disney acquired in 2009. It's like every move Disney has made has been part of the enormous, top-secret master plan of releasing Muppet Babies on Blu-ray!
Of course, we don't know whether those Lucasfilm clips were actually the main copyright obstacle in bringing back The Muppet Babies; there are definitely Columbia and Paramount properties in play here, as well as some Nintendo games. For that matter, we don't know whether rights issues are really the primary obstacle (although Dave Coulier, who voiced five of the show's characters, seems to think so, and one does not argue with Dave Coulier). It's possible that Muppet Babies isn't even on Disney's radar at this point. In which case, neglectful execs, nostalgists bid you a haughty GO BYE-BYE!