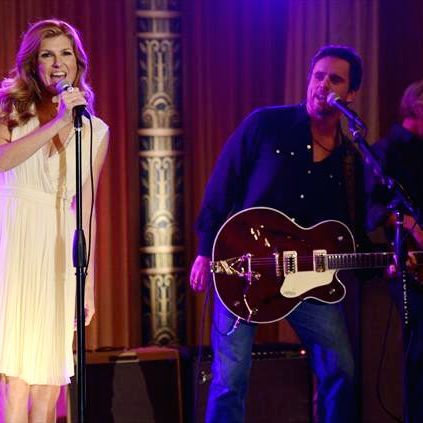 Photo: Katherine Bomboy-Thornton/ABC
Here's my impression of me watching the opening minutes of Nashville: Oh hell no! This better be a freakin' dream sequence, because if Rayna and Deacon hooked up "off-camera," this show is officially dead to me. Whew. Okay, false alarm. 'Cause there's Teddy standing by the bed with coffee. It is a dream sequence. Rayna's dream sequence.
So, we've already established the fact that Nashville loves a love triangle like a fat kid loves cake. But in this episode, the love triangles got love triangles. We're talking about love quadrangles or somethin' (I was never particularly good at geometry). First, we meet Hailey (Chloe Bennet), the sexy, yogurt-obsessed girl from the record label with the hots for Gunnar. Then we meet Peggy (Kimberly Williams-Paisley), a Nashville society maven and ex-girlfriend of Teddy's who possibly still has the hots for him.
Oh, these ruffles have ridges.
But that, of course, isn't the big story of the episode: The big story involves Juliette's nail-polish-lifting "scandal."
Now, am I the only one who thinks the show way overreacted to this misdemeanor? (Loved when the cops showed up at Juliette's door and she disdainfully snorted, "Get a real job.") I mean, okay, I believe the video would go viral, and I sort of get that a shoplifting incident would tarnish Juliette's squeaky-clean image, and I even see that Juliette managed to make things a whole lot worse with her bad attitude — nobody walks out on Robin Roberts, nobody! — but come on. It's not like she was caught speeding on the freeway with a stolen gun, a sex tape, and a kilo of coke in the glove compartment. There wasn't even a mug shot, for God's sake.
So why did Juliette steal the nail polish? I got the distinct impression in last week's episode that she did it knowing full well that those teens would see her and possibly even videotape her. It was the classic "cry for help." (As my sister matter-of-factly put it: "Juliette's troubled.") But if Juliette is trying to run from her past, be taken seriously as an artist, and establish she's not some Okie from Muskogee, maybe stealing nail polish from the Quickie Mart isn't the best way to do it. Just a thought.
Meanwhile, Juliette's not the only one trying to hide from her past. Rayna also has a past — as daddy's little rich girl who was mocked by her peers for her country-music-loving ways.
"These are not my people!" she keeps insisting about the country-club types. (Theme of last night's episode: You can run from your past, but you can't hide.) Nonetheless, Rayna has agreed to perform a song for Teddy's fund-raiser at the club. Deacon's going to be there, too. Oh, this should end well.
(Aside: LOL at the ad for Reba McEntire's new sitcom, Malibu Country. ABC is gunning hard for that country demographic right now. And Malibu Country has to be the single worst title for a sitcom since Shasta McNasty.)
Backstage, Deacon and Teddy go nose to nose, almost looking like they might come to blows. (As Buffy Summers might say: Can we have them wrestle it out, preferably with oil of some kind involved?) Then, once they're onstage (dug the song, for what it's worth), Deacon is all smirky and gloaty toward Teddy as he sings with Rayna. Chump move, Deacon.
Then, Peggy actually motions for Teddy to go outside with her. Because Teddy walking out in the middle of his wife's song during his fund-raiser with an ex-girlfriend wouldn't be conspicuous at all. Later, though, when Teddy and Peggy meet in his car, I saw it as a bit of a misdirection: You're supposed to surmise they're trying to cover up an ongoing affair. But I think Peggy was somehow involved in Teddy's "shady business dealings." Hmmm.
After the show, Rayna is understandably pissed at Deacon for his antics onstage. (Another theme of tonight's show: Both Deacon and Juliette take a bad situation and make it worse. Huh. Maybe they are meant for each other.)
Rayna: "I can't believe you put us in this position."
Deacon: "Which us?"
Touché.
After that, Rayna promises Teddy that she'll fire Deacon. We'll see how long that lasts. (I predict pressure from the record label to keep him on the tour.)
Over in Avery/Scarlett/Gunnar land, it's more of the same ol' same ol', with Avery trying to be supportive, but seething with jealousy, and Gunnar pining away for Scarlett, but still managing to hook up with the Who Moved My Yogurt girl.
On Nashville, guys may be pining away for a forbidden love, but they also have needs, y'all. (Ooooh, I just realized that Gunnar totally looks like a skinny, rockabilly version of Finn from Glee.) (I'll stop doing this after five or six episodes, I promise.)
By the end of the episode, Juliette has been humbled.
Her tour has been canceled — again, really? — and they won't even let her present at the CMAs. (Chris Brown will be presenting in her stead.) Her manager threatens to quit. "Whatever problems you had before, that interview made them exponentially worsen," he says. Heh. Like Juliette knows what exponentially means. Anyway, Juliette shows a semi-sincere side and promises she'll do whatever he says. He agrees to keep her on.
The show ends with Juliette sitting alone at her big kitchen island, snarfing down the "pink macaroni casserole" (ewww) her mama made her, and calling Deacon because she needs a friend. Needless to say, he's coming right over.
Aaaaand it looks like next week the love quadrangles heat up and the cow pies hit the fan! Can't wait.
P.S. From now on, any episode that doesn't feature Rayna and Teddy's daughters performing a song will automatically be docked half a grade. Consider yourself warned, show.