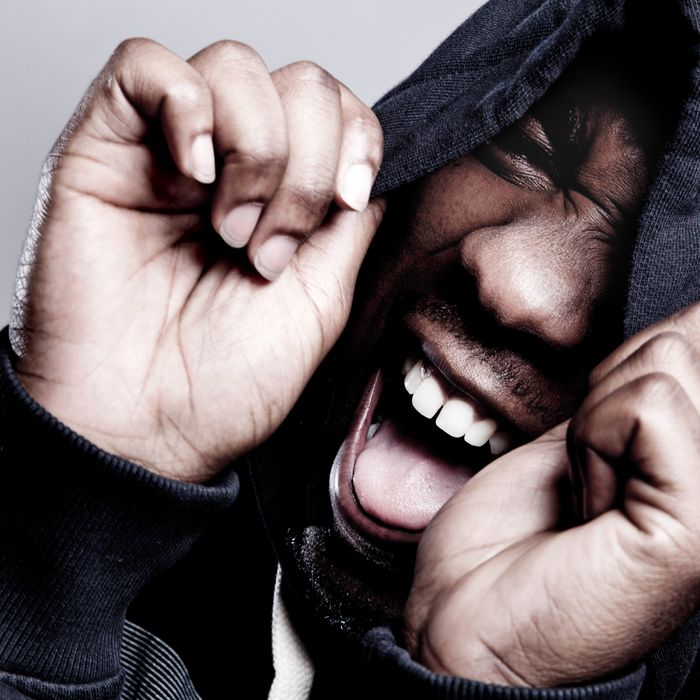 Kendrick Lamar
Photo: Ben Miller/For New York Magazine
1. Kendrick Lamar, Good Kid, m.A.A.d City (Top Dawg/Aftermath/Interscope)
Kendrick Lamar's a questing, serious-minded kind of rapper, and on last year's Section.80, he spent one track moralizing on a theme serious-minded rappers often address: "Keisha's Song (Her Pain)" uses the story of a girl who turns to prostitution as an opportunity to shake his head at the evils lurking on the streets of his native Compton. There was something pat and condescending about it, especially compared with the riches elsewhere on the album. But if you listen to Lamar's rapturously received major-label debut, Good Kid, m.A.A.d City, you will eventually run into something eye-opening—toward the end, you will hear him take up the voice of Keisha's sister, laying into the rapper for writing a song about anyone else's pain and glibly justifying why she's following the same path.
The song is a twelve-minute centerpiece called "Sing About Me, I'm Dying of Thirst"; it also takes up the voice of a murdered gangbanger. The point isn't just to paint bleak pictures. Somewhere along the song's length, you realize that Lamar's real fear is of spiritual emptiness, of "dying of thirst"—the dead-eyed, fatalistic tunnel vision that leads people around him into oblivion.
Good Kid, m.A.A.d City is subtitled A Short Film, and it presents Lamar's origin story in a form as tautly organized as a good screenplay. It neatly hits its marks for action and humor, sentiment and entertainment; it's scored with warm, mournful beats that sound like they've meditated their way to some calmer vantage point above the action. But what's most striking is the depth Lamar brings to the story itself—a vision of his younger self always in danger of succumbing to that spiritual emptiness, and looking for things (religion, family, rap) rich and substantive enough to fill the hole.
2. Chairlift, Something (Columbia)
Chairlift could easily content themselves with being just another set of stylish Brooklyn New Wavers; it's likely how they'll be regarded anyway. But their second album is a real overachiever, full of meticulous, ambitious, and truly valiantly nerdy takes on the kinds of music that might have been flounced around to by late-eighties drama-club kids. They're not afraid to send singer Caroline Polachek chasing hard after the ideas and emotions, and she makes some surprisingly risky catches.
3. Miguel, Kaleidoscope Dream (RCA)
Miguel spent 2012 dabbling with the sounds of R&B's past and possible future, shading them together into gems like "Adorn"—a track that smolders as classically as "Sexual Healing," even while oversize blots of sci-fi bass crawl around its underside. If the title Kaleidoscope Dream doesn't tell you where he wound up, his interpolation of the Zombies' "Time of the Season" on the second track will: This is R&B with a very psychedelic spin.
4. Death Grips, The Money Store (Epic)
In a year with no shortage of abrasive noise blasts, The Money Store was one of the most thrilling—a wild-armed drummer, a bug-eyed, hectoring shouter-rapper, and a delirious synth-abuser making music that feels shattered, scraped, stripped, and dedicated to its own sustained intensity. The surprise is how fun it gets.
5. Jessie Ware, Devotion (Island/PMR)
If you could monetize having your album compared to Sade, Ware would finish 2012 rich. The comparison's not unreasonable: This English singer has the same smoky reserve and sophisticated languor. But tucked inside are fascinating threads of the hypermodern club music she got her start singing guest vocals for.
6. Mount Eerie, Clear Moon and Ocean Roar (P.W. Elverum & Sun, Ltd.)
Phil Elverum has spent a decade and a half making music that was singularly woodsy and exposed, all wide eyes, whispers, and shivery gooseflesh. But the two albums he released this year—the womblike Clear Moon and the immersive gales of sound on Ocean Roar—feel new and different, almost mystically so: Inspired by the meditative drones and dins of minimalist composers and black-metal records, he's split the difference between contemplative songwriting and full-on mindfulness exercises.
7. Killer Mike, R.A.P. Music (Williams Street)
R.A.P. Music is one of the year's most emphatic, committed, and pointed releases, right down to its title: Atlanta veteran Killer Mike encapsulates decades' worth of fiery, stentorian hip-hop, rapping about the Reagan administration (and conjuring flashbacks to nineties firebrands) as effortlessly as he inhabits the sounds of the present day.
8. Evans the Death, Evans the Death (Slumberland)
It's a modest row to hoe, this droll British guitar-pop about youthful ennui. But Evans the Death hoe it with lovable panache—much of it from singer Katherine Whitaker, whose ear for phrasing and wryly evocative lyrics are squarely in Morrissey's tradition.
9. Elle Varner, Perfectly Imperfect (RCA)
The music world lined up this year to heap praises on R&B's new crop of left-field songwriters and independent-minded auteurs—including Frank Ocean's Channel Orange. But the straightforward pleasures on Varner's colorful debut are just as rich: bright-eyed smiles, kitchen-table warmth, and arrangements that blast confetti every which way.
10. Cloud Nothings, Attack on Memory (Carpark)
Cloud Nothings are very much in touch with the power of negative thinking—Attack on Memory knows its way around feelings of frustration, failure, petty resentment, and general uselessness. It also knows its way around the kind of teeth-gritting indie rock that excels at exorcising those feelings, and turning them into something happily, catchily cathartic.
And the Song of the Year:
Sky Ferreira, "Everything Is Embarrassing"
With all apologies to the chest-bursting shout-along of Icona Pop's "I Love It," to the metaphysics of aloneness in Grimes's "Oblivion," to the terrible driving on Schoolboy Q's "Hands on the Wheel," and to that chewy second melody at the end of "Call Me Maybe," it's this effortlessly simple tune, from an L.A. pop chancer, that really sticks: It has feathery grace and weary melodies, magic and sparkle, and feels as warm as curling up next to the radiator on a cold day.
Plus:
The Good:
Most Enduring Pop Phenomenon
Carly Rae Jepsen, "Call Me Maybe"
You know the words. Your mother knows the words. Colin Powell knows the words. It was the Little Canadian Song That Could.
Most Deserving Pop Blockbuster
Taylor Swift
The eternally surprised, ex-boyfriend-shaming superstar is still a gifted songwriter, and Red features some of her best kiss-offs ever. (Jake Gyllenhaal might disagree.)
The Bad:
Least Enduring Pop Phenomenon
Lana Del Rey
January's most controversial pop starlet was old news by February—unless you count her SNL performance, which will be remembered for years for its badness.
Least Deserving Pop Blockbuster
Mumford & Sons
The old-timey bands at Frontierland have been doing this for decades. Give Country Bear Jamboree a Grammy! — Amanda Dobbins
Click Here to See More From the Year in Culture 2012
*This article was originally featured in the December 10, 2012 issue of New York Magazine.