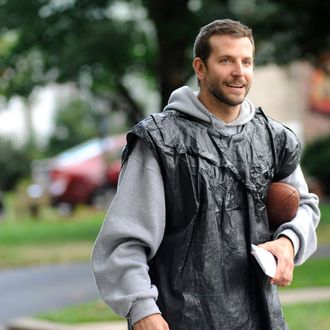 Photo: JOJO WHILDEN/THE WEINSTEIN COMPANY
Every week between now and January 10, when the nominations are announced, movies and stars will help themselves — or sometimes, hurt themselves — in the Oscar race. Vulture's Oscar Futures will listen for insider gossip, comb the blogs, and out-and-out guess when necessary to track who's up, who's down, and who's currently leading the race for a coveted nomination.
Let's check out this week's chart:
Best Picture
Silver Linings Playbook
Buoyed by strong reviews (from our David Edelstein and New York Times critic Manohla Dargis, in particular), and buttressed by a strong scaling-back of the theatrical release (now the film will platform, building buzz), Silver Linings ought to be a long performer.

The Best Exotic Marigold Hotel
Remember this past summer, when things were so bad that people thought this Judi Dench dramedy could score a Best Picture nod? This week, it couldn't muster a single vote from the expert Oscar pundits polled at Movie City News. Summer stalwarts Beasts of the Southern Wild and Moonrise Kingdom remain in contention, though.
Current Predix
Amour; Argo; Beasts of the Southern Wild; Les Miserables; Life of Pi; Lincoln; Silver Linings Playbook; Zero Dark Thirty
Best Director
Quentin Tarantino (Django Unchained)
In a new Playboy interview, Tarantino hinted that he may be ready to retire after making ten movies; Django is his seventh. The implicit message? Start counting your few opportunities to reward him, Oscar voters.
Joe Wright (Anna Karenina).
When Wright's Atonement was nominated for seven Oscars – including Best Picture – he didn't make the cut in his own category. It's only going to be harder for him this year.
Current Predix
Ben Affleck (Argo); Tom Hooper (Les Miserables); Ang Lee (Life of Pi); David O. Russell (Silver Linings Playbook); Steven Spielberg (Lincoln)
Best Actor

Daniel Day-Lewis (Lincoln)
Steven Spielberg's presidential biopic opened strongly this past week, and buzzed-about lead Daniel Day-Lewis (along with supporting threats Sally Field and Tommy Lee Jones) was invited to the White House to screen the film for President Obama.

Joaquin Phoenix (The Master)
Last month, Phoenix blasted the Oscars as "bullshit"; this week, he attempted to walk the comments back somewhat in an interview, saying, "It's not like I fucking hate the Oscars." Might want to work on that mea culpa a bit more, Joaquin.
Current Predix
Daniel Day-Lewis (Lincoln); John Hawkes (The Sessions); Hugh Jackman (Les Miserables); Joaquin Phoenix (The Master); Denzel Washington (Flight)
Best Actress

Jennifer Lawrence (Silver Linings Playbook)
Already a frontrunner in this category for her spiky work as a widower in David O. Russell's comedy-drama, Lawrence has been charming voters right and left on the Oscar circuit. "She was so smart and likable and nice that it just makes you all the more eager to do something for the person," one voting director confided to us.
Keira Knightley (Anna Karenina).
Knightley is strong in this costume drama, but critics are decidedly mixed on the movie, which forgoes a traditional adaptation of the Tolstoy novel for a bold (and divisive) conceptual take that sets all the action in a single massive theater.
Current Predix
Marion Cotillard (Rust and Bone); Jennifer Lawrence (Silver Linings Playbook); Helen Mirren (Hitchcock); Emmanuelle Riva (Amour); Quvenzhane Wallis (Beasts of the Southern Wild)
Best Supporting Actor

Robert De Niro (Silver Linings Playbook).
De Niro is getting some of his best notices in years as Bradley Cooper's OCD dad in Silver Linings Playbook, and as far as the Los Angeles Times is concerned, he's the category's frontrunner.

Matthew McConaughey (Magic Mike)
The always-charming McConaughey swanned into Los Angeles this week to work the room for his great Magic Mike performance, which remains a bit of a tough sell for Oscar voters. Still, it's enough to put him at EVEN, and that very visible weight-loss commitment to his next role in Dallas Buyers Club will only help burnish his serious-actor bona fides.
Current Predix
Alan Arkin (Argo); Robert De Niro (Silver Linings Playbook); Leonardo DiCaprio (Django Unchained); Philip Seymour Hoffman (The Master); Tommy Lee Jones (Lincoln)
Best Supporting Actress
Anne Hathaway (Les Miserables)
The press tour begins! Hathaway is on the cover of Vogue and stopped by Saturday Night Live, showing off that award-worthy singing voice. Les Miz will screen for the first time in little more than a week, so we'll know more soon.
Frances McDormand (Promised Land)
The Oscar winner is super likable playing support to Matt Damon in this new Gus Van Sant drama (which just began circulating), but it's not the stuff that trophies are made of.
Current Predix
Amy Adams (The Master); Samantha Barks (Les Miserables); Sally Field (Lincoln); Anne Hathaway (Les Miserables); Helen Hunt (The Sessions)