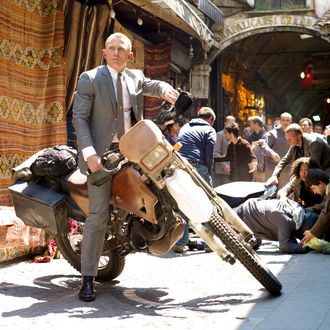 Photo: Francois Duhamel/MGM, Columbia Pictures Industries
Every week between now and January 10, when the nominations are announced, movies and stars will help themselves — or sometimes, hurt themselves — in the Oscar race. Vulture's Oscar Futures will listen for insider gossip, comb the blogs, and out-and-out guess when necessary to track who's up, who's down, and who's currently leading the race for a coveted nomination.
Let's check out the chart:
Best Picture
Les Miserables
Holy smokes, that new trailer! How many times have you watched it? We talked to two rival awards publicists today and even they're obsessed with it.
Skyfall
We've got another UP this week, since Skyfall has earned super-strong reviews (currently, it's 93% fresh on Rotten Tomatoes) and could be a populist nominee. Then again, maybe Les Miz will be a monster hit, making that our populist pick?
Current Predix
Amour; Argo; Beasts of the Southern Wild; Les Miserables; Life of Pi; Lincoln; Silver Linings Playbook; Zero Dark Thirty
Best Director

Steven Spielberg (Lincoln)
This is a pretty terrific film, as David Edelstein and A.O. Scott will tell you. Spielberg is in … but does it have enough oomph to make him a contender for the win?
Sam Mendes
(Skyfall). Skyfall could be an awards season surprise in some categories, but not here. This group is too tough to crack, even for a former winner.
Current Predix
Ben Affleck (Argo); Tom Hooper (Les Miserables); Ang Lee (Life of Pi); David O. Russell (Silver Linings Playbook); Steven Spielberg (Lincoln)
Best Actor

Daniel Day-Lewis (Lincoln)
This performance is like one of Lincoln's many winding stories: It starts in a surprisingly modest, quiet fashion, but when it needs to pack a punch at the end, it connects hard through sheer accumulation. Will voters prefer that approach to the more flashy theatrics of, say, Joaquin Phoenix?
Christoph Waltz (Django Unchained)
Weinstein reps put our word this week that Waltz is jumping into Lead (opposite his costar Jamie Foxx) instead of Supporting (opposite his costar Leonardo DiCaprio). Either category is a star-choked buzzsaw this year, but Lead is definitely the tougher race. Good luck, CW!
Current Predix
Daniel Day-Lewis (Lincoln); John Hawkes (The Sessions); Hugh Jackman (Les Miserables); Joaquin Phoenix (The Master); Denzel Washington (Flight)
Best Actress
Jessica Chastain (Zero Dark Thirty)
Here's how undefined this category is right now: No one has even seen Zero Dark Thirty or gotten more than a scrap of footage of Chastain in it … yet she's already cracked the top 5 on many prognosticators' lists, simply based on whispers that a strong campaign will be waged.
Emmanuelle Riva (Amour)
And those same Oscar pundits have pushed Riva out of their shortlists. Let's hope she rallies, since her work is so strong and the record-breaking nature of her would-be nomination is irresistible.
Current Predix
Marion Cotillard (Rust and Bone); Jennifer Lawrence (Silver Linings Playbook); Helen Mirren (Hitchcock); Emmanuelle Riva (Amour); Quvenzhane Wallis (Beasts of the Southern Wild)
Best Supporting Actor
Javier Bardem (Skyfall)
Bardem's got buzz, no doubt about it, and as we told you today, other actors love him (and love to vote for him, since he's been nominated three times and won one Oscar). Against him, though: While fun as hell, is his Bond villain as immediately iconic as No Country's Anton Chigurh?
Russell Crowe (Les Miserables)
His RZA-directed martial arts actioner Man With the Iron Fists bombed this past weekend, so Crowe could use the hit. He's not bad in the Les Miz trailer … but he's not its standout, either.
Current Predix
Alan Arkin (Argo); Robert De Niro (Silver Linings Playbook); Leonardo DiCaprio (Django Unchained); Philip Seymour Hoffman (The Master); Tommy Lee Jones (Lincoln);
Best Supporting Actress

Sally Field (Lincoln)
She's got a centerpiece monologue where she goes toe-to-toe with Tommy Lee Jones (another surefire nominee) that absolutely kills and assures her a nod. That's a trend this season: Both Jennifer Lawrence and Helen Mirren get to level defiant speeches against older, Oscar-winning actors to great success in Silver Linings Playbook and Hitchcock, respectively.
Amanda Seyfried (Les Miserables)
Too bad that no one in the film's strong, deep distaff cast is going Lead: Instead Seyfried will have to compete with costars Anne Hathaway, Samantha Barks, and Helena Bonham Carter, and her character isn't nearly as showy as theirs are.
Current Predix
Amy Adams (The Master); Samantha Barks (Les Miserables); Sally Field (Lincoln); Anne Hathaway (Les Miserables); Helen Hunt (The Sessions);