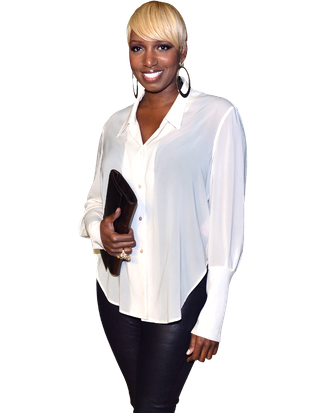 NeNe Leakes has achieved what many of the real housewives no doubt have only dreamt of: a legit acting career. After seeing her spar with Star Jones on Celebrity Apprentice, Ryan Murphy cast her in a recurring role on Glee and later as a series regular in his semi-autobiographical NBC comedy The New Normal. But Leakes tells Vulture why she wants to stay on The Real Housewives of Atlanta, and even promises more drama – read: an olive branch? – between her and the series's other OG Kim Zolciak. But her first order of business is to clear up what really happened when she tried (and failed) to ring up Tyler Perry during Sunday's fifth season premiere.
Do you have Tyler Perry's correct phone number now?
It was correct then [laughs].
What happened then?
He has this on his phone, this crazy silly voicemail that goes [in a high-pitched voice] Doo doo doooo. The number you have reached has been disconnected. It's just something he has on his phone, but that is his phone number.
Ah, you seemed surprised in the episode.
We talk all the time. At least every week I talk to Tyler. We both live out in Atlanta. He usually advises me, he's like a mentor to me. We're really good friends. He just advises me on the industry. He's just regular like me. We talk about all kinds of stuff, even if we're not talking about the industry, and we laugh all the time. He's super hilarious. He saw that episode, too, and he texted me, "This is so funny." Wherever he goes, people are going to be asking him, "Do you really know NeNe?" And he's gonna be like, "Absolutely."
Are you working together professionally on anything?
I would love to work with Tyler, however, we're friends. So whenever we're talking about anything, I never say, "Oh, let me be in your film," or anything like that. I figure he knows me, he knows I'm an actress. Whenever he feels he wants to, he will. If he doesn't, that's fine too. Sometimes when friends work together, the friendship don't last. I'm okay if we do or don't.
The Halloween episode of The New Normal was preempted on account of Hurricane Sandy. What did we miss?
I dressed up as Matt Lauer and Serena Williams. You guys have got to see me as Matt Lauer.
You work on both New Normal and Glee, which film on the same lot as Ryan Murphy's other show American Horror Story. Do you ever wander over there?
I haven't been over to their stage yet, but I would love to guest star on that show! I call Ryan my fairy godmother.
You sound very excited when you're talking about acting. Do you enjoy doing the reality show as much?
You know what? I think this is the best year I've had as a Housewife. I feel like I've come full circle. I feel the best, I look the best, I am just a grown woman and I'm in a much better place now than I was a season or two ago. I've never had an issue being a Housewife or saying my opinions or fighting with any of the girls. I feel like I'm a great Housewife! [laughs]
Atlanta continues to be the most-watched edition of all the Housewives series. Why do you think that is?
I know we're the only brown girls in the franchise. I feel like people tune in because we're very different. You tune in to Miami and New York and Beverly Hills and get the same thing: plastic surgery, blonde, big tits. In Atlanta, it's a little bit more real. And we're not afraid of the cameras being there. Everybody lets loose. We're just entertaining.
In Sunday's premiere, you and Gregg are suddenly back to being friendly and even flirty. What happened there?
You definitely will see Gregg around this season. There's so many things that will be happening.
But was there a turning point for you? Have you forgiven him?
Well, one thing about Gregg and I is that we've known each other for 16 years, and we were married for 15 of them. You'll see the turning point as you watch.
Last year broke down into a war between the Talls vs. the Smalls, but without Marlo it's just you and Cynthia. Do you like any of the women on the show besides Cynthia?
I talk to all of them. We have two new Housewives who bring their own drama, but I have a relationship with everyone, some closer than others.
Does that include Kim again?
Kim, I don't have a … I'm not trying to have a relationship with her, but I can say that I do speak to her. Because "Hello" costs me nothing.
I ask because you tweeted during the premiere that her comments in the episode toward Sweetie were "racist," which is the thing that brought your friendship to its breaking point two seasons ago.
It's not like you're gonna see us going out and having ice cream, but we can definitely be in the same room. You'll see what happens. There's always something with NeNe and Kim.
Do you know why Sheree exited the show? Do you still talk to her?
[The producers] chose not to pick up her option for this past season. I know she's out there telling people that she decided to leave the show, but from what I know that is not what she decided to do. That is what they decided to do. She put out whatever reports she wanted to put out and I don't think they tried to challenge it because they don't really give a shit at the end of the day. She wasn't invited back, Lisa Hartwell wasn't invited back, DeShawn Snow wasn't invited back. I don't talk to any of those girls. I feel like they're all gone for a reason, and I don't think any of them were smart enough to stick around for this long, and I don't think any of them were smart enough to use this platform in ways they could have used it. They're gone and I don't think that they're missed.
Kandi recently said she admires how you've parlayed the success of Atlanta into an acting career.
Both Kandi and I have a business sense — that's one thing a lot of girls on the show don't have. Some people come on these shows to be famous. I was never interested in fame. I was always interested in supporting my family.
You told the New York Post that you can't be a Housewife forever, but you also tweeted a few days ago that you had no plans to leave. Is continuing on Atlanta something you go back and forth about with your acting career picking up?
No, I never go back and forth on it. The show isn't going to last forever. At some point, we all have to say goodbye to being a Housewife. Is that time now for me? I don't think so.