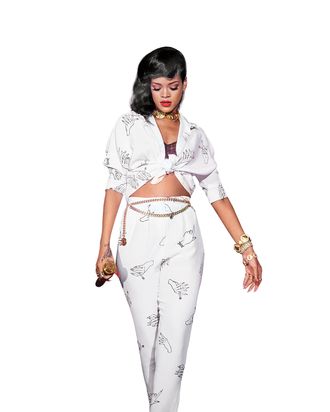 Photo: Samir Hussein/Getty
Rihanna is onboard. For the frenzied fifteen minutes that she mingles with us, on a tarmac in L.A., we learn that she has perfect skin, smells great, and talks like a child. To promote her seventh album, Unapologetic, she has decided to take a bunch of fans on a private Boeing 777 to seven countries in seven days for seven shows. I am among the lucky journalists tagging along.
When she is happy, we are happy. Especially when she instructs us to "get crunk." In a black tank with a black backpack (first-day-of-school vibes), she pours Ace of Spades Champagne into plastic cups; her assistant follows with a bottle of D'ussé cognac. Moments later, Rihanna chirps into the loudspeaker that we should look in our gift bags for a "conflict-free diamond." Stamped into a fingernail-size gold charm and strung on a bit of yarn, the diamond is the size of a mark left by a felt-tip pen. "I love you," she says. We believe her. Especially when we see that she's also given us knee socks upon which her face is printed.
We are three hours late to the first venue, which is in Mexico City—baggage delays, they say. Onstage, Rihanna takes a shot of tequila, because that's "how Mexico do." Two songs are from her new album, and there's a middle bit of slow jams with tour guitarist Nuno Bettencourt (who, with Extreme, sang "More Than Words" in the nineties and who, by the way, still has long, pretty hair). Returning to our seats for the red-eye to Toronto, we are stalled another three hours. When we fly out, it's after three in the morning. We missed a major earthquake by less than an hour.
There are no Rihanna sightings on the way to Toronto. But she appears at the baggage carousel in an oversize sweatshirt and pink baseball cap, then spies some of her die-hard Twitter fans, gives them each a hug, and instructs her bodyguards to block our view. It feels like only an hour later that we're on another red-eye, this time to Stockholm.
When most of your comestibles are airplane food and you can choose between eating chicken mole at 5 a.m. or sleeping, you choose sleep. You also start hoarding packaged foods, because you're low-grade hungry all the time but never hungry enough at the right time. We land just as the sun sets, and seasonal affective disorder kicks us in the teeth. That and Stockholm syndrome. Tonight is the first time we'll be sleeping in beds. A hotel bathroom with hot water is a big deal.
The show is impressive, the venue brimming with chandeliers and attractive Swedes, and the after-party is held in a club in the basement. There's a small, glass-enclosed sex shop in one corner. Rihanna shows up sometime just past 4 a.m. to pour drinks. At 9 a.m., we'll be leaving for the airport.
On the way to Paris, we are delayed three hours—longer than the flight itself. We barely see the city. After the show, we're herded to another after-party—clubgoers in suits without ties and dresses with only one sleeve. Rihanna shows up just before 3 a.m., with Diddy, Pharrell, and Omarion. The security squads managing an ever-growing inner sanctum are a disaster for the rest of us. We can't retrieve our coats for an hour because Rihanna has chosen to stand near them. By the time we're able to leave, every restaurant near our hotel is closed.
We're at the airport again at 8:45 a.m., but don't leave the ground for Berlin for another four hours. Back at home, a New York Times critic has been tweeting #FreeTheRihanna150. It's a joke that gets too real. A week is a long time. As we land, again at night, we are led to a group of build­ings that used to be a Third Reich power plant and now functions in part as a club. The inside is covered in white tiles. We're served a meal cafeteria-style: trays of turkey, green beans, buttered spaetzle, and gravy. It feels like Thanksgiving in prison. We stay in this hall with high ceilings for five hours. One seemingly drunk woman is heckling the empty stage and telling the missing star to "get a fucking watch, because we are German." Rihanna shows up in a black tank with an enormous pot leaf emblazoned on it.
We march onto the bus again and hear Rihanna on the radio; the ear-worminess makes us wonder if we're being programmed Manchurian Candidate style to assassinate somebody. We're so resentful of the official tour's camera crew that we sabotage their B-roll by chanting "B-roll, B-roll" when they come by. That halcyon day when Rihanna actually spent time with us feels like forever ago. Some of us have been drinking around the clock for a week. We have not seen daylight in five days. And spend the afternoon sleeping in London.
We forget where we're flying as we head to Newark. Seven and a half hours into the flight and eight minutes before we land (the captain has already turned on the seat-belt light), Rihanna emerges and spouts some malarkey about being sick. "Usually I would be back here, partying my balls off, with you. But I had to take care of my health." There is a cute little cough. "Thank you, everybody, for making this trip the shit."
*This article originally appeared in the December 3, 2012 issue of New York Magazine.