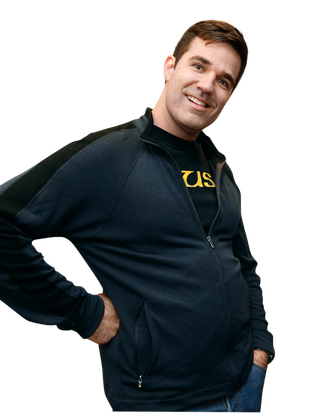 Photo: Jason DeCrow/AP2012
"Do you mind if I get a picture?" asks the bald guy hovering over Rob Delaney's table at fifties-style diner Swinger's in Santa Monica. "You're the only person in this goddamn town I would do this for," he adds a little sheepishly.
You wouldn't expect a comedian who has a four-minute routine about how he enjoys the taste of a woman's vagina (though "not, like, on yogurt"), who sends daily tweets to hundreds of thousands from an account accompanied by an avatar of his hirsute, Speedo-clad body, to get embarrassed. But now De­laney is blushing like a schoolgirl. "That's very funny," he says in a polite, small voice, then adds sincerely, "I wonder if you think I am somebody else?"
The guy means him. De­laney is "kind of a big deal," as another tall, dark-haired, indoor-pale comedian once put it. In the past few years, his "libidinous disgusting swollen weirdo jokes" (his words) have put him on his way to becoming the Internet generation's Will Ferrell: His $9.99 hourlong special has been downloaded from his website 15,000 times, he's working on a memoir for Random House, and nearly all of his stand-up shows, including two earlier this month at NYU, sell out. Comedy Central has called him "the funniest person on Twitter." And clearly this man at Swinger's thinks so, too. "I've followed you since before you were a megasuperstar," he says rapturously.
"I could, like, cry right now, it feels so weird," De­laney says after the guy leaves us to our breakfast burritos. "I would absolutely rather have had you walk in and see me naked, changing a lightbulb, or something," he says. "I mean, you and I know each other."
It's true: I too knew De­laney before he was a megasuperstar; we went to the same high school in a small town near Salem, Massachusetts. My main memory of him is watching as he quietly sang D.I.'s "Richard Hung Himself" while doodling intensively on his jeans with a Sharpie during rehearsals for one of our school's many productions of The Crucible.* I don't think I ever once saw him smile. These days, guidance counselors might send a kid like that to therapy. But this was the nineties, and thus they sent us to drama club. It worked for De­laney. After graduation, I heard he went to study acting at NYU, but then I didn't hear anything about him until recently, when people started retweeting his jokes into my feed. Even unlikely people, like Susan Orlean, who called him "my beloved," and T Magazine editor Deborah Needleman, who called him "compellingly disgusting."
How a gloomy goth teenager turned into cheery purveyor of dirty jokes is, as they say, kind of a funny story. "In high school, I definitely fancied myself an intense guy, which is so lame," he says. "I loved to read, and then, you know, I really wanted to drink as many beers as I could in one sitting." This habit continued until he was 25, when De­laney drunkenly drove into the Los Angeles Department of Water and Power building. He totaled his car and broke both of his arms.
The crash changed his life. "I felt I had gotten a second chance" is how he puts it. "I wanted to laugh and make people laugh." He stopped drinking and started telling jokes. "I walked out of the hospital and onto a stage in Hollywood," he says. But not long after, he suffered a bout of serious depression. "My mind played one thought over and over, which was Kill yourself," he later wrote in an essay about how antidepressants saved his life. Comedy helped, too. "Even in my darkest times, when I would get onstage, tell a joke, and hear a laugh, there was a massive serotonin blast in my brain that would feel very good," he told a reporter after the essay went viral.
When he lost his gig at the company that founded MySpace, De­laney decided to pursue comedy full time. "It got rough for a while. I immediately went from having a nice savings account to zero, to less than zero, to unemployment, to jobs that paid less than minimum wage."
Then he discovered Twitter. "Like everybody sane, when I first hear about Twitter, I was like, 'That's the dumbest thing I have ever heard of,' " he says. " 'Like, that I have ever heard of.' I thought the rules were, you have to post what you ate that day and where you are going. Who would ever want to know that? A psychopath? But then other comedians and myself sort of simultaneously realized, 'Oh: jokes.' " He started getting responses, notably from Irish producer Graham Linehan, who set the ball rolling on his career by hiring him as a consultant for one of his shows.* "My guess is someone retweeted me into his feed," De­laney says. "And I would like to suckle that person with my nectar," he says. "I would like to lactate love into their body."
In case you haven't noticed, the body and its functions are to De­laney what water lilies were to Monet. On Twitter, most of his missives involve his penis and the unusual places he'd like to put it (pizzas, dogs, old ladies), farts, burps, and the myriad possibilities of the human body. "Just put an entire frozen chicken up my ass," he wrote this spring, then clarified he was kidding. "It was just the drumstick." "In real life, I am alarmingly boring," De­laney insists. His wife of six years, whom he met doing volunteer work at a special-needs camp, is pregnant with their second child. "She knows that, like some painters like to paint with a certain color, one of my favorite colors is silly sex jokes." And that underneath this stream of ribald humor lies a social-activist streak. "It makes me sad that corporations and media and Hollywood conspire to make people feel terrible about their bodies from the second they wake up," he tells me, "so I sort of try to subversively undercut that." This became particularly evident in the run-up to the election, when he used his platform to conduct a virulent campaign against Mitt Romney and to champion the Affordable Care Act. "The Affordable Care Act fucking excites me," says De­laney, whose insurance company dropped him after his accident. His tweet "I was considering voting for @MittRomney, but then I remembered I ENTERED THE WORLD THROUGH A VAGINA" was retweeted more than 10,000 times.
De­laney has mixed feelings about the medium that made him. "I respect Twitter. I am grateful for what it has done for me," he says. "But Twitter is a double-edged sword. Yes, you can improve your joke-writing craft, you can increase the number of people that hear them. But you can get drunk on people telling you, 'you are the best' or 'you are the worst.' You have to remember, Twitter pays no one's bills. It can lead to opportunities, but you still have to get up every day and work. Twitter isn't real. This is real," he says, gesturing at the space between us. "If one of us made a smell, we would smell it."
He'd prefer to be known for his stand-up, he says, as the waiter refills our coffee for a third or fourth time. "My stand-up is much more informed by my genuine beliefs, what I really wish to express or explore," he continues. Like gay rights. "If there are any homophobes here tonight, I'd like to invite you backstage after the show to suck my dick, and you'll see it's not so bad," he said during one routine.
"I may talk about incendiary stuff and toilet stuff and dumb stuff, but it's with the goal of making the world a tiny bit better." Then De­laney catches himself sounding like someone who fancies himself a pretty intense guy. "Okay, I need to shut the fuck up."           
*This article originally appeared in the November 26, 2012 issue of New York Magazine.
* This article has been corrected to show that "Richard Hung Himself" is by D.I., not Slayer and that Graham Linehan is Irish, not British.