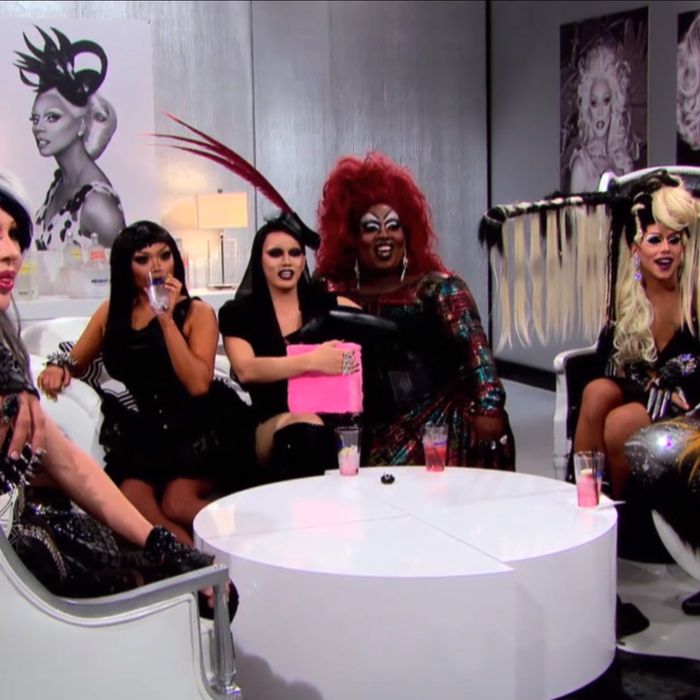 And then there were eight. Welcome back, shade throwers. Were you devastated to see Team Brown Flowers leave last week? God bless that crazy bananas Tammie Brown and her seemingly opposable eyebrows.
The She Mail comes, as it always does, and RuPaul blinds with a gorgeously bright yellow shirt. It's reverse drag time, and the girls are tasked with transforming themselves to show "butch male realness." They're given digital cameras and must take self-portraits of their masculine selves, and it appears that nobody knows how to use the timer setting on their cameras. "Think about hockey," invokes one of the queens, while another team believes that the key to masculine realness involves wearing pancake makeup. Chad, says Jujubee, "looks like Burt Reynolds and Cher had a baby." You say that likes it's a bad thing. Despite a strong showing from Shannel and some blurry pics from LaTrila, Team Yarlexis pulls out the win. 
After the requisite year's supply of Andrew Christian underwear has been showered on the winners, it's time for the main challenge, which Ru has helpfully titled "Queens Behaving Badly." Each team must perform a series of pranks on the hobos, crack whores, and tourists of Hollywood Boulevard — while in day drag. Whipped cream is involved.
Team Shad is worried about what kind of shoes they're going to wear. Day shoes, so difficult! I totally get this. Team Rujubee, on the other hand, is freaking the fuck out about being in the bottom two last week, but when it comes to challenge time, they are a total mess. "Who wouldn't want to stop and talk to an eight-foot queen in a pink Afro?" asks Raven. Well, maybe you should have thought about that before you left the house this morning. Jujubee does succeed in the prank of the day, though, when she convinces a guy to let her spray whipped cream down his pants.
Team Latrila goes, and Manila basically does all the heavy lifting, while Latrice spends half her challenge time with her back to the street, searching for sardines in the prop trash can. Manila does pull out some major points by convincing one woman to wear an adult diaper and another to crack an egg on her head. 
And oh, poor Team Yarlexis. The pair totally suck it when it comes to pranks, though Yara Sofia does convince someone to walk her on a leash like a dog.
The final team to go is Shad. Shannel hits the streets and gives it her all, maniacally running down people on the street and actually convincing someone to let her eat out of his palm. If you haven't figured it out by now, this challenge, and all of the challenges, are about communication. And since Shannel and Chad have been friends for, like, a zillion years, these two are totally killing it.
The next morning, the superstars are up early to prepare for the Bad Girl Chic runway. Latrila says the butch mini-challenge was especially uncomfortable for her because she doesn't feel sexy and believes it's much easier for the smaller, thinner girls to find their inner sex appeal. Manila makes an interesting point when she notes that drag queens are just as susceptible to media pressure about their bodies as the rest of us. "It's important that you maintain some of that feeling when you take that stuff off," she tells Latrila, who admits she has a difficult time really feeling sexy when she's not in drag.
But anyway! Enough with the sexual politics of drag — we've got a runway competition to get to. Tonight's special guests are the Original Supermodel of the World, Janice Dickinson, and underappreciated former Saturday Night Live castmate Rachel Dratch, who Debby Downers for the camera.
Team Shad do some fierce nineties bitches, while Team RuJubee work a more dominatrix-at-an-S&M-party vibe. Raven sports some absolutely frightening Geisha doll lips that are strangely alluring. Yarlexis does a Mad Max–made-out-of-wigs thing, and Yara Sofia rocks the runway with what is basically an entire curtain rod of extensions affixed to her head. Team Latrila goes as Divine (Latrice) and, hmmm, that scary girl-child from The Ring (Manila).
The scores from the prank competition are revealed and shock! Team Shad beat out the other girls in the prank challenge, so that's an automatic win for Shad. Ru asks Shannel and Chad who they think should go home, and Shannel reluctantly points to team Yarlexis. All of the other teams think Yarlexis should be in the bottom, for a host of reasons mostly having to do with Alexis not quite pulling her weight, though Latrila says it's because nobody can understand what they're saying, which feels, I don't know, slightly racist-y.
When it comes time for Yarlexis to say whom they'd send to the chopping block, Alexis has a total freak-out and says that she's here to take everyone down — the other teams, the judges, the camera guys, the gaffers, and everybody watching at home. It's not fun to see Alexis angry.
The judges deliberate. Regular judge Michelle Visage nitpicks on Raven's panties, but shows some tremendous side boob in the process. She also hates on Latrice's jewelry and manages to get in a tiff with Janice Dickinson over Team Yarlexis's wigs. She is in a mood. Judge Santino Rice actually has something nice to say about Latrice's Divine tribute, though the rest of the judges feel like she did kind of a hack job. 
In the end, despite their protestations, Team Yarlexis is safe, which leaves Team Rujubee and Team Latrila up for elimination. It's time to lip-synch for their lives, and Rujubee sends Jujubee to the stage, and Latrila sends Manila. The song is Janet Jackson's "Nasty Boys," which seems delightfully apropos, considering Jujubee is basically costumed as Vibeology-era Paula Abdul. In the end, despite an insanely fierce (to the point of frightening) performance from Manila, team Latrila is told to sashay away, and Team Rujubee lives to fight another day.
There is a serious cry onstage by all four contestants after the "Nasty Boys" performance. Drag competitions can be so emotional.
Next week: Kelly Osbourne enters the fray.