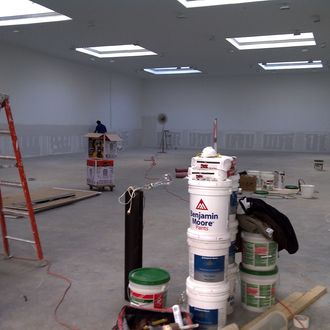 Work continues at the 303 Gallery
Photo: Jerry Saltz
"People put things back together and they go forward." Those were the hopeful words said Sunday by dealer Andrew Kreps, whose own gallery had been all but wrecked by Sandy the Monday before. I visited Kreps Gallery on Wednesday and again on Thursday when things looked futile. But Sunday brought a different mood and progress. I saw new sheetrock in place, studs being put up, concrete floors being repaired, the office being put back together. As Kreps and I visited other galleries in the same state of rebuilding on this block of West 22nd Street, he observed of the Chelsea gallery scene, "It'll be back." I had the same feeling, too.
So did many others I spoke to around the neighborhood. Dealers, helpers, assistants. The mood was resolute, optimistic, and busy. Numerous other galleries throughout Chelsea have already drained spaces, cleared out art, removed debris, moved art to higher ground, and ripped down walls. Many already have newly spackled walls. Some were saying they thought they could reopen again in only a matter of weeks. Some sooner. It was amazing. At Paula Cooper I saw a newish looking gallery in what only three days before had been a shitstorm. The same sight greeted me at Casey Kaplan, 303, CRG, Zach Feuer, David Zwirner, and others.
All Sunday work crews and volunteers, many of them artists, labored, helping to restore art space after art space. It was like some great collective barn-raising. Cynics are already scoffing that these galleries are getting back on their feet because they have the means. So what? Only haters would wish ill on folks who'd lost almost everything but who are lucky enough to have insurance and a way to rebuild what they'd already built once before — which they allowed others access to for no cost. Another critic friend who'd witnessed this same fighting spirit wrote to me on Sunday, "I keep coming back to the idea of galleries being 'free.' Really, the galleries aren't free. They're better than free. They're Robin Hood! Places where those who can pay, support opportunities for those who can't."
Chelsea isn't in the clear. A lot of gallerists are still hurting badly. The situation is still dire on West 27th Street. There, an entire gigantic block-long building is still without power or water. The shared basement storage is still filled with water. Gallerists, crews, artist volunteers, collector volunteers, and others have donned hazmat suits and are wading into microbe-infested waters, retrieving art and whatever else can be salvaged. These galleries are among the smallest in Chelsea. They also all have wood floors, which have already buckled.
Before the cynics start braying again about how "the privileged art world doesn't have to suffer because it can buy its way out of harm's way," I suggest they consider pitching in on West 27th Street. Or at any of the galleries being rebuilt now in Chelsea. Maybe they'd get over themselves and their hatred and leave Chelsea thinking what I was thinking when I left — The ancients were right: Vita brevis; ars longa.