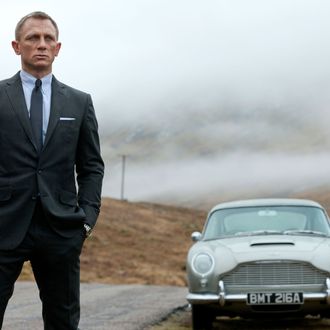 Daniel Craig stars as James Bond in Metro-Goldwyn-Mayer Pictures/Columbia Pictures/EON Productionsí action adventure SKYFALL.
Photo: Francois Duhamel/Columbia Pictures
Four years is quite the hiatus, but super-slick British secret agent James Bond (a.k.a. Daniel Craig) is still in tip-top shape. Skyfall has already trounced Quantum of Solace as the biggest 007 opener of all time, raking in an impressive $90 million this weekend. It pulled in a similar amount in its third weekend overseas, putting its global haul north of $500 million. "This is absolutely the biggest-grossing 007 movie ever in the string of films since 1962," Deadline's Nikke Finke announced, cheering up countless studio executives at Sony and MGM, whose bankruptcy almost scuppered the 007 franchise. In non-Bond news, Steven Spielberg's Lincoln is also off to a strong start, pulling in $900,000 despite showing in just 11 theaters.