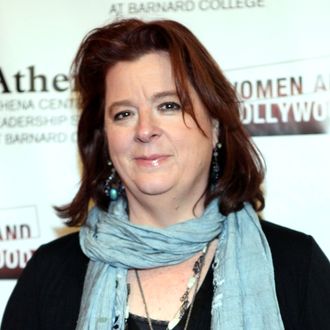 Photo: Robin Marchant/Getty Images
Theresa Rebeck created Smash, but she won't be back to run the second season of the show. What went wrong? The same thing that always goes wrong: network meddling, she says. "One of the points of contention last year was that the network thinks they have the right to say to the writer of the show, 'We don't want her to do this. We want her to do this,'" Rebeck tells The Observer. "You have to respect who the character is. It has its own internal truth and you can't betray that. And if you don't betray that, it will not betray you," she says. "There is this sort of sense that if you don't fuck with the muse — if you don't fuck with the muse, the muse will stand by you." Apparently the muse did not stand by Rebeck et al, though, given how Smash turned out.
The push and pull between her and the network took on increasing significance, Rebeck says. "It turns into bigger questions about power and art, power and storytelling," she says. "Is power itself bigger than storytelling? And I would say no."
"The better executives understand that there's supposed to be tension and respect, but a lot of them are just like 'Do it. You don't own it. Just do it.' That's not a level playing field; you can't have a true discussion. You just get a lot of money. Everybody has to make those choices. Absolutely everybody. Sometimes I see movies and go, 'Oh. Ew. Did Julia Roberts need another $20 million? Because it's the only reason she would be doing that.' Why did that person do that? It must be for the money."
So … just how much money did NBC give Rebeck to keep Leo, Debra Messing's annoying, terrible teenage son, who is basically the worst character on television?