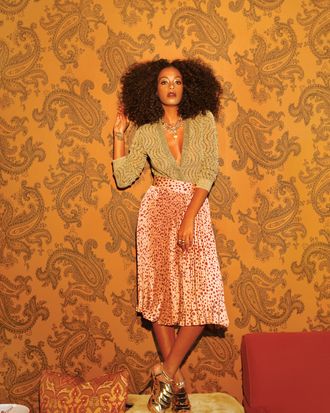 Photo: Elias Tahan/New York Magazine
"Solange? What are you doing out here?" asks a young man in track pants who's so shocked at the sight that he stops right in the middle of Bay Street. It's not every day that one sees a pop star in Red Hook.
On this overcast afternoon, five days before Hurricane Sandy makes landfall, Solange Knowles has led me through a maze of housing projects and warehouses, where she's been dodging stray cats and leaping over puddles while dressed head to toe in brightly patterned silk. "It's got some pajama vibes, but it works," she says of her outfit. Her Technicolor coat is on permanent loan from Alberta Ferretti, for whom she recently did a runway show in Milan ("They forgot to ask for it back"), and she's paired it with neon-orange socks, open-toed heels, and an Afro wig. Most of the men loitering outside bodegas and 99-cent stores don't recognize her as a singer—or as Beyoncé's younger sister—but they do recognize that she looks good. "Beautiful. I like your style," says one, mouthing a kiss.
Our walk was supposed to take us from Homemade, the quiet restaurant near the waterfront where we ate breakfast, to Knowles's studio near the BQE, where she's finishing up True, a new seven-song EP, set for release this month (and expected to be followed early next year by a full-length album). She usually rides a bike or drives her Mercedes SUV from her home in Carroll Gardens, and we're having trouble finding the place on foot. "Fun field trip!" she sings, chattering on the way about her tattoos (she has an angel's wing on the inside of each wrist, and her 8-year-old son Julez's name on her hip) and recording with British producer Dev Hynes (Florence + the Machine, the Chemical Brothers). She considers cutting through an alley, which is blocked on one end by a semi truck we'd have to crawl under, but decides against it because she's with company.
By the time we meet our friend in the track pants, she's given up and we're waiting on a corner for Knowles's assistant to give us a ride. A crowd gathers. "The beautiful Solange," says another man, who's eating chicken jambalaya out of a Styrofoam container and offers her some. "I just ate," she says, which is true. "Otherwise, I would totally dig into that."
When her car arrives, Knowles hops into the back seat, already stuffed with her bicycle and a dozen chairs that she's hauling to a True listening party tonight at a friend's Soho loft. "I brought [the chairs] from my house because I didn't want to pay to rent them," she says.
She is paying for her own EP. She parted ways with her record company, Interscope, after her last album, 2008's Sol-Angel and the Hadley St. Dreams, sold poorly. But the split was mutual: She felt trapped, particularly when Interscope tried to block her unlicensed cover of a Dirty Projectors song. "I wasn't actually selling it. I was just putting it out," she says. "Lil Wayne was on the same [parent] label, rapping over every single person's songs on all of his mixtapes, and no one ever complained because I'm sure he just put it out and said 'Fuck you.' I was saying 'Fuck you' so much that they were like, 'Well, you don't have to be here.'" Interscope released her from her contract even though she still owed them albums.
Thanks to sidelines in D.J.'ing and songwriting (she co-wrote her sister's 2007 single "Get Me Bodied"), and savings from her teenage gig as a Destiny's Child backup dancer, she could afford to go it alone. "I made my entire record on my own from top to bottom," she says. "Everything from studio-equipment rentals to actually creating a studio." The DIY approach befits her music, which shares some DNA with Beyoncé's radio-friendly R&B but takes just as many cues from indie rock and eighties synth-pop. True will be distributed by Terrible Records, a tiny label co-run by her friend Chris Taylor, bassist for Grizzly Bear. (Knowles caused a blog explosion in 2009 when she brought Beyoncé and brother-in-law Jay-Z to a Grizzly Bear concert at the Williamsburg waterfront. "They're an incredible band," Jay said later.) "The entire album has been about me calling my friends, like, 'Will you make a video with me?' 'Okay, cool. Let's do it,'" she says.
Knowles's friends provide matchmaking services, too. She started dating music-video director Alan Ferguson, her boyfriend of four years, after R&B singer Janelle Monáe and others talked him up to her. "We had a lot of mutual friends who were all putting little buggies in each other's ear," Knowles says. The couple moved with Julez to Brooklyn last year to be closer to their families on the East Coast, particularly Knowles's sister and niece, Blue Ivy. Plus, Knowles didn't want Julez growing up in Los Angeles, where he'd spent much of his childhood living on Hollywood Boulvard among costumed characters. "He actually told my mom, 'Spider-Man is our neighbor!' and I was like, 'Oh my God, we have to leave.'"
Knowles met Julez's father, Daniel Smith, now a college-football coach, when she was 13 and he was 16. Though Solange, 26, and Beyoncé, 31, are five years apart, they became "super-duper close," she says, after Solange got pregnant at 17, married Smith, and followed him to Idaho, where he was attending college. Being a mom, she says, "was always chill and easy for me." But "marriage is a whole 'nother ball game." She was divorced by the time she was 21. It was a time "when you really, really need your sister. Every time there was drama and I was all the way in Idaho, it was nice to be able to call. Now it's kind of a reversal, with her getting married and having a baby after me."
They see each other at least once a week. "Blue comes over, I babysit," says Solange. "[Beyoncé] takes Julez sometimes for the weekend. [Blue] and Julez are going to grow up more like sister and brother than cousins." Julez is "showing signs of wanting to be an artist" and seems to have learned something from his uncle—he writes raps. "He loves it. It's so scary," says Knowles.
At the listening party that night, Solange stands before a group of about 25 friends, holding Hynes's hand to her heart. They're both sweating. The tracks they play feature layers of synthesizers, often over African drums. Jay-Z nods approvingly in the corner, and Beyoncé—a monochromatic vision in golden hair, gold pants, and a gold sweater—dances in her chair, singing along. When it's over, Solange grabs the mike and yells, "Now we can get drunk and dance!" She throws herself around the room, whooping and shaking to Mariah Carey and Toni Braxton songs. Jay and B leave early, but the party continues past midnight. "I'm drunk and the ribbing on my dress is cutting into me, but this is great," Solange tells me, before jumping back out onto the dance floor. Then, after everyone's gone, she stays to clean up. And she still has those chairs to take home.