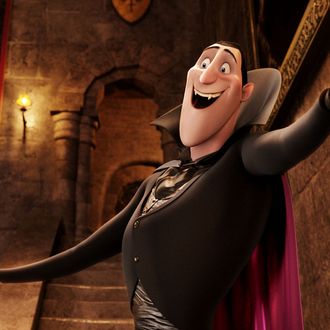 Dracula (Adam Sandler) in HOTEL TRANSYLVANIA, an animated comedy from Sony Pictures Animation.
Photo: Courtesy of Sony Pictures Animation
With its Halloween blockbuster Hotel Transylvania scaring up nearly $138 million in domestic box office sales so far (and some $253 million globally), Sony Pictures Animation is betting that it has a new money-minting franchise on its hands. A provisional release date for Hotel Transyvlania 2 has already been set for September 15, 2015, though The Hollywood Reporter says that little else has been settled. The first thing they'll need is a director, as Genndy Tartakovsky is now signed on for Sony's upcoming Popeye project.