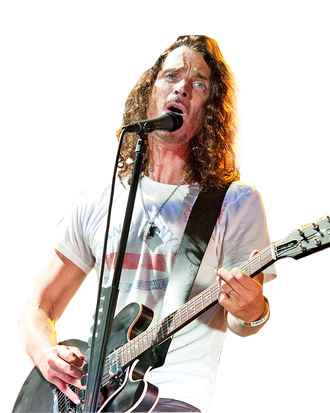 Chris Cornell.
Photo: Daniel Boczarski/Redferns
Thirteen years after forming, Soundgarden appeared to disband for good in 1997, following a rankling Lollapalooza jaunt. But another thirteen years later — after a highly visible role fronting Audioslave and releasing three full-length solo albums — singer Chris Cornell got his old band together for a new album, King Animal, which makes ample use of the 48-year-old's four-octave wail. To mark this occasion, a contemplative Cornell chatted with Vulture about new songs and lost friends, then regaled us with stories about everyone from the Queen of England ("sweet") to Axl Rose ("sad").
Did participating in the Pearl Jam Twenty documentary trigger any Soundgarden nostalgia for you? Was it an impetus to get the band back together?
We were already doing that. We'd already met and had conversations about different things by then. So, no. But I suppose [it was] in the context of Soundgarden getting back together and hanging around those guys and being in Seattle, and Soundgarden also coming down to one of the Pearl Jam shows in L.A. It was probably helpful in kind of remembering things, I guess.
A recent Spin story quoted your bassist Ben Shepherd as saying he was homeless and having serious money issues. Did this come as a surprise to you?
Well, I think what he said was sort of misunderstood, or taken out of context. We were recording the record at that point, and he was kind of couch-surfing. And it was interpreted that he didn't have a place to stay. Even though he owned a house [laughs].
He used the word "broke" which really alarmed fans.
Yeah, but I think that was nonsense.
You've referred to Johnny Cash covering Soundgarden's "Rusty Cage" as a career highlight —
Oh yeah. It's beyond winning the lottery. It's like an endorsement from the person that you would trust most.
Did you ever meet him?
Ben and I went to a show he played in Seattle and met him. I talked to him for a while. He was a gentleman, and June Carter Cash was there — she ran up, full of energy, and got into the conversation. They were almost familial. I've met everyone: the President, the Queen of England … I don't think any of them made me feel like that. I was star struck. And weirdly, I almost wanted it to be over, because I didn't know what to say.
Before you met the Queen, did you have to be debriefed on how to behave around her?
They have a printout, like, really simple rules in how you address her. If you look at it, realistically, her job has been essentially greeting endless processions of people. If you look at it that way, she's very sweet. She does this all the time. And if you have someone her age meeting this procession of people, it's smart to have it all kind of tied up in a bow where everybody knows what to do — and there are no stupid surprises.
Now that you're better behaved and no longer drink, what would you say is your biggest vice?
Coffee. It probably was always my biggest vice [laughs]. I never wrote music or arranged songs or lyrics when I was under the influence of anything but coffee. That's not gone away.
You did that fundraiser for Obama in February and covered "I Will Always Love You." I never took you for a Whitney Houston fan.
She passed away a couple of days earlier. That was the only performance I was going to be doing over the next course of months because we were in the studio recording at the time. So I was sitting in the dressing room waiting to go on, and kind of figured it out. I thought it would be nice to do.
It also says a lot about your skill set that you can just figure that out on the fly.
There's a lot of waiting around in my job [laughs]. But, also, there are a lot of feelings in people who are stars who had an effect on a lot of other people. Anyone that suffers depression and addiction, as it relates to the entertainment business, often there can kind of be a cocoon [around them]. Though you would imagine someone like that would have more resources to get better, it can often be the opposite. You're kind of enabled to continue whatever lifestyle it is. There's sadness to anyone that dies before their time, and specifically ones that seem to affect people in a positive way. It doesn't matter if it's Whitney Houston or a nameless, faceless person on the street. That's just as big of a tragedy for me.
We tend to associate the Seattle grunge scene with a lot of addiction-related deaths. What do you think of when you look back on that time now?
There's something about losing friends, particularly young people, where it's not something that you get over. I don't believe there's a healing process. How do you, really? In what way can you stop and say, "Well, it's god's will." I always thought that line I've heard a million times — twice as bright but half as long — is bullshit. It's tragedy. I just carry all of that with me all the time. All I can do, if anything, out of respect for my friends that are no longer here, is to do my best to lead a good life and and take advantage of the fact that I'm still around, take the opportunities I have that they should've had.
In 1991, Soundgarden opened for Guns N' Roses. What do you remember most about that tour?
Without saying anything negative about Axl, what I remember the most was Duff and Slash and everyone else being regular, sweet, warm guys in a rock band that just wanted to play rock music. And then, like, there was this Wizard of Oz character behind the curtain that seemed to complicate what was the most ideal situation they could ever have been in: They were the most successful and famous rock band on the planet. Every single show, hundreds of thousands of fans just wanted to hear songs. For some reason there seemed to be this obstacle in just going out and participating in that. That is what I remember the most. It's sad.