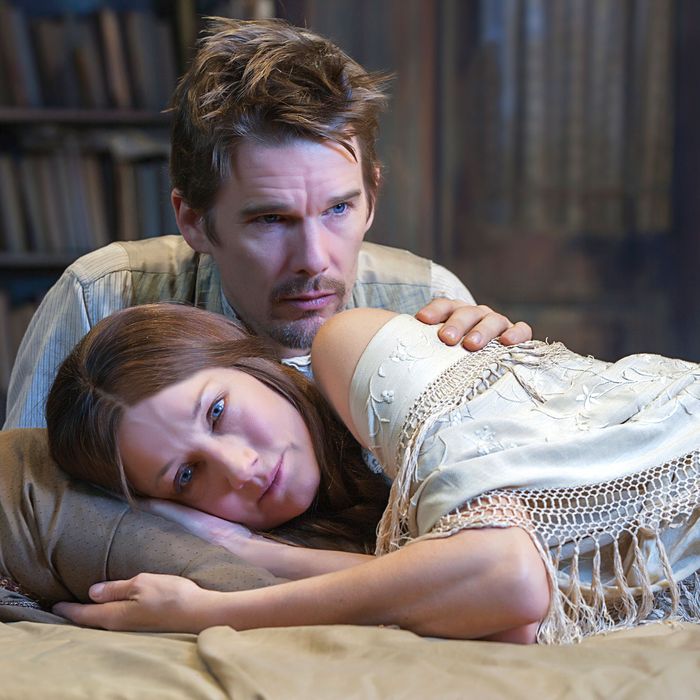 Mies Julie
In Yael Farber's graphic, punishing, just-this-side-of-prurient Mies Julie, Strindberg's class-crossed sexual pugilists are transplanted to modern South Africa, where apartheid is history but race and wealth still divide … and tantalize. Angry, educated black workingman John (Bongile Mantsai) is teased by his white employer's dangerously disconsolate daughter Julie (Hilda Cronje). Julie is just a little older than the post-apartheid era, John just a little older than Julie. They have wanted and hated each other for as long as either can remember. The tables turn, and turn again, and soon these two symbol-engorged hardbodies are ON the table, testing its limits … and ours. Farber directs and choreographs this acrobatic, sometimes aerobatic carnal combat to the very edge of artsploitation — and then over it, in a bloody cascade.
Farber (whose superior MoLoRa paired The Oresteia with the Truth-And-Reconciliation Commission, to haunting effect) is orbiting closer to the sultry, blood-drenched pulp of Django Unchained than she might be willing to admit. ("A fan circles slowly, listlessly overhead," read the set-directions, conjuring the immortal spirit of the Potboiler from the depths of the human groin.) Farber has cast two distractingly gorgeous human beings as her leads; their otter-lithe, baby-oiled beauty is so frictionless, clothes won't adhere to them for more than ten minutes at a time. Farber braids them together, tears them apart, and sets them fighting and humping with all the S&M provocation Strindberg's mighty, priapic script demands and then some. (A belated thank-you, Angry Dead Swedes, for helping perfect the modern hate-fuck!) 
The stylized movement Farber employs is one part Cirque, two parts Kink, and it ultimately overwhelms the mental chess match. And this Julie, unlike Strindberg's, is more of a sexual realist; she can take her satisfaction (and her dissatisfaction) in hand, in ways the original couldn't, and this leaves a little less maneuvering room for John. The dance — as well as the notions of cultural subjugation and endless dispossession that inform and empurple it — gets a little repetitive, a little jackhammery, not unlike, well, pornography. But Farber seems fully aware and gleefully in control of this: She hunts down her symbols and beats them to death with her bare hands. Mies Julie has always been a city-razing suicide bomb of a play, and Farber has almost delightedly piled on her own nation's racial megatonnage and added screenwriter-ish touches of punchy, clutch dialogue: "Free at last," seethes John. "No longer master and slave. Just two people in a kitchen, fighting for their lives." "I'm a Boer, John," Julie spits. "We don't go down without a fight." She ain't bluffing. When there's a rusty scythe on the table, along with a couple hundred years of unanswerable conquest and inextricable racial and economic inequity, you can bet we'll be getting right down to the crotch of the matter.
Mies Julie is playing at the new St Ann's Warehouse on 29 Jay St in Dumbo through Dec 2.
Ivanov
It's probably inevitable that Ethan Hawke, one of Hollywood's great slacker-mopes, would end up playing one of Chekhov's great slacker-mopes. In Austin Pendleton's amiable, ambling flash mob of a production, Hawke has been encouraged to be, more or less, himself — or, at least, the Self we've seen him filter through dozens of characters on the big screen. This Ivanov is a lost boy whose lostness has become his calling card, whose upturned, supplicating-puppy eyebrows announce the advent of irresistible, exhibitionistic loserdom.   
It's long after sunrise and well after sunset for depressed, fortyish Ivanov; reality has bitten. He's a penniless gentleman farmer suspected of less-than-gentlemanly behavior toward his ailing wife Anna (Joely Richardson), a "Jewess" he reportedly married for her money. Now Anna's tubercular and broke, disinherited by disapproving parents, and Ivanov has neither the kopeks nor the inclination to send her to the Crimea for the cure. This earns him the opprobrium of Lvov (Jonathan Marc Sherman), Anna's doting physician and a towering moralist. Ivanov, a masochist, savors Lvov's insults and spends his days in fits of self-recrimination (often paired with Hamlet recitation), while trying to ignore the get-rich-quick schemes of his wily estate manager Borkin (Glenn Fitzgerald, gleefully rocking a random Ricardo Montalban accent) and ducking debt collection from his neighbor and chief creditor Zinaida (Roberta Maxwell) and her sodden husband Lebedev (director Austin Pendleton, stepping in for an ailing Louis Zorich). Tonally and stylistically, the world of the play shifts from actor to actor; Pendleton's approach to performers appears to be potluck, and everyone's brought something slightly different to the table — now ultra-contemporary! now almost-classical! — without much regard for the harmony of the whole. Yet there is a strange harmony here, born of Pendleton's come-as-you-are atmosphere. That hasn't worked in all of his Chekhov productions, but here, it cooks. 
Ivanov, unlike the rest of the Chekhov canon, revolves around a single, central moral mystery, incarnated in a single individual: Is Ivanov a monster of selfishness? Or a casualty of the torpid world he inhabits, caught haplessly between a feudal past and the "scientific" future? Lebedev's sunny-side daughter Sasha (an excellent, multilayered Juliet Rylance) sees him as poor Prince Hamlet; Lvov sees nothing but the slippery, shapeshifting hypocrite Tartuffe. And what do we see? We see the latest evolution of the Ethan Hawke character we've been following since approximately Dead Poets Society: the boy-man nearing midlife, trying to bluff his way out of despair. Hawke, I feel, is always deeply convincing when he's under attack, on the defensive. When he's on the attack — as Ivanov is, increasingly, as the play goes on — he gets blustery, histrionic, and, after a few minutes of sustained caterwauling, hoarse. It's appropriate, in a way: Ivanov's doom is to self-awareness without self-possession, the Hipster's Curse. There's no authenticity in this searching, scraping performance — screaming at the stars one minute, shoegazing the next — and on a certain level, that's perfect.  
Ivanov is playing at Classic Stage Company through Dec 9.
Vanya and Sonia and Masha and Spike
Meanwhile, in another, altogether more irritating corner of the cherry orchard, epic brat Christopher Durang (The Marriage of Bette and Boo, Why Torture Is Wrong … ) has written his first get-off-my-lawn play: God, are we all really that old? Vanya and Sonia and Masha and Spike concerns the power-dynamic between three aging siblings: homebodies Vanya (David Hyde Pierce, very Hyde Pierce-y), a pseudointellectual, and Sonia (an excellent Kristine Nielsen), an ugly duckling basketcase, and their glamorous actress sister Masha (Sigourney Weaver, doing full-tilt absurdist goo-goo-face), whose largesse keeps her brother and sister in unhappy stasis in their Bucks County, PA, home, the house they all grew up in. Hey, didja notice they're all named after Chekhov characters? "Having professors for parents had its drawbacks," sighs Vanya. "Father was so enraged when you didn't know something. But what 7-year-old knows who wrote The Imaginary Invalid? Father became so enraged when I said Neil Simon."
That's vintage Durang right there, but Vanya and Sonia, unevenly frosted with the writer's trademark upturned epigrams, is flip, empty, and irascible. This is a grumpy, pigeon-livered play about getting old and angrily noting that the younger generation shares neither your interests and tastes, nor your obsessions and neuroses. Masha swans in with a new consort Spike (Billy Magnussen), a diamond-cut stud-on-a-stick in his mid-twenties who's (shocker!) none-too-bright. (For instance, he doesn't know how to deploy the word "implication" and is not aware that, once upon a time, people had to lick stamps in order to send correspondence.) There's also an unseen youth entity named "Hootie Pie," Masha's personal assistant and force of evil in the world. We do meet one redeemable Millennial, sweet Nina (Genevieve Angelson), who "has such surprising taste: Foreign movies, The Beatles," so we know she's okay, free of Facebooky Twitterpated youth cooties, a submissive throwback who bows to Boomer values. I kept waiting for her to go bonkers and start confusing herself with Jonathan Livingston Seagull. But Durang isn't going there: He likes Nina. Because she kisses the ring. She's one of the good ones.
Like, barf, y'all. Audiences-of-a-certain-age lap up this sort of crap, and I'm not wholly immune to it either — hell, I fear twentysomethings as much as the next not-twentysomething. They have such nice fucking bodies, the little shits, and such powerful little information-gizmos tucked into their tight, tight pants, and they're so blissfully free of empathy, or so we're told by the still-oldster-controlled media. And here's something else they're free of (and this is unforgivable): Interest in Baby Boomers. That's something we Latchkeys and Clinton-kids couldn't quite manage. True, their culture is not a shared one, but selective and elective. There's much to criticize, because there's always much to criticize, and I see no dearth of criticism out there in the MSM. But as psychic housekeeper Cassandra (Shalita Grant) might say: Beware. This play is one big harrumph superficially disguised as irreverent dialectic, with a bonefield of mouldering cocktail-party references standing in for living ideas. The pinnacle of the night is a thunderous rant delivered brilliantly by David Hyde Pierce: It bemoans the collapse of a common culture, despite that culture's many shortcomings, stupidities, and banalities: "We followed The Adventures of Ozzie and Harriet! Which starred the real life Ozzie and Harriet Nelson. But Adventures was a strange word for the show because it was extremely uneventful … In retrospect they seemed medicated. It was a stupid show, but it was calming … " Durang could be describing his own play. There's something close to complacency here, and that's a not-exactly-pleasant surprise, coming from a guy who, just a few years ago, lit a fire in a crowded theater with Why Terror Is Wrong, and The People Who Love Them. I'm glad Durang has found a sort of peace, but it's a smug armistice he's struck with the world — and a loss for the rest of us.
Vanya and Sonia and Masha and Spike is playing at Lincoln Center's Mitzi Newhouse Theatre through January 13.
Emotional Creature
Eve Ensler is just as fascinated by the young as Christopher Durang, but Emotional Creature, her new gallery of monologues and songs, is a full-court defense of them, especially young women. This is an unvarnished, NC-17 afterschool special about female empowerment, confronting the horrors of rape, genital-mutilation and ingrained misogyny with troll-doll spunk and abundant cameraphone usage. (There are some rather clumsy bids for youthful relevance on display here; Ensler and director Jo Bonney lunge for them rather shamelessly.) The monologues — in the voices of girls and women from around the world — are of the shock and awwww! variety, and the ensemble is electric. Really, they're the reason to see the show. Led by the astounding Joaquina Kalukango of last season's Hurt Village — who's more and more an obvious, very bright star on the rise — this troupe of remarkable, multitalented young women takes a high-minded endeavor with more than a faint whiff of goofy Godspell-y kumbayah about it, and instead gives us indelible evening of truth telling and dream releasing. Behind the boppy tunes and Facebook snaps, we hear a stern call to action: We live on a planet where, despite our vaunted interconnectedness, half the population is encouraged to live in fear — of men, of food, of sex, of their own bodies. This must not continue to be. 
Emotional Creature is playing at the Signature Center through January 13.