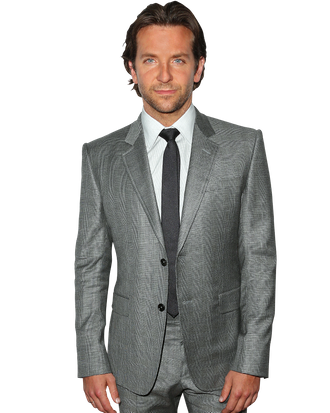 Hollywood has had trouble growing solid new stars over the last decade, but David O. Russell's dramedy Silver Linings Playbook just happens to feature two of the town's most buzzed-about up-and-comers: Bradley Cooper and Jennifer Lawrence. The latter feels almost like an overnight sensation thanks to Winter's Bone and The Hunger Games, but the road to stardom for Cooper has been much longer and hard-fought. He's an inspiration, then, to any jobbing actor who still dreams of making it big, but exactly how big is Cooper now? To find out, we polled industry insiders to ask one simple question: If Bradley Cooper were a stock, would you buy, sell, or hold?
Stock History: Cooper's career really got going in 2001, when he had a small but memorable role (that tall-socked sex scene!) in Wet Hot American Summer, in addition to his highest-profile gig at the time, a supporting part on the Jennifer Garner TV show Alias. Unfortunately, his Alias character was never all that pivotal to Garner's spy story lines, and it wasn't until Cooper left the series as a regular that he began to come into his own with a memorably douchey turn in 2005's Wedding Crashers. That part gave him new heat in town, some of which he spent on TV (starring in the short-lived series Kitchen Confidential and guesting on Nip/Tuck), and on supporting parts in movies like Failure to Launch and Yes Man. Cooper didn't get his first notable leading man role until 2008 … in the dud The Midnight Meat Train, a horror film whose plot (a New York City subway train functions as a passed hors d'oeuvres course for underground lizard people!) is so risible, it almost left nowhere to go except up.
But thanks to the massive success of The Hangover the following year, that's exactly the direction he went. Well, Cooper did go sideways briefly (in a big-screen adaptation of The A-Team, which at least served to make us forget All About Steve), but his stock spiked with Limitless, a modestly priced (under $30 million) drama that would go on to make over $150 million worldwide for the studio, thanks almost entirely to Cooper's winsome performance as a previously luckless writer. Since then, Cooper's continued to balance the high-grossing Hangover films with more modestly priced dramatic outings, including Silver Linings and the upcoming indie entries The Place Beyond the Pines and Serena, the latter of which will reteam him with Jennifer Lawrence under director Susanne Bier.
Peers: Jeremy Renner (41), Ryan Reynolds (36), and Chris Hemsworth (29) are but three of the names mentioned alongside Cooper's as new leading men that Hollywood is trying its damnedest to cultivate; less so Chris Pine (32), whose star power was tarnished this year after twin box-office whiffs This Means War and People Like Us. Like Reynolds, Cooper's got strong female appeal (both have been named People's Sexiest Man Alive) and the ability — and desire — to work in several different genres, from rom-com to drama to action.
Market Value: The power of the Hangover franchise is undeniable, and both of Cooper's previous Hangover films have grossed over $250 million, each setting new records for a blockbuster comedy. But how much value does Cooper himself hold? That's so far unclear. It's true that Limitless was a big hit, and Cooper has co-starred in high-grossing recent rom-coms He's Just Not That Into You and Valentine's Day, but The A-Team was something of a nonstarter, and this year's modest drama The Words was sold almost entirely on Cooper and only grossed $11 million. Then again, in today's moviegoing climate, it seems impossible to find a new Will Smith — a superstar with an unimpeachable box-office record — so maybe Cooper's uneven resume is the new normal.
What Hollywood Thinks: "Bradley is definitely on the short list of new leading men these days, particularly after the great critical reaction so far to Silver Linings," says one former studio production head turned producer. "Now he has both commercial success — Limitless was all due to him — and critical success, so both studios and directors like him a lot."
But the question of whether Bradley Cooper is a capital M movie star probably won't even be decided in his next few films, say insiders, partly because, as this former production chief notes, "most higher-budget stuff these days is more concept-driven than star-driven," and partly because the question of whether true movie stars can be said to still exist must be answered first.
"'Does he sell tickets?' 'Is he a leading man?'" asks one studio marketing high priestess. "I don't know if there is any such thing anymore … but, yes, in the right genre, he is. With a midsize [budget] and appealing subject matter, he is a plus."
So, to hear one current studio president put it, even if Cooper is not yet able to leap tall buildings in a single bound, he is definitely able to clear edifices of medium size, with a favorable headwind. "He gets a movie green-lit, more than most people," says this studio president. "Maybe not any movie, but a $30 million thriller or action movie? Definitely."
This is echoed by another producer, who unabashedly calls Cooper a big get for any project and "the next Paul Newman." Our marketing guru agrees unabashedly: "I am rooting for him. I think he is super-talented and appealing."
The Analysis: Whether Cooper becomes the next Paul Newman will have a lot to do with whether he is driven to play the darker, more flawed characters (on his best day, Phil from The Hangover is no Hud) that Newman became famous for. Already, this has started to occur with Cooper's turn in Derek Cianfrance's forthcoming The Place Beyond the Pines, in which he plays a cop who turns in his conscience to become a politician.
"You just need to start leaning towards 'edgier' to show some weightiness," advises one top publicist. "The message is fine; he's got the 'likable' thing down. And you'll probably see it shift when the movies start to shift — which they will, soon, unless the agent [representing him] is an idiot and keeps him in the same stuff over and over."
Fortunately, Cooper seems to show no interest in repeating himself … well, aside from the Hangover movies, which provide a steady star burnishing every couple years. Aside from those, he's been admirably eager to work with auteurs like Cianfrance and Bier on their challenging indies, and he's one of the few stars dominating the mid-budget category with entries like Silver Linings, Limitless, and his next two projects, a Cameron Crowe dramedy where he'll star opposite Emma Stone, and a David O. Russell film co-starring Amy Adams and Christian Bale. Those $30 million movies are in short supply these days, but when you can land one that pays off, you get all the credit.
Though his future seems secure for now, then, opinion is divided as to just how big a star Cooper might ultimately become: While our marketing head hazards, "he just needs the right material and then he gets to jump up [to the next level]," our studio chief tempers the outlook a bit.
"Is he a 'Buy'?" asks this president, answering the question, "Well, that depends what he's priced at. I don't know that he has tons more upside that he has now, but for what you pay him now, you get a good return. He's got a nice future."
The Bottom Line: Maybe that long and winding road to stardom was exactly what Cooper needed, because at this point, he's making informed decisions like a pro. Silver Linings has a lot of awards season upside, and even if Cooper can't penetrate the brutally packed Best Actor category at the Oscars, his expert performance will win him even more fans. Beyond that, the guy is doing Hangover III, another drama with Jennifer Lawrence, movies with Cameron Crowe and David O. Russell, and a (hoped-for) Broadway run of The Elephant Man. When you look at that slate, what can you quibble with, really? Bonne chance, Bradley!
Buy/Sell/Hold: Weak Buy