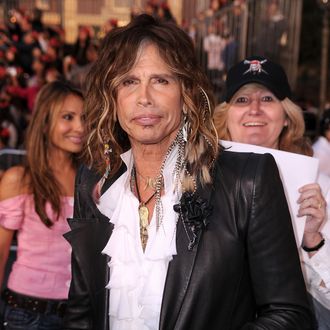 Photo: Frazer Harrison/2011 Getty Images
Veteran American Idol judge two-time American Idol judge Steven Tyler was happy to offer MTV some thoughts about this year's new crop of judges. Firstly, he heard about the Nicki/Mariah beef, and he disapproves. "They should have something going on, which is called camaraderie," Tyler said. "They should have something going on so thick and beautiful that they can lay it over the new talent that's trying to birth itself. It needs to be birthed, not judged by 'entertainment' factors, it needs to be judged by people that [are] honest, true, that have the 'it' factor. Not the 'it' factor because they can fight. The fuck is that all about?"
Lacking Tyler's mysterious "it" factor, the squabbling  pack of Idol judges is reportedly in danger of failing to recognize a unique talent should they encounter one. "These kids, they just got out of a car from the Midwest somewhere and they're in New York City, they're scared to death; you're not going to get the best [out of them] … If it was Bob Dylan, Nicki Minaj would have had him sent to the cornfield! Whereas, if it was Bob Dylan with us, we would have brought the best of him out, as we did with Phillip Phillips. Just saying."
Which made Nicki pretty salty. Her version of just sayin', which went from 0 to 60 in two-point-five tweets:
Steven Tyler said I would have sent Bob Dylan to a cornfield??? Steven, you haven't seen me judge one single solitary contestant yet!

I understand you really wanted to keep your job but take that up with the producers. I haven't done anything to you. That's a racist comment

You assume that I wouldn't have liked Bob Dylan??? why? black? rapper? what? go fuck yourself and worry about yourself babe.

LOL lets make him a shirt that says "No Coloreds Allowed" then escort him down 2 Barbara Walters so he can tell how he was threatened w/guns

When Steven 1st went on Idol he was ridiculed by his peers & fans alike. Called a sell out. So what does he do? Ridicule the next judge.
First Stevie Nicks, now Steven Tyler. Is Steven Seagal Nicki's next provocateur? Steve Martin? Stephen King? The Steve Miller Band?