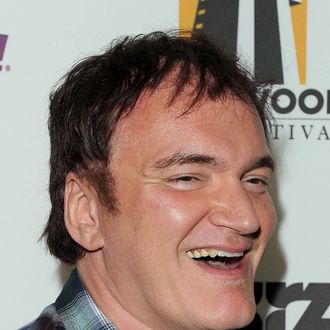 Photo: Jason Merritt/Getty Images
It's Sunday afternoon, or: your last chance to read all that stuff you meant to read last week before Monday brings a new deluge of things you will want to read. Below, some of our recommendations:
"The Playboy Interview: Quentin Tarantino" by Michael Fleming (Playboy): The filmmaker, pushing 50, explains his creative decision to kill Hitler, who he considered for Django Unchained between Will Smith and Jamie Foxx, and how Leonardo DiCaprio's villain is the first he's ever written and despised.
"Soundgarden, Again" by Steven Hyden (Grantland): Parsing out the nature of reunions, and conceding that some classic acts are actually making decent comeback records.
"Ben Affleck: Filmmaker of the Year 2012" by Chris Heath (GQ): The actor-director discusses, among many topics, making his third film, how he's grown since Good Will Hunting, and adapting Stephen King's The Stand, which is like "Lord of the Rings in America."
"Brad And Angie Go To Meet The African Pee Generator Girls" by Sarah Miller (The Awl): Fan fiction at its finest.
For more in-depth weekend readings, visit our friends at Longreads.