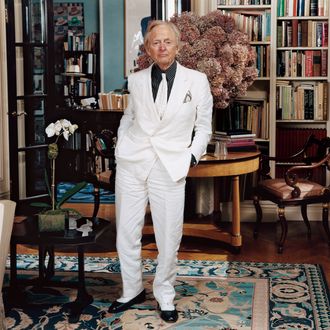 Photo: Tina Barney/New York Magazine
It's Sunday afternoon — your last chance to read all that stuff you meant to read last week before Monday brings a new deluge of things you will want to read. Below, some of our recommendations:
"Tom Wolfe's California" by Michael Anton (City Journal): Tom Wolfe is a New York writer, but his second literary home is California.
"Damien Hirst: Jumping the Shark" by Andrew Rice (Bloomberg Businessweek): Why is the market for Damien Hirst's work in a tailspin?
"Deadhead" by Nick Paumgarten (New Yorker): If you like the Grateful Dead, then you will probably like this.
"The Making of The Chronic" Ben Westhoff (L.A. Weekly): An oral history of the recording of Dr. Dre's solo debut. Some of it is cobbled together from old interviews, but we're sure you can still learn something new about life at Death Row records circa 1991.
"A Three Act Journey in the Land of the Screenwriting Gurus" by Jonathan Zimmerman (L.A. Review of Books): Tips on screenwriting tips.
For more in-depth weekend readings, visit our friends at Longreads.