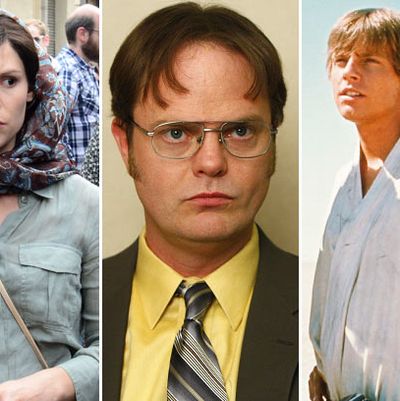 Every week, Vulture faces the big, important questions in entertainment, and comes to some creative conclusions. This week, we wondered what exactly is the deal with the new Star Wars movies? Why did Rainn Wilson's Office spinoff die? And how do they make all those gross props on Dexter? In case you missed them, here are the conclusions we came to on these and more pressing questions.
Q: What's going on with Star Wars: Episode 7?
A: A lot! Lucasfilm announced this week that they'll be putting out new Star Wars movies every two or three years, with Episode 7 arriving first in 2015. Fans of Muppet Babies were thrilled, fans of Star Wars were mixed, and fans of originality at the multiplex were wary. And we have even more questions we're dying to have answered.
Q: Does Denzel Washington eff around on movie posters?
A: No, he doesn't, and Max Thorn provides pictorial proof.
Q: How do they stage those gross murder scenes on Dexter?
A: Every time you go "ew" while watching Dexter, it's because a hard-working prop master thought, "Hmm." Gwynne Watkins got the disgusting scoop from the man in charge of putting together those kill scenes.
Q: What happened to the sitcom spinoff?
A: Joe Adalian explains why NBC passed on Rainn Wilson's attempt to craft a spinoff from The Office: The mothership show is fading fast, and it's not a great time for new network sitcoms, period.
Q: Will this year's Best Actress category break Oscar records?
A: Almost certainly, says Kyle Buchanan, who predicts that nine-year-old Beasts of the Southern Wild star Quvenzhane Wallis and 85-year-old Amour star Emmanuelle Riva will rep the youngest and oldest actresses ever nominated in the category, come January.
Q: How cute is Tim Burton's family portrait?
A: So cute.
Q: What can I watch to take my mind off the super storm?
A: We've got 27 movies and TV shows to distract you from the devastation (so long as your power's back on).
Q: Meanwhile, how are Chelsea's art galleries faring after Sandy?
A: Our art critic Jerry Saltz went out to survey the toll from the flood and weather, and he found some of New York's most vital galleries hurting badly. "Reams and reams of irretrievable historical material stored in notebooks and gallery files were washed away, destroyed," wrote Saltz. "Sculptures, crates, furniture, and paintings floated inside water-filled galleries, ramming walls and other works of art."
Q: What does it mean when a movie uses a Talking Heads song?
A: This weekend's entries of Wreck-It Ralph and This Must Be the Place prompted Jesse David Fox to examine the suddenly ubiquitous David Byrne outfit, whose songs are showing up in movies and trailers all over. How did we get here?
Q: What should I be for Halloween next year?
A: Claire Danes's cryface, obviously. And get the love of your life to go as Brody.