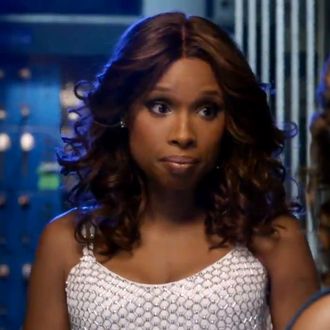 They said it couldn't happen. They said it wouldn't happen. They said it shouldn't happen. But it's happened. Smash, the second most important television variety hour of our time, is finally coming back! A slotted spoon can catch the potato!
Tantalizing bits of information about the rebooted second season helmed by former Gossip Girl showrunner Josh Safran (Theresa Rebeck, much like modern dance pioneer Isadora Duncan, having been fatally injured in a horrific scarf-wearing accident) have been leaking out for months, but a new, official, extended sneak peek of season two aired during The Voice last night (or rather, an edited teaser telling you to go watch the actual extended sneak peek at Yahoo did), which means we can also have an extended season-two-sneak-peek recap! It's like our preshow warm-up. Take a deep breath, and let it out on sound.
And what new information did we glean from this precisely four minutes and seven seconds of televised Broadway glory? Here, in no particular order:
1. Bombshell is going to Broadway! Also, the person cutting Anjelica Huston's Earth hair this season seems to be the same one doing Jess from Homeland, with similarly bananas results, like You Don't Mess With the Zohan read one too many Prince Valiant cartoons.
2.  Celebrity guests! More celebrity guests than Fantasy Island and The Muppet Show put together! Jennifer Hudson, as two-time Tony winner Veronica Moore, singing very, very loudly until we promise to love her, love her, love her! Sean Hayes playing Jack McFarlane playing a possibly heterosexual man with a definitely heterosexual iPad! Jesse L. Martin! Daniel Sunjata! And Bernadette Peters, who is very disappointed in you!
3. At long last, Karen Cartwright may be transmogrifying into the Eve Harrington–type bitch we all knew her to be. She's still starring in Bombshell, thwarting the doleful and underemployed Ivy at every turn, and her bare midriff is stealing so many scenes it ought to be played by Dana Ivey. With Dev out of the picture, she's also passionately making out all over the place with that cute Jeremy Jordan from Newsies, while poor Ivy is reduced to letting Crutchy pee on her for a can of soup.
4. Goran the Bull is in prison. I can't be certain, but I think it might have something to do with that $7 million in cash he had lying around behind the margarita machine.
5. Cousin Debbie had a nervous breakdown. Again, I can't be certain, but I assume this has something to do with her Unfrozen Caveman Husband returning quietly to his cryogenic freezing vat, while Carpet, who graduated from the Zarin Academy for Gifted and Talented Fabrics into one of the worst job markets in recent history, has been able only to find temporary work as a part-time sample swatch at the Raymour & Flanigan in Paramus, New Jersey.
6. Derek still thinks he is playing Joe Gideon in the West End state adaptation of All That Jazz. (By the way, why hasn't there been a stage adaptation of All That Jazz?)
7. Even Megan Hilty's detractors have to admit that girlfriend knows how to emote in a caped cocktail dress. Which is the only way to emote. No cape, no feelings. I'm sorry, but that's just the way it is.
8. Ellis Dappledawn, Princeling of the Forest, has skulked back to the village of Goblinweed with his tail between his legs and a funereal dirge ("Diamonds Are a Girl's Best Friend," minor key) in his varnished little acorn heart. Farewell, sweet creature. But should you happen to pop up in prison with Goran for attempted murder-by-peanut, I just want to say, I would watch the hell out of that spin-off.
9. As foreseen by the ancient Mayans, Liza Freaking Minnelli is making a cameo this season. Liza Minnelli. AldkjaoidurksjkjsaIHAOSHIHKABLOOM, I am dead. Please flush my ashes down the handicapped toilet in the ladies' room of the Stephen Sondheim Theater, as is specified in my will. Oh wait, you can't because you're dead, too. This is the way the world ends, this is the way the world ends, this is the way the world ends, not with a Babs but a Liza.
10. I seriously, seriously, seriously cannot wait for this. Can you?