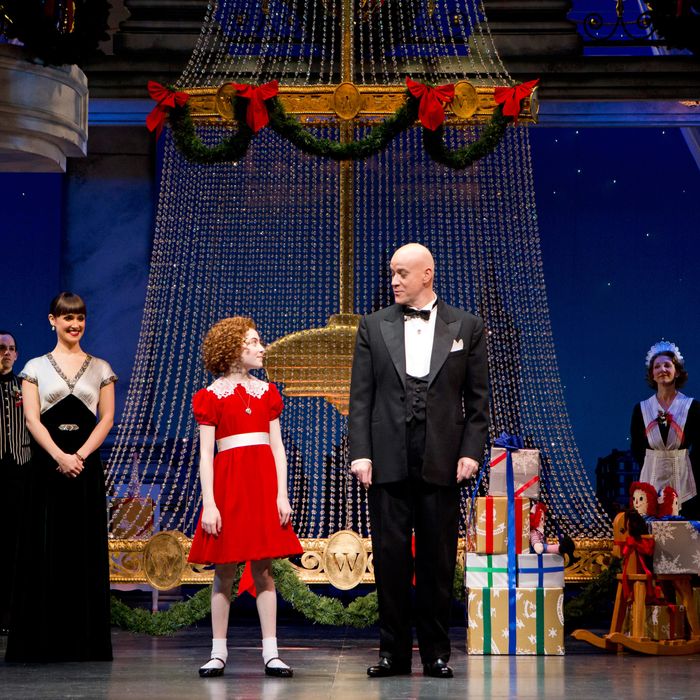 On the off chance you've never heard of Annie, a few fundamentals: It's a platonic love triangle between a Republican plutocrat, an independent orphan, and a Democratic president. (Who's the vampire and who's the werewolf in this triad, I leave to you and your post-election politics.) There's a Great Depression on, and Annie (Lilla Crawford), a spunky carrot-topped optimist, is under the thumb of alcoholic bureaucrat and all-around orphan-enslaver Ms. Hannigan (Tony-winner Katie Finneran). She quickly graduates to the household of gruff, self-made arms dealer Oliver Warbucks (Broadway newcomer Anthony Warlow), thereby fulfilling the American dream: to be adopted by an emotionally compartmentalized kajillionaire. Nearly half the electorate saw that dream dashed earlier this week, so Annie should enjoy healthy returns from both wide-eyed children and any red-eyed adult wards looking to indulge some sweet trickle-down might-have-beens.
Along the road out of serfdom, Annie sings a blizzard of tunes, some of the catchiest ever written for the Broadway stage. You will cry, or consider crying, if you have a functioning amygdala. Chances are, if you do cry, if you buy in and buy big, you will cry a lot, because there are adorable orphans and rampant nostalgia and a dog. James Lapine's spare, nuts-and-bolts production doesn't get between you and your natural human Annie response, nor does Lapine's attempt to goose it. 'Twould be redundant, anyhow: Composer Charles Strouse, book-writer Thomas Meehan, and lyricist Martin Charnin locked in the magic that makes Annie Annie a long time ago, and the show works just as well today as it did when it was birthed, mid-malaise, in a burst of post-Watergate blue-skying. In the late seventies, America desperately needed a cherub swearing the sun would come out tomorrow; what came out, of course, was Reagan and "Morning in America." Tomorrow belonged to him, it turned out, for nearly 30 years. (When John Huston's movie appeared, in 1982, Annie had been stripped of the lefty anthem "A New Deal for Christmas" and "We'd Like to Thank You Herbert Hoover," and FDR's stage time was judiciously reduced.)  

Here and there, more has been added, usually in the form of busy, business-y staging and slightly hyperactive choreography. Andy Blankenbuehler's a master traffic-cop of organized near-anarchy (e.g. Bring It On and In the Heights), but Annie is simplicity itself, and more, more often than not, really does mean less. In a show like this, the audience shouldn't have to choose where to look.

But I'm quibbling. The real measure of any Annie is the chemistry between its Annie and its Warbucks, and here, the Lapine reboot succeeds—though not, perhaps, in the way fans of the original, the '82 movie, the '97 revival, or the '99 TV movie remember. Lilla Crawford does not love the spotlight the way we collectively recall Andrea McArdle's loving it; for those of us whose Ür-Annie was the movie version's Aileen Quinn, there's none of her solar-powered Raphaelite beneficence. Crawford's adorable, of course, and sings flawlessly in that trademark Annie timbre, i.e. somewhere between a spirit-bowl and a bandsaw. (An on-key bandsaw! I mean all of this as praise: That's how Annie's gotta sing, gosh durnit!) But she is not looking for love or even approval quite as assiduously as her ancestors. With her flaming curls longer, pinned back and tamed, her eyes instinctively downcast, this Annie looks like she's already had her optimism humbled a few times when the story begins. She doesn't tent her skeptical little eyebrows hopefully, looking for a treat, and she's doesn't fight her scene-stealing fellow orphans for center-stage. She takes what she's given and no more, and turns in a well-anchored performance as a result. Her firecracker co-waifs—Madi Rae DiPietro, Junah Jang, Georgi James, Tyrah Skye Odoms, Emily Rosenfeld, and Taylor Richardson—have no such compunctions, jumping each other's wakes like dolphins when the herring bucket comes around. They're all ridiculously talented, absurdly cute, and hugely deserving of the massive waves of applause that wash over them throughout the show.

But if Crawford's a different sort of Annie, she's well matched with Anthony Warlow's lower-key Warbucks. A very different approach than the stern-but-meltable sugar daddy most of us recall—the film's slightly bloviation-prone Albert Finney—this Warbucks is more bottled up, but also more self-assured. It's an appealing combination that pays off handsomely in a number like "Something Was Missing," which feels genuinely intimate and sincere here, and not simply a sappy daddy-issues money shot.

You can't have schmaltz and syrup without some vinegar to cut it, and Katie Finneran (Tony'd for her blowsy turn in Promises Promises) brings bathtubs of it. Nobody flounces like Finneran, a gifted, judicious physical clowner who touches off a laugh simply by showing up. (She makes a trip down a flight of stairs into a whole vaudeville of drunken-floozydom.) As a villain, Ms. Hannigan has her limitations: Her character's got almost nowhere to go after her opening gambit ("Little Girls") has been executed. Luckily, Finneran runs in place very efficiently, and strangles her notes with sodden disappointment— she turns word-swallowing into a sort of grotesque Coney Island geek act. Clarke Thorell (as her ne'er-do-well brother Rooster) and J. Elaine Marcos (as ditzy moll Lily St. Regis) round out the baddie trio nicely.  

The real struggle, though, isn't a duel with lowlifes looking to profit from the budding Annie-Warbucks bond; it's a tense, understated bromance/bro-down between a too-big-to-fail-ionaire and the Democrat president (Merwin Foard) he simultaneously props up, disdains, and depends on for everything. Franklin, call the FBI! Trace Annie's locket! Franklin, look up Annie's birth records! Now that's what I call a public-private partnership. (If Annie were a primetime crime procedural, FDR would be the wisecracking, wheelchair-bound power-nerd who does all the computer-hacking and labwork.) The country gets a New Deal for Christmas, Warbucks gets a daughter for no- money-down, and we get Annie. That's probably a compromise optimism-starved audiences can live with.

Annie is at the Palace Theatre.