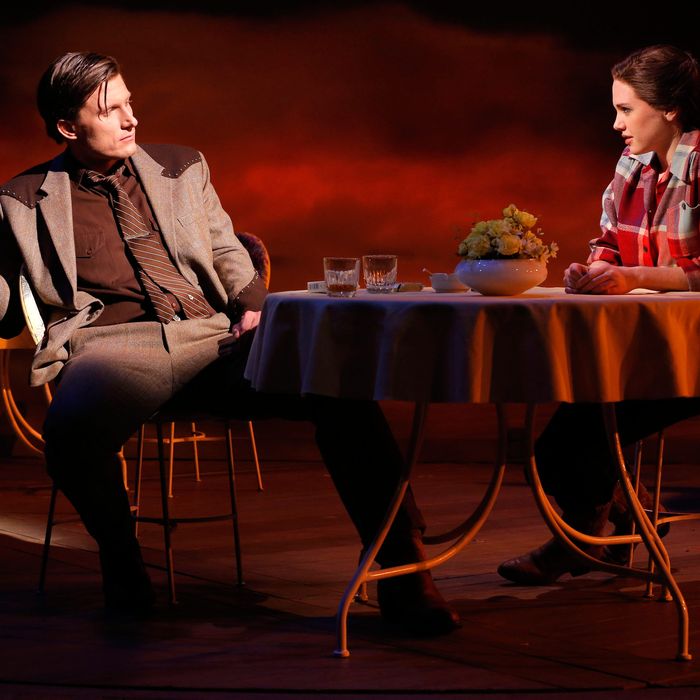 Giant
"Bigness and greatness ain't the same," sings one of the myriad minor characters in Giant, a sweeping bid for both from composer-lyricist Michael John LaChiusa and librettist Sybille Pearson. Adapted from Edna Ferber's chunky 1952 potboiler-almanac of a novel —  and bearing only a superficial resemblance to the 1956 Liz Taylor–James Dean megamovie — this impressive-yet-impassive musical epic of twentieth-century Texas turns out to be something of an ever-receding horizon: Time skips along in decades, three generations have their say, but bewildered greenhorns in the audience shouldn't blame themselves for feeling both rushed and stymied. Giant is a Texas-size canvas, musically and narratively; themes, leitmotifs, and characters merely crawl over it in antlike squiggles. Marriages and cattle-empires teeter! Family destiny and ornery free will grapple! Demonically wealthy oil tycoons face off against omnipotent ranchers!
The stakes couldn't be higher — or so the lyrics keep telling us, flatly and impersonally — yet our investment in all these chest-swelling goings-on remains modest and, may I say (at risk of offending my cowboy readership), a little academic. What's standing between us and emotional payoff? Hard to say, but in Ferber's novel, eastern newcomer Leslie (here played by the stately Kate Baldwin) observes of her adopted state: "What's the opposite of lebensraum? …That's what's the matter with them: They've got too much space." Could that be it? With all this room — three hours, 26 actors, a seventeen-piece orchestra — is Giant just too diffuse to find a point of focus? Or, in keeping with the tenets of manifest destiny, does it need even more room?

At stage center of this centerless expanse is Jordan "Bick" Benedict (a genially miscast Brian D'arcy James), cowpoke-emperor of a beef ranch the size of New England. He shocks his Texan-nationalist clan by taking a lacey bride from back east, feisty debutante-intellectual Leslie. They clash from the get-go: She sees the vulgarity and injustice in twenties Texas, especially where the impoverished, despised, practically enslaved Mexican serfdom is concerned. But Bick sees only freedom, beauty, and his family's once-and-future destiny in the dusty expanse: For him, the Benedicts are more than landowners — they're stewards, in the medieval sense. Tradition yoked uncomfortably to progress, eastern fastidiousness sparking against western energy: Bick and Leslie love and fight each other with equal ferocity, first through proxies like Bick's hard-as-nails sister Luz (Michelle Pawk) and his softhearted Uncle Bawley (John Dossett), and ultimately through their irrepressible children, Little Luz (Mackenzie Mauzy) and Jordy Jr. (Bobby Steggert). And always watching from the shadows is Jett Rink (PJ Griffith), a covetous hired man turned filthy-rich wildcatter, always looking for a chance to catch mighty Bick Benedict on the hip. Currents of dispossession, miscegenation, and panhistoric theft run just beneath the surface, as they do in LaChiusa's lovely opening gambit, the aching ranchera anthem "Aurelia Dolores."  

That's the idea, at least: Darkloma! Where the wind sweeps unequally down the plain for white and brown, and the Jud Fry sociopath isn't conveniently exterminated by virtuous Curly, but nourished to awful strength by petro-lucre. But as the story sprawls over three decades — letterboxed by Michael Greif's horizontal staging concepts — we steadily lose the Bick-and-Leslie dynamic. (Part of the problem: Baldwin and James, while both gorgeous singers, lack a certain urgent, earthy chemistry —  we simply don't feel these opposites attracting.) Into the void pours a dizzying array of characters: Suddenly, the stage is full of younguns speak-singing about airplanes and mesquite and how life's a lot like checkers. (Yes, checkers. This, I think, is the lyrical low-point: "Checkers is life! Checkers is love! Gotta make moves to play!") There are lovely oases of intimacy in Sybille Pearson's highly compressed, sometimes clumsily expository book: A scene where the real housewives of midcentury Texas (Baldwin, accompanied by Mary Bacon and Katie Thompson) share their various sexual disappointments in speech and song is quite moving. Thompson, as Leslie's onetime rival Vashti Hake, presents a portrait of enduring disappointment so complete, you'd swear she's onstage longer than she is. Her "He Wanted a Girl" is one of the highlights of the first act and among LaChiusa's more touching musical accomplishments.

But elsewhere, LaChiusa's words and music are expansive practically to the point of gaseousness. Chords gape nobly and Copland-ly, swaths of rolling nothingness are gestured at, grafts of folk stylings are cultured and cross-bred and reticulate endlessly underground, like the root system of mesquite. (This show taught me a lot about the root-system of mesquite.) LaChiusa has suggested Giant is his most deliberate foray into opera, a la Frank Loesser's Most Happy Fella; he originally envisioned Giant as a three-night experience. Personally, I have always found his scores more enjoyable and immersive on the second or third listen; I wonder if Giant would have stood a better chance of overwhelming me if it had shot the moon. Three decades! Three nights! A transformative Gatz-like endurance ritual! Oh, and don't give me the not-commercially-viable speech: A three-hour epic art-musical with nearly 30 actors and an orchestra big enough to successfully defend the Alamo isn't going to make its money back anyway. So might as well go the full Nibelungenlied and let us tenderfeet wander in the desert long enough to really get lost in it.   

Giant is at the Public Theater through December 16.

Golden Child
On the Great White Way, A Christmas Story is milking its wincingly iconic "holiday dinner in a Chinese restaurant" scene ("Deck de harr wit bow of horry!") for big, coarse laughs. If that makes you just a tad uncomfortable — and in my opinion, it kinda should — I recommend you salve your racial guilt and seek an Off Broadway karma-correction at Golden Child, David Henry Hwang's oft-comic drama about another family in transition. The Engs — patriarch Tieng Bin (Greg Watanabe, broad but sincere) and his three wives (Julyana Soelistyo, Lesley Hu, and a nefarious Jennifer Lim) — are an influential clan in 1918 China. Tieng Bin's a merchant, a traveler, and what passes for an internationalist in his still-semi-feudal society. He's intrigued by Baines (king imp Matthew Maher), an awkward English missionary whose broken Chinese is represented here in broken English. Is it time to end the barbaric practice of foot-binding before it cripples his daughter Ahn (Annie Q)? Is it time to choose just one wife — perhaps the third and youngest, Eling (Hu), the one he loves romantically, decadently, not out of duty but for the pleasure of loving alone — from among the three in his harem? "Modern" as he is, Tieng Bin has a dangerous habit of underestimating the women in his household. While he's torn, his scheming Second Wife (Lim, both deliciously villainous and deeply sympathetic) uses the power vacuum in an attempt to topple First Wife (a devastatingly restrained Soelistyo).

Golden Child is told as flashback, through Ahn as an old woman, in stark bright colors. Leigh Silverman directs it as a series of almost-gaudy, Bible-story pictorials, and this proves startlingly effective (even though the highly presentational style — somewhere between living-room naturalism and Peking Opera — takes a bit of getting used to). It lacks the epic scope of Giant, but this, too, is a tale of fate's cruel habit of divesting the mighty, a story of lords caught between personal fulfillment and demands of responsibility far bigger than their little lives. No one is spared: The pliable are bent; the rigid are snapped. But what matters is that the survivors tell the tale, and those who survive them hear it. This, Hwang suggests, is a kind of religion in itself, though not the kind that accounts for prayers answered or faith redeemed. Just the kind that keeps track of the dead and moves the living a little further down the trail.

Golden Child is at the Signature Center through December 16.