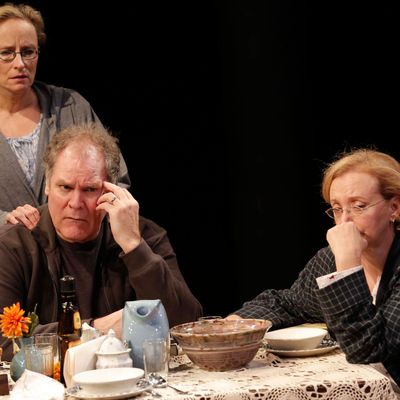 Sorry
Richard Nelson's "disposable" plays about the extraordinarily ordinary Apple family — four adult children and one ailing older-uncle coping with epochal shifts in their personal, family, and political lives — become less and less disposable and more and more indispensable with each passing year. Beginning with That Hopey Changey Thing in 2010 (which was set on the eve of the Tea Party midterms) and continuing with Sweet and Sad (set on Sept 11, 2011), Nelson has invited us into the Rhinebeck, N.Y. home of Barbara (Maryann Plunkett) and recent divorcee Marian (Laila Robins), who cares for their increasingly "confused" Uncle Benjamin (Jon DeVries), a famous actor fighting dementia.
Sorry is set achingly early on the morning of November 6, 2012, Election Day, but politics is hardly the Apples' first priority. There are no dramatic political splits here; rightward and leftward tilts occasionally reveal themselves, but everyone's some kind of Northeastern centrist. Nobody's throwing around cheap, binders-full-of-women jokes; yet the agonies of the country and the agonies of the family are quietly aligned as the play proceeds (with periodic blackout selahs) and Nelson (who also directs) deepens his simple spell. A secondhand memory of a movie set, lyrics from a saddish, chirpy pop song, a passage from De Profundis: Every scene is a little psalm.
Barbara, Benjamin's ward and chief caregiver, is about to place her uncle in an assisted-living facility, and she's having second thoughts. Her brother Richard (Jay O. Sanders), and sister Jane (J. Smith-Cameron) are, once again, on hand, venturing up from their relative comfort zones in the City. (Jane's live-in boyfriend Tim, played by The Whale's Shuler Hensley, sits out Sorry.) But really, nobody in the Apple Cycle has a comfort zone: Everyone's always in the middle of a slow transition, sometimes punctuated by a fast one. (In Sweet and Sad, Marian had recently lost her teenage daughter to suicide.)
Nothing whatsoever happens in Nelson's Apple plays — they're about people talking, disagreeing, comforting one another, challenging one another. There are no death blows, no smackdowns of the Sorkinesque or Albeean genus. Instead, there is an eerie, suspenseful intimacy, so steeped is this ensemble in their characters. The Apple's family ecology is familiar to veterans of the first shows, but latecomers will have no trouble clueing in. (The plays are oblique, but totally accessible individually.) Richard's status as aging cherished-son, Marian's slow-healing grief, Jane's half-hidden professional insecurity: They're all so at ease with each other's unease, we feel … well, not voyeuristic, exactly. That would suggest we're on the outside of this room, looking in. But no: We're in there, we're implicated. Plunkett, in particular, is heartbreaking — each play seems to coalesce subtly around one of the characters, and Sorry belongs to Barbara, the spinster-martyr-den-mother. Her destabilizing dynamic with DeVries's Benjamin (a sort of ghost in previous shows, here brought devastatingly to center stage) is brought off with such full-contact honesty, it's difficult to watch. But watch we must, because what's happening to the Apples — in Chekhovian geologic time — is also what's happening to us: not mere change, but something less infinitely plastic. Adjustment. 
It's taken me all day to write this relatively brief review, because I've been trying to find words to describe what it felt like to be inside that theater as the election raged noisily outside, what it's like listening to the Apples speak to each other in inside-voices. It was a lovely, near-religious feeling of shared citizenship, one of the things theater was invented to foster. But Sorry is more than a moment in time: It isn't about what comes next, how hard it will be, and how we have no choice but to go through it together. Because, don't you know, the flipside of "We are the ones we've been waiting for" is "We're stuck with us."  
Sorry is running  at the Public Theater through November 18.
Checkers
After last Tuesday, it's officially okay again to feel sympathy for white Boomers who are not our parents: I cite my lingering emotional response to Sorry as evidence. But are we ready to forgive their Demiurge, Nixon? Again? And so soon? Anthony LaPaglia is the latest to encase himself in the round-shouldered, beetle-black exoskeleton of Tricky Dick. In Douglas McGrath's Checkers, he inhabits a Nixon who couldn't be more different than Frank Langella's wily white-whale of a political exile. This is the wounded, grievance-driven Dick of the fifties, under fire from a patrician Republican establishment, struggling to stay on the '52 ticket with Ike, and steadily losing his soul to the fight. 
Checkers is a love story, with sweet "buddy" Pat (Law & Order: Criminal Intent's Kathryn Erbe) on one side and political Svengali Murray Chotiner (Lewis J. Stadlen) on the other. LaPaglia and Erbe give meticulous, understated performances, but McGrath's play is chalky with history-dust and billboarded ostentatiously with Big Facts and Didja Knows. The high point is the "Checkers" speech itself, that mythic bit of political legerdemain where then-Senator Nixon saved his nascent national career from scandal, spit cider in the ear of the old-guard GOP, and founded a new school of Republican tactics. (Accused of graft, he turned the tables and declared class war, bringing working-class voters into his and the Party's corner for the first time in … ever.)
LaPaglia delivers handsomely here, demonstrating how submerged rage can be channeled into political expediency, and how deep wells of ever-present American discontent can always be tapped by those who know the feeling firsthand. Unfortunately, LaPaglia's private-Nixon moments feel like speeches, too. There's an unmistakable scent of Epcot plasticine in the air, and watching Erbe and LaPaglia get intimate is like watching a couple of Hall of Presidents animatronics attempt to make out. Stadlen fares better in the supporting role of Chotiner, a giddy nihilist who has genuine admiration for — and draws secret strength from — his unhappy-warrior client, whom he treats like a grumpy pet. We may have had Nixon to kick around too long, playwright-chroniclers: Let's hear more about Murray.
Checkers is running at the The Vineyard through December 2.