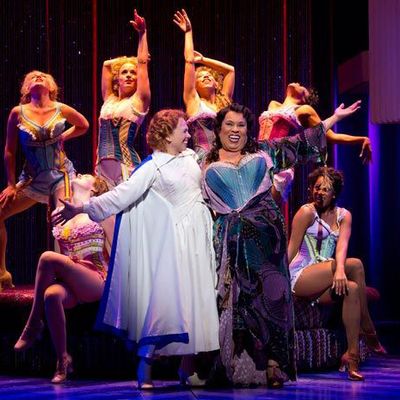 Carolee Carmello and Roz Ryan in Scandalous
Photo: Jeremy Daniel
It's incredible what charisma (and its close cousin, chutzpah) can accomplish. It can stand before a flimsy pasteboard set and evoke the grandeur of the Garden of Eden or the Destruction of the Philistine Temple. It can hide a mountain of absurdities and hypocrisies in a dazzling cloud of glitter. It can convince otherwise reasonable people to swallow heaping spoonfuls of nonsense and beg for seconds. It can even play a wide-eyed sixteen, then turn around, pin up its hair, and play a hard-driving 50. Such chutzpah-risma was the special gift of Jazz-Age evangelist Aimee Semple McPherson, a real-life mash-up of Joan of Arc and Harold Hill who melded Hollywood glamour and holy rolling, shattered the stained glass ceiling, and pioneered an accessible pop Gospel on the airwaves … while still finding time to satisfy the needs of the flesh. It's also the special gift of Carolee Carmello, the actress/self-sustaining nuclear chain reaction who plays McPherson in Scandalous, an evanescent, cartoonish bio-musical from librettist Kathie Lee Gifford (moonlighting from her day job as co-Hoda of the eleventh hour of Today) and composers David Friedman and David Pomeranz.
When Carmello is on stage — and she's only off it for eleven minutes, not counting intermission — a fabulous illusion is, for the most part, fabulously upheld. Scandalous may be a marshmallow of a show stuck together with dopey, on-the-nose lyrics, derivative (if virulently hummable) tunes, and a libretto with the psychological and literary depth of a Sunday school coloring book, but when Carmello gives it her full Ararat-splitting vocal animation and blinding star-wattage, all these obvious shortcomings seem beside the point. Like McPherson herself, Carmello is the show. (Both, interestingly, suffered from exhaustion in the service of their ministry.) She can sell Gifford's thunderously dull lyrics ("Life was made for dancing under a moonlit, starry sky / If other girls go dancing then damn it, why can't I?") from the heart, she can inject passion into the book's most Wiki-starched moments, and while she can't entirely stave off camp, she fully invests us in Aimee, even as Aimee herself, in the second act, begins to fade from the narrative.

This is the most perplexing aspect of Scandalous. (This, and an uproariously uncharming Irish-immigrant interlude on a steamship, which includes the lines "Hey, little lassie, come show me your assie" and "Now pour us a Guinness, we'll get down to bidness.") Aimee, in the show's conceit, is telling her own story: Testifying, as it were. (As the curtain rises, there may be a criminal trial in the offing. McPherson is suspected of staging a kidnapping to cover an affair with a married man.) Yet, for all her altar-call warmth, she somehow manages never to level with us. This trick isn't accomplished with formal cleverness or unreliable narrator acrobatics; Scandalous isn't going in for anything half as fancypants. No, this obfuscation is simply a matter of old fashioned politic avoidance. (Foursquare, the L.A.-based international ministry McPherson founded, is one of the producers. Make of this what you will.) Scandalous hints at Aimee's more carnal slant on American charismatic Christianity, a creed that believes in God's direct communication with the human body; if one can be "slain" in the Spirit, can one be screwed in it, too?

But we never get too deep into those sexy, sexy bulrushes: The script retreats into facts. While Carmello's luminescence remains affixed to the stage, her character becomes passive, amphetamine-addled, and upstaged by the events — and the men — in her rambunctious life. Not too long after teenaged Aimee strides out of a Canadian cornfield, declaring a love for theatrics that will soon evolve into a talent for razzle-dazzle revivalist religion, her interior self is muffled in a cavalcade of biographical specifics. We meet Irish evangelical Robert Semple (Ed Watts), her tragic first love, as well as hunky actor David Hutton (Watts again), whose deceptions nearly bring her down. We keep crossing paths with her equally willful, harshly judgmental mother (a committed Candy Buckley, looking, confusingly, roughly the same age as her "daughter"). And spend an awful lot of time with her doting, doddering daddy (George Hearn) and slightly less with her paper-tiger antagonist, rival holy man Father Bob (Hearn again). But in those brief moments when Aimee's just too depleted to tell her own story reliably, up steps the redoubtable Roz Ryan as Aimee's faithful (and apparently fictive) retainer, a former bordello keeper named Emma Jo Schaeffer who becomes her secretary and majordomo. It's the take-no-shit maternal-black-woman role, resurrected for the fifty-billionth time, but Ryan has such poise and presence and patience, she briefly makes us forget all of that and pay attention to her. She's Carmello's only rival as an illusionist in this amiably goofy, stadium-scale church pageant of a musical. You won't see God, or hear Him, either, but Carmello will briefly make you forget the Big Questions, including the Biggest one of all for theatergoers: Why am I here? And when's dinner?
Scandalous is at the Neil Simon Theater.