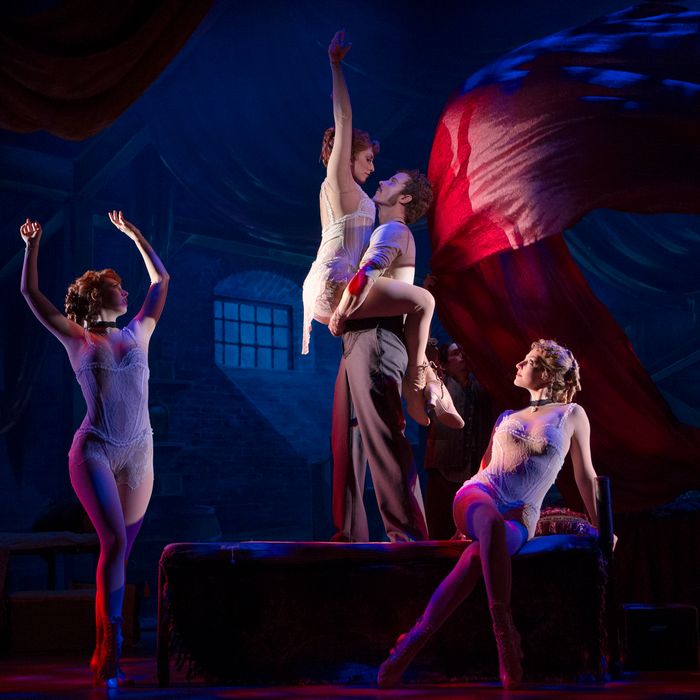 Photo: Joan Marcus / Roundabout Theatre Company
Who doesn't love an English music hall? Well, I don't, actually — not the music part, at least. Nor do I love the beery atmosphere of oom-pah-pah and bottom-pinching and double-entendrification quite enough to guarantee automatic affection for The Mystery of Edwin Drood, Rupert Holmes's frilly, frisky, doily-thin 1985 meta-burlesque of Charles Dickens's final, mythically unfinished novel. So when I say the Roundabout's new revival of Drood adds up to a perfectly diverting evening, featuring an uncommonly fine assemblage of stage talents (among them Jim Norton, Will Chase, Stephanie J. Block, Jessie Mueller, and, as the sour cherry on top, Chita Rivera), this is high praise indeed.
Under the brisk direction of Scott Ellis, these are performers with power enough to make you forget the tedium of Act One, with its sweetly dithering, operetta-etta score, its sandstorms of fussy, cluttered lyrics, and near-complete absence of compelling melody. You emerge, as if from a diet-opium dream, remembering only the great fun you had in Act Two, when the comfy audience rapport established in Act One pays off, the general atmosphere of stage-managed-anarchy belatedly intoxicates us, and we all get to vote for our favorite murderer. (After too many months of depressing American democracy, there's nothing more refreshing than a draught of its clammy English cousin.)  
A primer on this "Musicale with Dramatic Interludes": Drood is a show-within-a-show unfolding among the company of "London's Music Hall Royale" in 1895. The Chairman (a wonderful Norton, shivving us sideways with perfectly delivered wisecracks) is our emcee. He welcomes us to the evening's festivities, explaining that "Mr. Charles Dickens was full halfway through the creation of The Greatest Mystery Novel Of Our Time, when he committed the one ungenerous deed of his noble career: He Died, leaving behind not the slightest hint as to the outcome he had intended for his bizarre and uncompleted puzzle: The Mystery Of Edwin Drood." The audience, it's announced, will ultimately be asked to vote the outcome of the story with their applause. It's a nifty gimmick, and not the least bit dramatically unsatisfying because there are no dramatic demands to satisfy. 
That's because Holmes (who wrote book, music and lyrics) is almost entirely uninterested in the actual mystery of Edwin Drood, played at the Royale by touchy female impersonator Alice Nutting (Block). The story — about an entitled young twit who runs afoul of the opium-puffing uncle (Chase) who covets Drood's blossoming young fiancée (Betsy Wolfe) — is cartoonishly dismissed to make room for the antics of the music-hall cast. That's fine, because Dickens's Drood, had it been finished, probably wouldn't have ranked among the most fiendishly plotted, rapturously involving mystery stories of all time. (It's a strange, dark, broken tale, with point-of-view problems enough to have Dickens scholars stabbing their eyes out with their quill pens.) 
Problems arise with Holmes's conceit when it comes time to sing a song. Most of the tunes are pegged to the show-within-the-show, which we couldn't give a farthing about. So the show stops dead for minutes at a time, while we listen to lovely voices emit rhymed wit that's neither funny nor profound, neither convincingly sincere nor gloriously irreverent. It's just Music, a dainty reduction of Gilbert & Sullivan — because we're in a music hall! And music we shall have!
Even if, personally, music we do not want. (Remember the skiffle interludes of One Man, Two Guv'nors? About that much music would be plenty, in an ideal world.) Oh sure, there are some nice numbers here and there: Even my resistant, decrepit, half-mummified critic-foot started to tap during "Don't Quit While You're Ahead."
This, of course, is the song where the show "breaks," Dickens is dead, and all bets are off. We're into Act Two, the story is in shambles, and the characters begin lobbying the audience for solutions to their story problems. We're treated to the rare sight of showboats asking their audience for direct ratification of their performances. Did we enjoy Jessie Mueller's caricature of a "suspicious Oriental" right out of the pages of Flashman and Conan Doyle? Did we like her enough to want to see her play the detective? Or enough to want to hear her confess to the murder itself in song? Do we want to see the immortal Chita Rivera — playing grande dame Angela Prysock, who is in turn playing opium-dealing amateur sleuth Princess Puffer — find an unlikely love match with the urchin Deputy (Nicholas Barasch)? Or would we rather see her molest the dotty Reverend Crisparkle–as–played–by–Mr. Cedric Moncrieffe (a comfortable, goofy Gregg Edelman)? Exactly which flavor of canned ham would we like with our Boddington's? (Of all shows, this one would really benefit from stadium-style aisle service.) The actual resolutions have a winningly improvised, underrehearsed feeling to them that only enhances our appreciation. Drood, ultimately, is not a complete show so much as an expandable playspace, and with performers of this caliber, an evening of yeasty, nudge-nudge-wink-wink British good humor is more or less guaranteed. The show-within-the-show may drone a bit, but the show-around-the-show sparkles. 
The Mystery of Edwin Drood is at the Roundabout at Studio 54 through February 10.