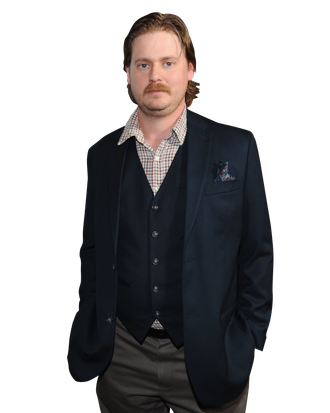 Tim Heidecker.
Photo: Alberto E. Rodriguez/2012 Getty Images
As one half of Adult Swim's Tim and Eric Awesome Show Great Job!, Tim Heidecker perfected the art of "profoundly awkward 'acting.'" He takes awkwardness to an uncomfortable extreme in The Comedy, about an obnoxious, soulless, trustafarian-type sloth who's stuck in delayed adolescence. (It's now available On Demand and will roll out into theaters starting November 9.) Despite its title and the fact that Heidecker stars alongside his Awesome Show compadre Eric Wareheim, sometimes stand-up Gregg Turkington, and (who knew?) LCD Soundsystem's James Murphy, there is little that's actually amusing about this challenging film, which divided audiences at Sundance earlier this year. Bemused by this career move, we rang up the surprisingly normal, soft-spoken Heidecker, who elaborated on bromantic orgies, Hitler, and how Roger Ebert bummed him out.
The opening montage involves you, nude, in a non-sexual bromantic orgy. What sort of of direction were you given for that?
It was written out in the script as the guys ironically partying — just overdoing it as a joke. These guys are kind of too cool for school, and their idea of fun is making fun of having fun. They were just drunk and going nuts. And we just got into it — put on some music and got wet. We went Method with the drinking. It was the middle of the summer, nice and hot. So it wasn't a big deal. It was fun. I didn't have any big issues with it. It sets the tone for the rest of the movie. This is what you're in for.

The movie elicited a very strong reaction at Sundance. Some people walked out of the screening. Did you anticipate that?
I didn't see very many harsh reactions. I know of some people who certainly didn't love the movie. But I did read some rave reviews. A lot of movies aren't intended for everybody.

The Comedy is a condemnation of … what?
Condemnation might be a little severe. But I think it explores the problems right now with the idea of leisure and unlimited access to whatever you want. There really is a disconnection from the real working world. If you're looking at a metaphor for the world, America is Swanson [his spoiled, offensive character], and the way we treat the rest of the world is the way Swanson treats the world.

So your director, Rick Alverson [New Jerusalem], plotted out scenes and you ad-libbed?
Yeah, that's the way it went. We would get a scene and improvise it. There was no dialogue.

This is interesting. Did you have to go to some pretty dark places to come up with your character's ridiculous rant defending Hitler?
You can get to some pretty dark places pretty quickly if you want to. It's just a matter of whether you want to go there or not. We had lots of conversations about direction: You're flirting with a girl at a party, but you're going to be talking about some controversial things. I think I'd just watched a History Channel thing about Hitler, so it was just in my head. With all the moments of the movie, I never feel like there's any belief system on display here. There's not a lot of depth to the beliefs on display here. It's all about creating uncomfortable-ness based on language.

People at Sundance reportedly walked out of your screening during that bar scene where your character tries to act cool by saying racist things to black men.
It's like watching a car accident in slow motion.

James Murphy — did we know he could act?
I didn't. He kind of brought this really great authenticity. He lived right down the street from where we were shooting [in Williamsburg]. We all came in like, "Hey, do you know how this is going to go? No. Well, let's just be cool about it, and hopefully the director will provide us with direction if it's not working out."

Is drama something you want to do more of?
Not necessarily. I think it depends on the project. It's fun to make stuff. Most of my ideas just come out funny. But if somebody wants to put me in their movie, I don't have a problem with that.

It's almost a cliché that comedians become comedians they are complicated. If you'd indulge me: What would you say is the most complicated thing about you?
Boy, that's a tough question. I think, you know, I'm German, and um, probably not very expressive in my emotions. That's all I'll say about that — because I can't express myself. [Laughs.]

Tim and Eric's fecal fascination is intriguingly Freudian.
Only in the liquid form! It's a pretty base comic device, but it gets a lot of attention. Eric says it's legitimately something that grosses him out. It's a universal problem.

You realize this is a huge kids' market you haven't tapped into.
You're not the first person to say that. The idea of recutting our show for kids would be very successful.

When you perform live, you've both been known to wear these nude bodysuits with giant testicles attached to them. Where are they now?
They're in storage. We actually just used them for our Australian tour. We never throw those away.

It belongs in a museum somewhere.
Yeah! Like when the comedy museum finally gets its funding.

Or the Met.
[Laughs.] Thank you!

Do you plan to revisit Awesome Show?
The movie and show itself, we did what we wanted to do. We have to move on. We got all kinds of things brewing. We have a new show for Adult Swim that we're writing — we have a lot of work to do.

What did you think when Roger Ebert gave Tim and Eric's Billion Dollar Movie half a star?
I was bummed out, to be honest. I like him, and I do like his reviews. I was kind of expecting that he would maybe latch onto it as being this really weird, subversive, cool thing. But he really just kind of missed the boat. The reaction I got from people I knew in the business was like, "Good work, man, you fucking pissed off Ebert." I guess, sometimes, the worse your review from Ebert, the cooler it is?