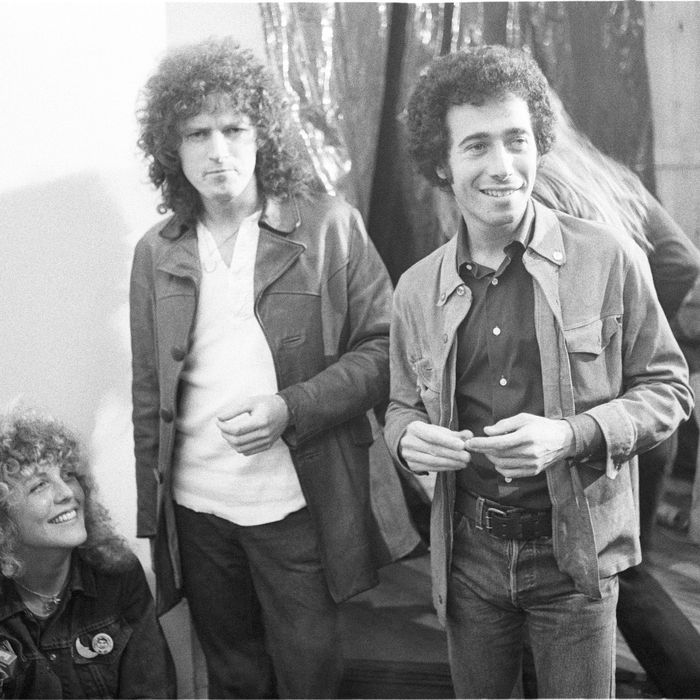 Don Henley and David Geffen
Photo: Courtesy of Henry Diltz
The American Masters episode Inventing David Geffen (November 20, PBS, check local listings) is engrossing but ass-kissy, and sits awkwardly amid the program's biographies of real artists. Written and directed by Susan Lacy, the series' longtime executive producer, this account of the agent turned Hollywood mogul is a near hagiography, and its inability to make the case for Geffen as a bona fide artist himself — as opposed to a man who discovered, mentored, profited from, and occasionally screwed real artists — throws the program's editorial judgment into question.
Geffen gave full access to a print biographer over a decade ago, then shut him out when it became clear that the book wouldn't be flattering. The result — 2000's The Operator, by Wall Street Journal reporter Tom King — makes Geffen seem like a nervy, inventive showbiz kingpin who, like so many men fitting that description, also has a hot temper, holds grudges forever, and can be a cruel, petty bully. American Masters retains the first part of that description and glosses over the second, reframing Geffen's notorious temper as "passion" (a favorite trick in hagiographies of the rich), ignoring his romantic life save for his brief relationship with Cher and his 1992 coming-out, and showing us headlines about his feuds with Michael Eisner, Michael Ovitz, and other Hollywood powerbrokers without getting into the details of what they feuded about. With minor exceptions — the account of Geffen's 1983 lawsuit against Neil Young, who was then signed to his record label, for failing to produce "commercial" music, and an aside about Geffen selling an early label without warning its artists — this program is so reverential that it could be played at Geffen's memorial. It's The Gospel According to Geffen.
The story goes like this: On the first day, a working-class Brooklyn kid named David Geffen created himself, landing a job in the William Morris Agency's mailroom by lying about having a college degree and forging a letter to "prove" it. On the second day, Geffen quit the agency, created the career of singer-songwriter Laura Nyro, and convinced other pop artists to record her songs, establishing himself as a great talent scout with keen commercial instincts. On the third day, Geffen tried to find a record label that would sign an unknown singer-songwriter named Jackson Browne, and failing that, co-created his own label, Asylum, with Elliot Roberts, a former colleague from the William Morris Agency; they later sold the label to Warner Bros., which merged it with one of the company's existing divisions, Elektra. On the fourth day, Geffen created another independent label, Geffen, put out records by major pop artists (including John Lennon and Yoko Ono's Double Fantasy), and branched into films, releasing Risky Business, Lost in America, Little Shop of Horrors, Beetlejuice, and Interview with the Vampire. On the fifth day, Geffen became an AIDS fund-raiser and came out, a big deal in the early nineties for a man of his prominence. On the sixth day, Geffen co-created DreamWorks. We don't know what Geffen will do on the seventh day, when it arrives, but we know he won't be resting, because he's as tireless as he is wonderful. 
Barf.
Granted, most American Masters specials fawn over their subjects. This is partly because the series doesn't profile people it doesn't deeply respect (why should it?), and partly because it prizes artists' work over their lives and wants to explore it with definitive thoroughness. The best way to be definitive about an artist's work is to gain access to the artist's inner circle, private correspondence, and personal material. You can't get all that without depicting the subject sympathetically, and sometimes deferring to his or her wishes when deciding what to dwell on and what to gloss over. I can't think of any American Masters special about a still-living subject that wasn't a love-fest, so I didn't expect this special to be a takedown.
But what I did expect — or at least hope for — was a compelling argument within the special itself that Geffen's work as an agent, record and film producer, studio boss, and dealmaker can be considered art, or at least creative. Inventing David Geffen makes that case halfheartedly, mostly via comments from interview subjects (including Neil Young and his former DreamWorks partner Steven Spielberg) who tell us, in effect, that there is an "art" to what a man like Geffen can do.
I'm not convinced. The ability to spot and nurture creative ability and make money from it is indeed a talent. But is it necessarily a creative one, on par with the ability to write a sonnet or compose a song? Even if it is, is Geffen so remarkable so as to stand apart from all the other people who were important to the entertainment industry but not creative themselves? Why make a two-hour documentary about this particular agent turned powerbroker, and not, say, Michael Ovitz? Or Swifty Lazar? Or Jon Peters? Nothing in this installment of American Masters begins to suggest answers to those questions. For all Lacy's hype, the portrait of Geffen recalls the 2010 book about DreamWorks, The Men Who Would Be King, which called Geffen a "superagent and resident fix-it guy." 
Bottom line: This documentary never should have aired on American Masters, not because Geffen isn't a fascinating and important person (he is), but because telling his story in this venue cheapens the venue. The word art should be sacred to Lacy and her colleagues at American Masters. Their great series has always concerned itself with the creative process and the artist's work habits and long-term development. In any given episode, the word art should refer to creative acts by truly creative people. It should not be prostituted until it's just another synonym for facility or talent.
In the past, when American Masters profiled people who were essentially business executives — in such specials as The Brothers Warner and Hitchcock, Selznick and the End of Hollywood — it was always in context of the creative work that they facilitated or interfered with. The show's episodes on Tin Pan Alley, Sun Records, and the Actors Studio were documentaries about the geographical and cultural conditions that made art possible; they weren't just big, wet kisses to likable profiteers. In retrospect, the 2007 American Masters special Atlantic Records: The House That Ahmet Built seems like a harbinger of this Geffen special — a valentine to a man who wasn't an artist himself, but could recognize the artistry in others. That one probably shouldn't have been an American Masters special, either; but at least the reverential tone could be explained by the fact that its subject, record mogul Ahmet Ertegun, died six months before the special's airdate. More to the point, the documentaries about the Warners, Selznick, and Ertegun were clear about precisely what role the subjects played in helping create the art that they controlled. At no point was the mere fact of their existence glorified. This is not the case with Inventing David Geffen, which treats Geffen phoning an executive at MTV in 1987 and convincing him to play the video for Guns N' Roses' "Welcome to the Jungle" as if it were a miracle of imaginative empathy on par with Maxwell Perkins getting F. Scott Fitzgerald's This Side of Paradise published at Scribner's.
That there are books titled The Art of War and The Art of the Deal and The Art of Seduction doesn't mean that war or contract negotiation or picking someone up at a bar are forms of art. To claim otherwise is to borrow the aura of a thoroughly creative pursuit and apply it to things that, while creative in certain ways, are not, in and of themselves, art — at least not in the way that a novel, painting, play, film, or ballad can be called "art." We have to be absolutists about this. To allow non-artists to prattle on about the "art" of raising capital or moving names from one corporate roster to another — as Lacy does in Inventing David Geffen — is an insult to actual art.  
I welcome arguments to the contrary. Unfortunately, the Geffen installment of American Masters doesn't offer any. It's too busy telling what a charming, handsome, powerful, fundamentally decent man David Geffen is, and insisting that his career has been as creative and important as that of any musician or filmmaker he helped. Lacy and company had better be careful about greenlighting more programs like this. It's a slippery slope. If everything is art, the word art becomes meaningless, and the second word in the show's title could refer to mastery of anything, including bullshit.