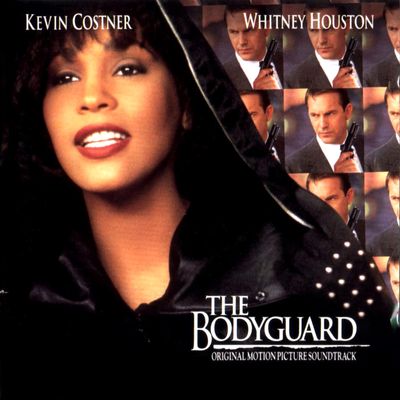 Saturday, November 17 marked the twentieth anniversary of the soundtrack to the film The Bodyguard. We asked Danielle Henderson, who recaps The Real Housewives of Atlanta for Vulture as well as writes the blog Feminist Ryan Gosling, to take a stroll down memory lane for us. Here are twenty thoughts, small and large, personal and not, on the occasion.
1. This soundtrack went platinum seventeen times and was No. 1 on the charts for twenty consecutive weeks. It was everywhere, which explains why you know all of the lyrics to every song even if you've never listened to it on purpose.
2. It was easy to test which of my friends had the most mettle by seeing who passed out first trying to hold the long notes in "I Will Always Love You."
3. Even though I'd started to discover heavy metal and punk by the time this soundtrack came out (and there was no way I'd be caught dead in public with the cassette case), I secretly rocked the tape on my Walkman.
4. Did everyone's mom get really into singing "I Have Nothing" all over town like it was a completely normal thing to do, or just mine? There wasn't a minute of the day my mom wasn't blasting this song while driving to work, washing dishes, taking my brother and I to the mall, etc. She picked me up from drum corp practice one night crying ACTUAL TEARS, just singing along to "I Have Nothing" in an empty parking lot. If I weren't such a dick then I probably would've asked her what was wrong, but I was super mortified so I just grudgingly carried my baritone horn home instead and went straight to my room to ride it out.
5. "I know, when you look at me, there's so much, that you do not see … " I'm pretty sure Whitney Houston wrote "Run to You" about my undying love for Johnny Depp circa 21 Jump Street. She made me believe love had to be tumultuous to be sincere, that there was LONGING. In reality, you will likely marry someone who longs for you to stop talking while they're watching Homeland, and the most tumultuous part of your life together will be deciding who will take out the garbage when it's raining. I was a completely pathetic prepubescent girl, and this song was the official soundtrack to one million secret, unfulfilled crushes.
6. Considering the way it infiltrated every area of our social consciousness, I'm willing to bet that statistically at least 17 percent of people of a certain age were conceived to this soundtrack.
7. Way before Gaga was giving us her poker face, Whitney was serving up "Queen of the Night" with some C-3PO realness. It's possible I skipped school to try to buy a metallic bra in the East Village after seeing the video. I couldn't find one in size -AA, but I did get some great shoes at John Fluevog. Oh, to be young with a disposable income and questionable taste.
8. Do you remember finding out Dolly Parton wrote "I Will Always Love You" and how it blew your mind, and you were suddenly more open-minded about country music?
9. The "I'm Every Woman" remix started out as a slow jam with a churchy influence that moved into a dance track, which pretty much set the stage for Skrillex. I've actually never heard Skrillex, I'm just assuming it's a mix of a ton of different styles of music that people find a way to dance along to somehow?
10. Where would our drag queens and kings be without the "I'm Every Woman" remix?
11. How many people do you think died of hypothermia in the woods trying to romantically re-create the setting for the "I Will Always Love You" video? Not everyone can pull off a ballad while sitting on a log in the forest — this is part of the reason Whitney was a true diva. She could have sung a sea song on a tugboat and made it look sexy.

12. Post–Robin Hood: Prince of Thieves, pre–Swing Vote Kevin Costner wearing a suit was enough to bring every middle-aged woman in America to their collective knees. It was a little weird to realize that your parents had sex drives. Women loved him, men wanted to be him, and his role in this movie as broody savior guy just sort of did it for everyone.
13. Aren't we lucky to have karaoke as a great measure of a song's endurance? You can count on your drunkest friend to sadly croak out at least one song from this soundtrack near last call in any bar that has a microphone.
14. Though there were other artists on the soundtrack (Lisa Stansfield, Kenny G), this was a Whitney Houston masterpiece, showcasing the unlimited strength of her vocal range. All of her songs hit No. 1 in multiple countries.
15. In this strange post-racial but not post-racial America we're currently living in, it's really nice that when this movie came out no one had anything to say about the stars portraying an interracial romance. They were just hot, and everyone dealt with it like adults. Remember, Strom Thurmond was still alive when this movie came out, so it could have gone either way.
16. In the movie and at least one music video, there's a scene where Whitney Houston is holding a samurai sword (normal, nothing to see here); Kevin Costner proves how deadly the blade is by throwing her silk scarf in the air and letting it fall on the blade, delicately slicing it in two. Then they have sex, naturally. For a soundtrack that was so romantic, the movie was full of sex and Whitney Houston cursing about sex. It was a little bit of a jarring juxtaposition. I'm also pretty sure this was the moment when a tiny seed of OCD was planted within me, as all I could think about was how expensive that scarf probably was, and why did she let him slice it up? You guys, I didn't understand sexual chemistry for a long time, and this movie really didn't help matters along.
17. She wasn't a riot grrrl or even a feminist, but Whitney Houston songs in general and on this soundtrack in particular made me believe in being the sort of person who reveled in her strengths. Before I'd even had my first kiss, I KNEW I wasn't going to put up with any bullshit from a dude; Whitney singing "and when I'm bad I know I'm better" on "Queen of the Night" probably contributed to that a little bit.
18. One of the artists on the soundtrack is Lisa Stansfield, best known in the states for her song "Been Around the World and Eye Yi Yi, I Can't Find My Baybay." Her contribution to the soundtrack is okay, but Stansfield's greatest contribution to American pop culture was a legion of teenage girls seeing if they could actually pull off a spit curl hairdo, perhaps even practicing in the mirror on a Saturday night or two … or ten.
19. There's an a cappella cover of  "Jesus Loves Me" on this soundtrack that is probably beautiful and was used in a poignant scene in the movie, but you always fast-forwarded through it, so really, who knows? It could be garbage. You were only buying this for the Whitney songs that made you cry or dance, and when was the last time Jesus made you do either?
20. Do you still hold your breath a little at that pause in "I Will Always Love You," right before she really belts out the last refrain? Of course you do. That singular, silent moment is the very definition of early nineties pop music royalty. Whitney Houston lived a tragically short life, but her musical life was a masterpiece.