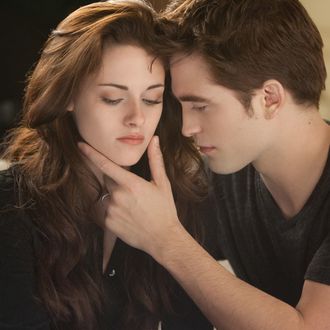 (L-R) KRISTEN STEWART and ROBERT PATTINSON star in THE TWILIGHT SAGA: BREAKING DAWN-PART 2. Ph: Andrew Cooper, SMPSP © 2011 Summit Entertainment, LLC. All rights reserved.
Photo: Andrew Cooper/Summit Entertainment
Summit Entertainment has 141 million pieces of proof (…they're dollars) that the culture's not yet over Twilight, with Breaking Dawn — Part 2 winning the weekend box office in the U.S. and scoring another $200 million abroad. That's the year's fourth-largest opening weekend after The Avengers, The Dark Knight Rises, and The Hunger Games. Skyfall raked in another $41.5 million domestically and helped boost Sony Films to the $4 billion mark for the year. Steven Spielberg's Lincoln notched $21 million in 1,775 U.S. locations. David O. Russell's Silver Linings Playbook and Joe Wright's Anna Karenina each opened at sixteen theaters and pulled $458,430 and $315,395, respectively.